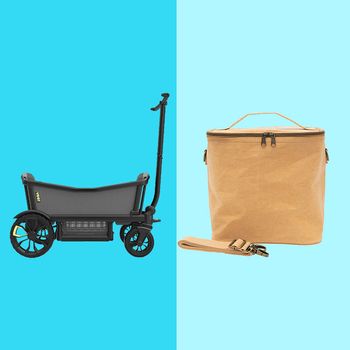 Photo-Illustration: retailers
Less than two years ago, when I dug into writing my second memoir, Plenty, I did not imagine that by the time it was released I would be carrying a second child — at that point, I was barely pregnant with the first. But here I am, beginning my third trimester with a 17-month-old daughter at my hip.
Considering what a test of organization, patience, and fortitude it's been for me to get out of the house with a single little one, I can't imagine the feat it will be to take both of them somewhere, even if it's just to our favorite playground, James Forten in Prospect Heights (my kid is all about the sprinkler), or even around the block.
So I've spent the past month speaking to a bunch of discerning moms, particularly those who've had another child within the last couple of years, about the products that have been most helpful for them in juggling an older and a younger one (specifically, a toddler plus a baby). Even though plenty of them mentioned items they use at home — like this Primo Eurobath that's capacious enough to bathe two kids at the same time — the most impassioned recommendations tended to fall in the "transportation" category, since, again, it can be a real logistical struggle to double your load. I also focused on items that were actually designed with multi-kid-at-once use in mind, as opposed to suggestions like this featherlight and overhead-bin-friendly gb Pockit stroller suggestion. Although I was told it helped an ESL teacher travel the world with her two children, alas, it will only fit one of them at a time.
Based on my conversations with 11 moms, the following list includes double strollers that won't take up the whole sidewalk, roomy-but-not-bulky diaper-bag alternatives, and even a set of on-the-go bibs that fit toddler and infant equally well.
Sit and Stand strollers
By the time the new baby comes along, your older child may be less inclined to get strapped into a stroller and more inclined to hop on the back of one. This is where the relatively affordable genre of "sit and stand" strollers comes in, giving your toddler the choice of whether or not to be seated. Ebonie Bergman, a Maryland-based software engineer who has a 2-year-old, a 4-year-old, and a baby on the way, says this highly reviewed Joovy version is "perfect" — her oldest loves to stand on the rear platform or will use the bench-seat option, which has a secure three-point harness, if it's a particularly far walk. The "aircraft-grade" aluminum frame is super-lightweight and quick to fold. And because it has a universal car-seat adapter, unlike many strollers that only work with pieces from their own brand family, Bergman says she will be able to easily click in the seat of baby No. 3. She can also add an additional full-size seat, sold separately — and even if she doesn't, she can still have the full trio of kids all ride in at once, which is a good deal for a little over 200 bucks.
Speaking of stroller brands that are only compatible with seats in their specific product line, that's the case with Uppababy. But this is obviously a hugely popular brand for city moms, and two of those I spoke to swear by the Uppababy Piggyback attachment. Shira M. Zemel, who works for a Jewish nonprofit outside of D.C., knew a double stroller might not be the right pick for her two kids, now 4 years old and 8 months old, because of the age gap. Her older son is on the edge of outgrowing her Uppababy stroller, in an awkward "in-between where he doesn't need to be seated in the stroller but certainly can't be expected to walk" (and she says they're doing a lot of walking — to the farmers' market, the park, etc. — in the pandemic world). The Piggyback attachment makes it so "he feels like big brother is riding along — he calls it his skateboard," says Zemel.
Another mom of two, New Jersey-based marketing director Kelsey Blodget, says she uses her stroller and PiggyBack for preschool drop-off every morning. Her older kid "loves standing. It's almost like a game, plus he can look at the baby and make silly faces," she says. "I don't drive, so if I want to get both kids anywhere, this is the best arrangement."
Double strollers
Your kids may be close enough in age that you feel it's worth spending the money on a proper double stroller. Kimberly Rae Miller, an author who lived on Long Island with her 2-year-old and 5-year-old, swears by this exceptionally lightweight (and not terribly expensive) one from more of a niche brand. The Twin weighs just 19 pounds and folds and opens with just one hand, making it easy to get it in and out of a trunk. It's also surprisingly narrow, able to fit through coffee-shop doorways and down busy city blocks. Also, says Miller, "Each seat adjusts independently so one kid can be up and alert while the other sleeps completely covered by the super big shade." If you have plans to expand your family even further, it extends to a triple or a quad with add-on seats, too.
If the Twin still feels too wide for you and you want to forego the side-by-side stroller altogether — and you're ready to make a "grow-with-your-family" investment — there's this splurgy Cybex model. Alex Zagami Ng, who owns the Chinatown kids shop PiccoliNY and is soon to be a mom of two, swears by this modular stroller that can morph into 23 configurations, depending on whether you have both kids with you or just one and a grocery haul, or if you want them to be facing in or out or one and the other. Ng says she loves that it's "super-sleek and easy for city bumpy roads, plus easy to pack into our car." She'll have the option of taking off one of the seats if her big guy, who is 4, isn't it the mood to ride alongside his baby sibling, expected in December. Also, a click-on-able basket holds 25 pounds of shopping items or daily essentials, so you can be on the go all day if necessary.
Not as modular but a few hundred dollars cheaper: the City Select makes it "so much easier to pass people and not be that annoying mom taking up the entire sidewalk," says mom of three Alison Goodwin Nogi, a communications and fundraising consultant who lives outside Boston in Brookline, Massachusetts. "The wheels are sturdy enough to handle cobblestone," adds Nogi, and there's a "telescoping handlebar" that lets you smoothly steer through crowds. The stroller also converts from a single to a double or even a triple, with a glider board.
Wagons
Nogi uses this two-kid-size wagon, which has the functionality of a premium stroller, not only for the kids but also "for groceries and hauling packages after school drop-off," she says, adding that it's also a great option for camping trips and days at the zoo (it comes with a snack tray and two cup holders, with the option to add as many as four more). For such a roomy ride, it's compact and easy to maneuver, with a one-touch footbrake and comfort-suspension steering; plus, it folds up with one hand, and you can store it upright.
If you don't necessarily need your wagon to handle the road like a premium stroller (and don't require something Insta-famous, like the Wonderfold, another option in this realm), there's your classic Radio Flyer, which holds up to 200 pounds through all sorts of terrain. Danielle Viscuso, a stay-at-home mom in New Jersey, loves it for parades, fairs, and other outdoor adventures with her 3- and 7-year-old daughters. Her kids "start off not wanting to sit in the wagon, and 30 minutes later, they're both happily sitting in the wagon." Another plus: "It's easy to clean, which is important since it gets gross almost daily."
For on-the-go eating
Photo: retailer
If you want to keep milk for the baby and snacks for the toddler all in one place while you're on the go, this cooler bag will fit both. Nogi has tried other options, but because of the roominess, she says, "I particularly like this brand." Eventually she "swapped it out for my older daughter's lunchbox." Nogi says she has also stuffed sketch pads and crayons and colored pencils in this cooler to keep her kids busy at restaurants. Its removable insert makes cleaning easy, and you can throw the whole bag in the washing machine if the mess gets bad. There's also a messenger strap for throwing over your shoulder, and a name tag to keep your kids' stuff organized.
This set of roll-up bibs fits equally well on a 3-and-a-half-year-old and a 5-month old, according to Cecily Moyer, a middle-school science teacher in New Jersey. Also: "They fold up nicely and I even take them in my pocketbook when going out for a meal," she says. The food-safe pockets on these cute bibs are wide enough to catch almost any piece of food (or drippy formula), too.
For on-the-go play
Viscuso describes this pop-up tent as the sort of kid magic that can turn a grumpy day around. "If we set up a tent and stuff some blankets in there, they are happy," Viscuso says, so she always packs this pop-up tent with her on trips. It transforms Airbnbs and hotel rooms into exotic experiences: "Suddenly, we're camping, and it's all good, whether they're coloring or playing with blocks. It's like a fort without the mess." The tent is quick to set up and take down, it's spacious enough for her two children and a friend or two, and the galactic design is cool but not too kiddie-looking. It also weighs less than two pounds and comes in a snazzy bag, so you can take it to the park or beach for the afternoon, not only on farther getaways.
Also worth packing for your stay at a vacation rental, or even just for a day trip to an in-law's: this sheet that you can use to turn any furniture in the home into a comforting/familiar play space, which is available in sizes from 10 to 12 feet. Toddlers and babies seem to love the fort feel equally — it's "a small space where they can hide out together, "disappear," play peek-a-boo, etc," says Erica Nonni, who lives in New Jersey with her 1- and 4-year-old kids and runs a marketing and PR firm. As she puts it: "We went for this sheet that looks like a house and hangs over a table. Our little one crawls in circles in and out of it, laughing, so happy."
Alt diaper bags
Most moms I talked with had ditched their diaper bags by the time baby No. 2 came around in favor of less cumbersome options. "Less is more," says Ng, who packs up tote bags from her store with baby and toddler essentials, from wipes to bottles to snacks. "It's much easier to be on the go this way," she notes.
After being fed up with straps that slid off her shoulder and bags that looked cheesy, Zemel converted to the Dakota Neoprene Backpack, which is roomy enough to stash everything she needs for her baby and older kid. "I love that it's easy to clean, not bulky, and nice enough to bring to an event," she explains. The recycled lining is also easy to clean. But Zemel's favorite feature is "all the pockets" for toys, snacks, and water bottles.
Brooklyn-based video producer Erin Phraner "pared way down and felt 100 times more organized," after having her second — her little ones are 4 months and 3 years old. She carries this stylish-ish fanny pack as a diaper bag now: "It has everything I need (fold-out changing pad; waterproof pouch for wipes) and nothing I don't," she says. "Plus, it's easy to toss over my shoulder when I need to chase after my toddler at the playground."
The Strategist is designed to surface the most useful, expert recommendations for things to buy across the vast e-commerce landscape. Some of our latest conquests include the best acne treatments, rolling luggage, pillows for side sleepers, natural anxiety remedies, and bath towels. We update links when possible, but note that deals can expire and all prices are subject to change.