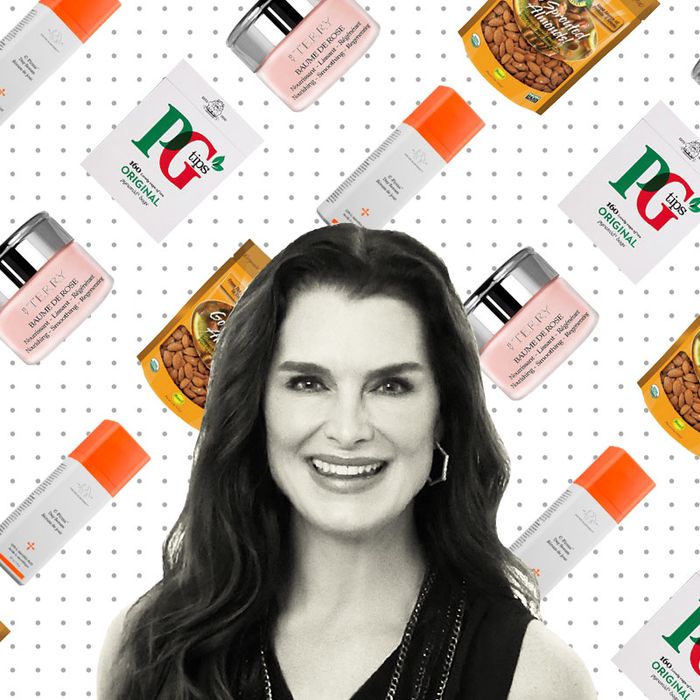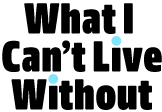 If you're like us, you've probably wondered what famous people add to their carts. Not the JAR brooch and Louis XV chair, but the hand sanitizer and the electric toothbrush. We asked actress and designer Brooke Shields, whose line Brooke Shields Timeless for QVC is available now, about the black tea, vitamin C serum, and sprouted nuts she can't live without.
I truly can't live without my tea. When I was in London doing Chicago in the West End, I started drinking tea, but instead of going to Fortnum & Mason to get those gorgeous loose-leaf teas, I thought, Isn't there just something really strong and easy I could buy? And in England, they actually call PG Tips "builder's tea" because it's like a strong tea for construction workers. When you buy it, it doesn't come in individual wrapping, so I'm pretty sure it's better for the environment, and because they're little pyramids, they steep very well. And it's very strong, with a smooth finish. I almost don't even drink coffee anymore. It used to be that you could only get it in England, but now you can get it online. It's a whole new world.
So I lose my phone or drop my phone all the time. I'm notorious for it because I'll be in a cab and texting or looking at something and then get out without realizing it. I saw this woman on the street with the coolest cross-body phone case, and I stopped her and asked, "Who makes that?" And she goes, "Oh, it's Ban-do-leer or something." And I said, "You mean Ban-do-lee-eh?" And she goes, "Oh, yeah, whatever." And we laughed. I wasn't making fun of her! So I looked it up, and there were a ton of great ones — some like Chanel, some more rock and roll — and now I'll keep it around my neck or shoulder and never drop or lose my phone. I keep my MetroCard in it and business cards I get. It's like a stethoscope, but I love it.
I discovered Drunk Elephant last summer when I was out on Long Island. I was first drawn to the packaging and the name, and my dermatologist and facialist always stressed vitamin C. [Editor's note: It's also a favorite of beauty writer Rio Viera-Newton.] My dermatologist, who has literally carved sun damage off my skin, told me about how important it was, so I started using the Firma serum, and I tell you, it brightened up and firmed up my skin almost immediately. My dermatologist actually told me to put it on before a workout because when you work out, all your pores open up and you can absorb everything. So I'll put it on right before spin class right before I get my blood going.
I'd gotten a really bad sunburn last year — it was so irresponsible of me — because I had no idea I was going to be out and I didn't feel it at all. I'd posted something online about it, and Dr. Barbara called my publicist and said, "I saw Brooke's post, and I have something she needs right now because she can't just use aloe in a case like that." So she sent me her hyaluronic serum, and my skin was so dehydrated it just sucked all of it right up. It brought such softness and moisture back to my skin that I just kept using it. Now, I'll put it on all day, especially on an airplane. She also sent me her Glow Drops, which I'll mix into whatever sunscreen or moisturizer I'm using for the day. I don't know what she has in there, but they're called Glow Drops for a reason. It brightens and wakens my skin right up.
The consistency of this lip balm is just wonderful because it's thick enough without being too greasy. There are lip balms that get too lanolin-y or have petroleum and rub off, but this stays on the lips and keeps them moisturized and conditioned. I've tried so many other ones and just keep coming back to the Terry because I love the texture.
It used to be just almonds, right? And you ate those to be healthy, but now we're getting all this information about how they should be sprouted. So maybe a year and a half ago, I started training and conditioning more intensely, and now my need for protein is off the charts — it's always been like that, but even more now — and the way my life is set up, I don't always have time to sit down and have square meals, so I keep these almonds on me at all times as a snack. Airplanes especially. The sprouted ones are apparently easier to digest and metabolize or something? There's also just a different crunch to them. They're slightly fresher-tasting compared to almonds that can be kind of gummy or waxy or smear in your mouth.