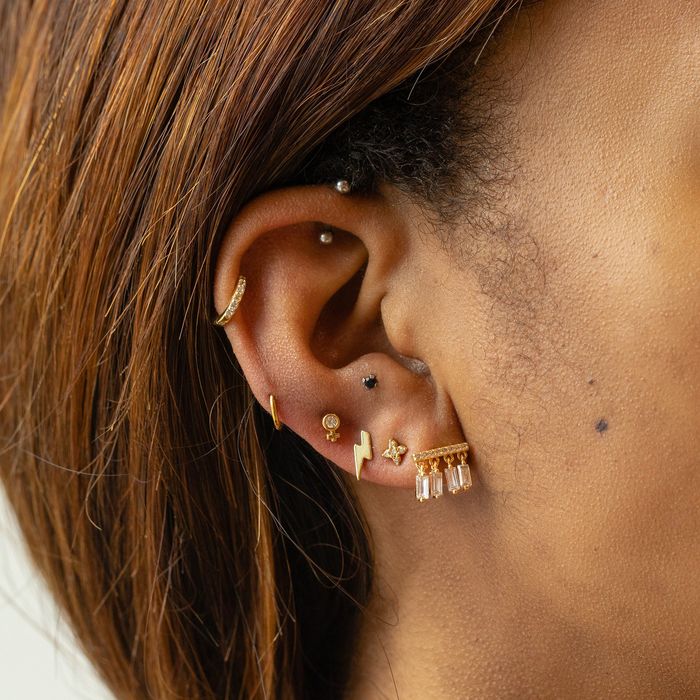 The world of hoops and dangly earrings is vast and appealingly ornamental, but sometimes you just want a lightweight pair of studs you can throw on and not think about during the day (or even wear to sleep). With the advent of piercing stores that are also earrings brands, like Studs and Maria Tash, we're living in a golden age for the humble stud — whether it's just for your lobes or lining your whole ear. Sold as single earrings or in pairs, studs are an ever-growing category of jewelry including everything from fine pieces with diamonds to affordable gold-plated smiley faces and initials. To learn about the best studs out there, we reached out to a panel of stylish women, who told us about their favorites.
If you like the idea of mixing and matching your studs, take some advice from personal trainer Natalie Friedman, who recommends these pairs from Maison Miru. Friedman tends to combine the brand's evil-eye studs with its heart studs. These are also a good option if you don't want to worry about taking out your earrings before showering or working out. "I'm a personal trainer, and I'm always very active and sweaty," says Friedman, "so I appreciate how good their material and quality is, because I don't remove them at all, not even to shower, and they still look dainty and pretty." She also likes that Maison Miru sells these studs in gold and silver, making them easy to combine with necklaces of either metal.
Model Gabrielle Amritt is a fan of Studs and told us she owns a few single earrings and pairs from the brand. "I love to have different studs on each ear some days," says Amritt, who has five ear piercings in total. Her go-to stud these days is a lighting bolt. "They add such a unique and fire vibe to any outfit," she says. These lightning studs are available in 14k-gold-plated sterling silver and rhodium-plated sterling silver.
Amritt also wears a Studs letter-G earring, which is currently available as part of the brand's archive sale on Depop. "It reminds me of wearing a nameplate necklace, but it's just your initial and your ear instead of your neck," she says. "I think it's really dope and definitely draws attention to your 'earscape,' as they call it." If you have multiple piercings in an ear, you can spell out your initials or a short phrase of your choosing, like Hi.
One of my favorite pairs of studs is a set of sterling-silver bows from the gift shop of the Sir John Soane's Museum in London. Unfortunately, the pair is no longer available on its site (though plenty of other appealing studs are). But I've had my eye on a similar pair of bow studs from Catbird's recent collection with the Metropolitan Museum gift shop. As we've written before, the Met Store is packed with actually cool jewelry, and these earrings (sold individually) are inspired by Madame Grand, an 18th-century portrait in the museum's collection, by Élisabeth Louise Vigée Le Brun.
For something a bit more colorful, try these from Alison Lou (whose Lucite earrings we've written about before), which come recommended by candy artist Robyn Blair Davidson. "I always wear T studs in my first piercing and heart studs in my second piercing," she says. "I love Alison Lou's earrings because they're fun, easy, and colorful and aren't too heavy for when you want to stack up multiple earrings."
If you're looking to splurge (like really splurge), jewelry designer Pamela Love recommends pieces from the Milanese line Pomellato — specifically, these brown diamonds set in rose gold. "I think these earrings in particular are so special and interesting but also effortless at the same time," she says. These studs have a comfortable post back to offset the weight of the front, and all of Pomellato's pieces are made with fair-trade diamonds.