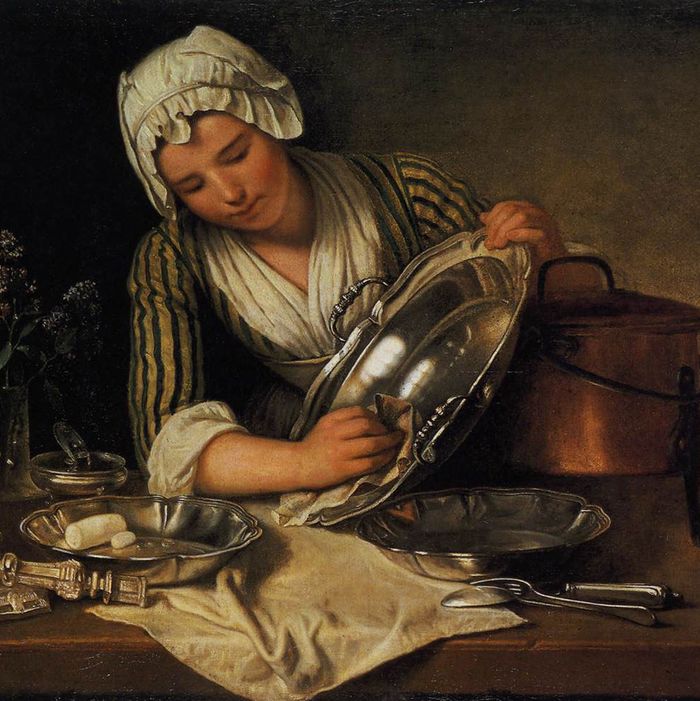 Photo: Decorative Arts Museum, Paris/Wikicommons
Maybe it's that set of flatware you inherited from your grandmother, or an old Tiffany necklace from your bat mitzvah or sweet sixteen — if you have silver, it probably needs to be polished. Polishing silver is one of those tasks, like resurfacing a wood table or buffing and shining leather shoes, that you could pay to have done by a professional. Or you could take the advice of jewelry designers, antique dealers, and polishing pros here, and do it yourself? We talked to 12 silver-cleaning experts about all the products you need to make your silver shine — or in the words of Jim McConnaughy, to make your silver look "like silk, rather than chrome." All it takes is the right cleaner and some elbow grease.
Best polishing cloths and mittens
Sunshine Cloths — flannel cloths with polishing compounds — were a favorite of Faris Du Graf, founder of the jewelry line FARIS. She says, "You can give you jewelry a rigorous rub and it removes oxidation really well. I've renewed pieces that have turned to a dark gray back to shiny with the cloths. I have a version that I give to most of my online customers and almost always have one in my purse to shine up mine or a friend's piece real quick. The compound does eventually get used all the way, but I washed them and use them as a soft cloth for a paste polish. I think they're perfect for maintenance, they're super easy to use." Reshma Patel, the owner of Quiet Storms, a jewelry boutique in Williamsburg, also recommends these cloths. "I would encourage everyone to start with a cloth and if you're not achieving the desired result, consult with a jeweler," she says.
Silver polishing mittens are also "very handy" for quick polishing jobs, says Jim Popelka, of Jean's Silversmiths, though he notes that they're more abrasive than his other suggestions. "You don't want to use something abrasive over and over on the same piece, but occasionally it's okay," he says. Antique silver especially, you want to be careful how you treat it … the silver, the metal itself, is very soft so it's easy to scratch, and you don't want to use anything that would scratch it."
Steve Nelson, who co-owns Nelson & Nelson Antiques — which used to be located in the Pierre, and can now be found at The Manhattan Art & Antique Center — with his wife, recommends Hagerty gloves "if silver is just yellow not black."
Best wipe-on, wash-off polish
Wright's Silver Cleaner is the favored polish at Nelson & Nelson Antiques. "Use paste polish with a rag or sponge," Nelson says. "Use warm water and be sure to rinse to remove all the polish from the crevices. Paste polish will be easier to use if silver is dark. Do not use a liquid cleaner as it take the background oxidation out of the pattern."
Anthony Mammon, of Estate Silver Company, says a "wipe on, wash off" polish is "great for cutlery, dishes, bowls, trays, etc." To use it, you simply "wipe on with a wet sponge, and rinse off and wipe dry." Mammon notes that this kind of polish should only be used on items that have "no other material attached to the silver, for example wood handles, or any filling inside, for example candlesticks with pitch filling. If these get wet you can harm the wood, or expand the filling." As for the best way to clean silver? Mammon says, "the best way to keep your silver clean is to use it. Just from handling, washing, wiping, etc, the tarnish stays away, so the more you use it, the less you need to polish it, and silver was made to last. So use it, don't abuse it, and you can enjoy it for many, many years, and not need to maintain it as much."
Howard and Myra Donowits, owners of Tudor Rose Antiques in New York, recommend Maas Metal Polish, which is "better for more difficult jobs." All you have to do is "apply with any non-abrasive cloth (an old cotton towel, etc.), wipe off then rinse and dry silver."
Best polishing foams
Jim McConnaughy, senior vice-president of S.J. Shrubsole, an antique silver and jewelry shop on Manhattan's Upper East Side, recommends Goddard's Silver Polish Foam, which he describes as "milder than some other polishes" and good for using "when something is particularly dirty." When asked what the desired effect of polishing should be, McConnaughy says, "We do want a piece of silver to shine, but not too much. It is a subtle look, like silk rather than chrome. And some of the tarnish around and within the decoration should be left where it is; the contrast brings out the decoration very effectively."
The Donowitses also recommend a cleaning foam: Hagerty Silver Foam. They describe it as "not abrasive" and "easy to use," noting that it can be used on silver plated items. The foam comes with a sponge, which you wet, dip into the cleaner, apply to the item, and then rinse off and wipe dry.
Best gentle polishes
For an even milder option than Goddard's Foam, McConnaughy likes Herman's Silver Polish, which is available online from the silver restorer Jeff Herman. "When something is more delicate we use Herman's Silver Polish," McConnaughy says.
Popelka suggests Tarni-Shield, which is "not as abrasive as some other common name polishers," and also has "properties which prevent the tarnish from coming back quickly."
Best polishing solutions
Patel recommends Simple Shine, saying, "It's gentle and unlike some other cleaners we've tried, the effects last longer."
Jewelry designer Erica Weiner — who sells antique jewelry in her stores, and whose designs are influenced by vintage pieces — says, "for jewelry, when it's really oxidized — I once wore a silver ring in the sulfuric hot springs at Esalen … blackened silver! — there's no match for Jax. It's a harsh, but very effective, cleaner. The good thing about it is that jewelry, unlike clothing, can easily be washed clean of chemical residue. Dip your blackened silver in a teaspoon of Jax, then wash it in warm water and Dr. Bronner's and you're good."