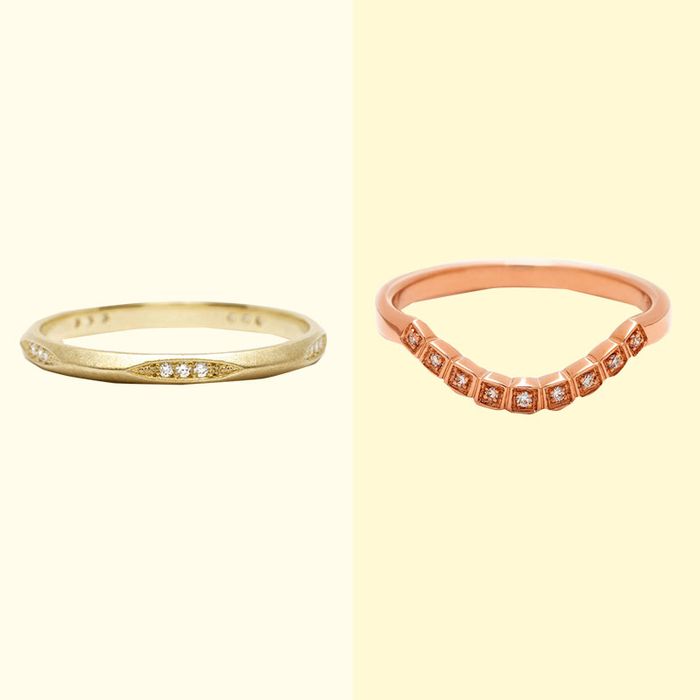 Photo-Illustration: retailers
Engagement rings tend to steal the spotlight when it comes to marriage-related jewelry, but the wedding band shouldn't be overlooked. After all, "this is the only part of the wedding that you'll be looking at every day for a long, long time." says Jennifer Gandia, co-owner of Greenwich Street Jewelers, a downtown NYC family-owned retailer. Laurel Pantin, style director at InStyle, suggests thinking of a wedding band as "a piece of jewelry you love" when worn solo, "that isn't necessarily made to be so matchy-matchy with your engagement ring," she says. "I rarely wear my engagement ring now that I'm married, so it's nice to have a band that you love on its own."
Bridal stylist Gabrielle Hurwitz often cautions clients against choosing a wedding band simply because it's of-the-moment, even though that "can be really tempting," she says. "Your wedding band is not only a symbol of your love and commitment to your spouse, but it's also a piece of jewelry you'll wear every day." Publicist Danielle Gadi agrees: "Don't buy something because it's trendy or because you see it on every 'It' girl on Instagram."
Hurwitz suggests thinking about "whether you gravitate toward more subtle or statement-making jewelry in your everyday life," and says to consider your lifestyle, too. "If you're super-active, you'll need a more durable band," she says. That might mean a metal-only ring in a lower-karat gold like 10K or 14K that's less valuable but more durable (and affordable). If you do want stones, bezel or flush settings offer the most protection, and be sure to avoid "any soft stones of 7 or below on the Mohs scale of hardness" like opal, tanzanite, or morganite, says Adrianne Sanogo, GIA-certified gemologist and co-founder of the Black in Jewelry Coalition. "Since it's a ring you will wear and treasure for the rest of your life, the gems or materials you select should be durable."
Fit and comfort are extremely important factors, too. "Always look for style and quality, but never compromise on comfort," says jewelry stylist, designer, and collector Jill Heller. "When a ring doesn't fit well, it's obvious and doesn't look good." Leigh Batnick Plessner, creative director at Catbird, underscores the importance of knowing if "your ring can be resized over time — if not, go up in size" for something like an eternity band, which often can't be resized, she says. "Maybe you've had a baby or maybe many nachos — or maybe both — but fingers do change with time." Be sure to take the weather into account, too, cautions Maura Brannigan, Fashionista.com's editor-at-large. "My husband and I decided to try on our bands on the hottest day of the summer, like the kind of New York City day where you sweat through your shorts," Brannigan says. "After a very gluttonous pre-fitting lunch, our hands had ballooned like a marshmallow in the microwave," and when they picked up the bands a week or two prior to the wedding, "obviously — obviously! — our bands did not fit; I think my husband's was something like two or three full sizes too big," she says. "It ended up being fine and we got replacements sent over in time, but do try to gauge your size in weather more consistent with average temperatures."
Ahead, over 20 jewelry enthusiasts and pros, from designers and retailers to collectors and bloggers, share their top picks and sage advice (personal and professional) to consider while shopping for the perfect wedding band.
Under $300
Amy Elliott, contributing editor at jewelry trade publication JCK, says "Stone & Strand is great for affordable bridal" jewelry, like this delicate, skinny Bamboo style. She prefers pieces that are "at least 14K gold," though lower-karat gold could appeal for price or durability purposes. Trinity Mouzon Wofford, co-founder of superfood wellness brand Golde, opted for 10K gold for her engagement ring, a custom piece by London-based designer Jessie Harris. "It's a much softer yellow than 14K, so it's subtle, it goes with either metal, and it was also more affordable to produce," she says. "We didn't have a ton of budget, so we used two family stones and just updated the setting. It's been over a year and a half since we got engaged, thanks to COVID, and I still can't get over how lovely it turned out."
Unisex or gender-fluid rings and inclusive sizing are (finally) becoming bigger conversations in the jewelry space, says Elliott. Automic Gold is "at the forefront" of making the wedding-band shopping experience accessible to all, Elliott says. "Jewelers should be offering up to size 16 in the set of samples they allow customers to try on, especially with wedding bands," Elliott says. "It's both about being size-inclusive, and acknowledging that the trans community's ring-shopping needs are more nuanced than the typical cis couple." Automic Gold's 14K recycled-gold wedding bands, available in sizes from 2 to 16, including quarter and half sizes. are offered in two shapes (a classic curve, or an edgier, flat-edged Industrial), five finishes, four metal colors (the familiar yellow, rose, and white gold, plus a cool-toned champagne gold), and four widths. A couple of styles with stones are available too, like the Rainbow Band, with emerald and multicolored sapphires, or the Industrial shape bezel-set with your choice of gem, from over a dozen to choose from.
Jenny Klatt, co-founder of jewelry brand Jemma Wynne, says she and her co-founder Stephanie Wynne Lalin "can't resist the beautiful gold Florentine-finish bands that our dear friend Carolina Bucci makes," like this slender style, which is a particularly affordable Bucci design. (To wit: The far heftier Florentine Finish Thick Ring is $1,612). The unique finish has tons of sparkle without any stones, created by beating the gold with a diamond-tipped tool to make permanent faceted dents in the surface for a glittery, richly textured effect.
Bruce is one of fashion consultant Lauren Caruso's go-to brands for minimalist, slightly masculine bands. The 14K rings range in price — this Barnes ring is among the more affordable options, though styles go up to four figures — and tend to have subtle, sculptural lines. "It's amazing how many different directions you can go with a classic gold band," says Jess Hannah Révész, founder and designer of jewelry brands J. Hannah and Ceremony.
Under $500
Unsurprisingly, Catbird was name-checked a bunch, specifically for more affordable options. The Brooklyn-based retailer's in-house label "continues to be a great resource for couples who don't want to spend a ton of money," Elliott says, though she notes they also stock pricier "superb designer pieces, too," from talents like Satomi Kawakita, Wwake, Kataoka, Sofia Zakia, and Jennie Kwon. Marion Fasel, author of eight books about jewelry and founder of The Adventurine, recommends 14K gold sans stones "if you want to stay under $500, and Catbird has some great bands in that price range," like this medium-width style.
Fasel, Plessner, and celebrity and bridal stylist Micaela Erlanger all suggest Mateo for relatively affordable options in 14K or 18K, with or without diamonds, including under-$500 bands like this slim yellow-gold design.
Author and jewelry consultant Beth Bernstein likes Kaylin Hertel's 14K yellow-gold petal-print collection, inspired by Japanese kimono prints and available in a few different shapes and widths, some with diamonds. The patterns are "subtle and engraved deeply into the band," she says.
If you're on the hunt for "a genderless wedding band at a fairly affordable price," Caruso recommends this Ashley Zhang ring, which has a slightly curved, mostly flat shape and medium width. It's available in 14K yellow, rose, or white gold for $480, 18K yellow or white gold for $640, or platinum for $880. Unsure whether you want stones or not? "Some people are hard on their rings and that might make metal a better choice," jewelry designer Cathy Waterman says.
Under $1,000
"I appreciate jewelry designers who source their materials in small batches and work with independent distributors," Brannigan says of Noémie, a DTC brand that does all production in-house, which means greater transparency and savings for customers. "You'll know exactly where your heirloom came from, and you can then pass that story along to later generations," she adds.
"Even before getting engaged, I knew that I wanted both my engagement ring and my wedding band to be vintage or antique," says Elana Fishman, style editor at "Page Six." "I'm such a sucker for jewelry that has decades, or even centuries, worth of stories behind it, and for beautiful past-era options, you can't beat Doyle & Doyle," a vintage- and antique-jewelry retailer in NYC. That's where she found her "delicate antique band with tiny channel-set diamonds," which is very similar to these two. In addition to Doyle & Doyle, other great vintage-jewelry sources include New Top, which has a store in NYC's Chinatown and also sells via Instagram, and Erie Basin in Brooklyn's Red Hook neighborhood, which are two of Caruso's go-tos for unique pieces that have lived many lives. "I'm a huge proponent of shopping vintage, and that's doubly true for something like a wedding band or engagement ring. There's so many beautiful one-of-a-kind pieces with rich histories," Caruso says.