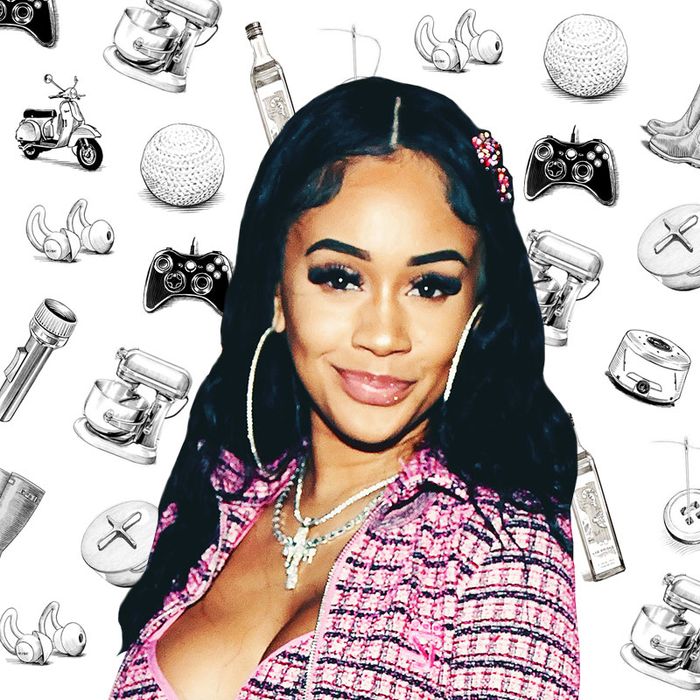 Photo: Craig Barritt/Getty Images for Casamigos
If you're like us, you've probably wondered what famous people add to their carts. Not the JAR brooch and Louis XV chair but the hairspray and the electric toothbrush. We asked rapper Saweetie (née Diamonté Harper) — who recently launched a makeup collection with Morphe — about the seasoning, tampons, and candles she can't live without.
I feel like there's some secret ingredient, because it's like a magic potion. Every time I put it on, it expedites my pimple process and makes them ready to pop. It extracts all the dirt. I know some aestheticians say you shouldn't pop your pimples, but if they're white, I pop them.
There are some sensitive kitties out there, and I'm one of them. As I got older, it became very difficult to use products with a lot of chemicals in them. What I love about Honey Pot products is that they have herbs as their base. I have their foam wash that you use in the shower, their wipes, and their pads and tampons. This might be TMI, but I had to stop using tampons for a little bit because I couldn't find one that worked well with my body. Then I found these. Now I feel cute and I feel sexy. I can wear thongs again while I'm on my cycle, because I have tampons that go well with my body.
I need a fuzzy blanket to fall asleep. I use this one from Z Gallerie; it's faux chinchilla fur, so soft, and big. It feels good on my body. I have to make sure I'm comfortable because sleep is hella important.
I'm really into tones and colors, because they set a mood and vibe. I go through these books whenever I'm working on a project or a music video or an outfit — it's easier for me to flip through them and send pictures to a stylist or art director or whomever is putting materials together for me. The books are like a Pandora's Box for colors — you can get lost in them. They're pages and pages of different pinks, oranges, and other colors. But they're so helpful: I just did a mood board for one of my projects and used all these different shades of green. I'm really excited to bring that to life when quarantine is over.
Whether it's my dressing room, my house, or wherever I'm working, I'm a vibey type of girl and need a vibe to be set. I need the right colors, I need my blanket, and I need it to smell good. A Voluspa candle is like the icing on the cake because it just smells like luxury. It makes me feel like a bad bitch.
Everyone who knows me knows I love gum. I unconsciously chew it so obnoxiously — it's kind of like my thing. You can hear me coming around the corner. I feel like Violet from Willy Wonka when I eat it. The flavor is just so good, and even when it runs out of flavor, I still like it. I'm weird. I love chewing it when I'm chilling at home. I chew it until my stomach hurts.
I really love Heath Ledger as the Joker. This is actually my comfort movie, I'll let it play while I'm cooking or cleaning — it just makes me feel like I'm at home. My dad is a big comic-book fan, so I grew up going to all the movies on the Friday or Thursday night they came out.