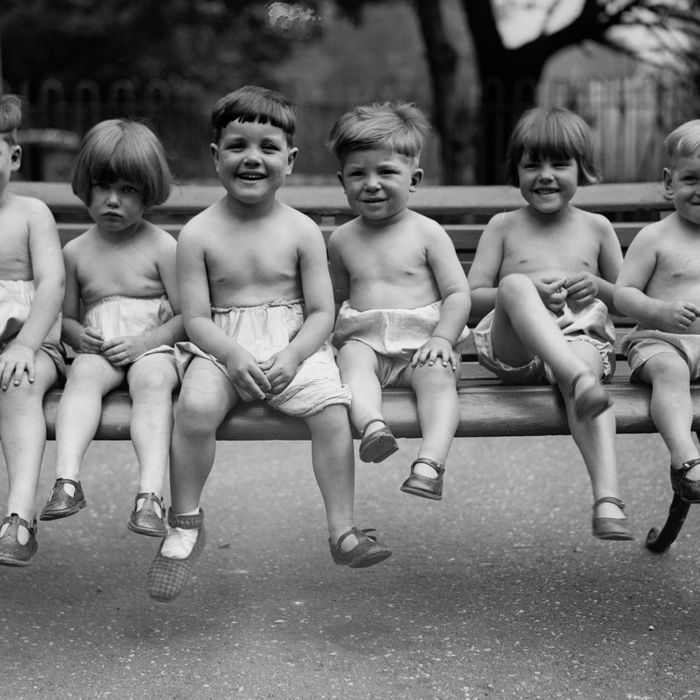 Photo: Fox Photos/Getty Images
As picky as adults are about their underwear — whether it be women's thongs or men's boxer briefs — shopping for kids' underpinnings can be even more difficult. Parents want pairs that will be durable and long-lasting, but also fun enough that kids will actually want to wear them. To find kid-friendly underwear that actually lasts, we asked eight cool people — including models, writers, bloggers, and children's fashion editors, many of whom are parents — to tell us about their favorite styles. Read on for all their picks, from Disney-princess patterned panties and striped briefs to solid-colored and gender-neutral options. Generally, the pairs shown come in sizes that will fit kids between 2 and 10 years old; if any pairs do not fall within that range, we've noted that.
Best printed underwear for kids
Linda McLean, a children's fashion editor at Family Traveller magazine and the founder of the website Smudgetikka, told us she likes the kids' underwear options from the British brand Boden. "Their value packs of underwear for boys and girls always have cool prints and of-the-moment color combinations," she says, adding that the underwear is well made. The above set for girls combines striped styles with Liberty of London–esque floral prints, while the set shown for boys includes briefs with monster motifs (both Boden will fit kids up to age 8).
With its classic French styling and understated charm, McLean calls Petit Bateau the "crème de la crème of underwear for kids." The brand is also a favorite of mom of two Ariane Goldman, the founder of Hatch. "I'm a Francophile, so when I can get a little piece of Parisian design on my girls, I do," says Goldman. The above sets will fit toddlers ages 2 and 3.
McLean also recommends Gap Kids for simple, affordable underwear. These seven packs are a price performer, with each pair breaking down to roughly $4 (or less) a pair. Plus, each one is printed with a different day of the week, making morning getting-ready routines that much easier.