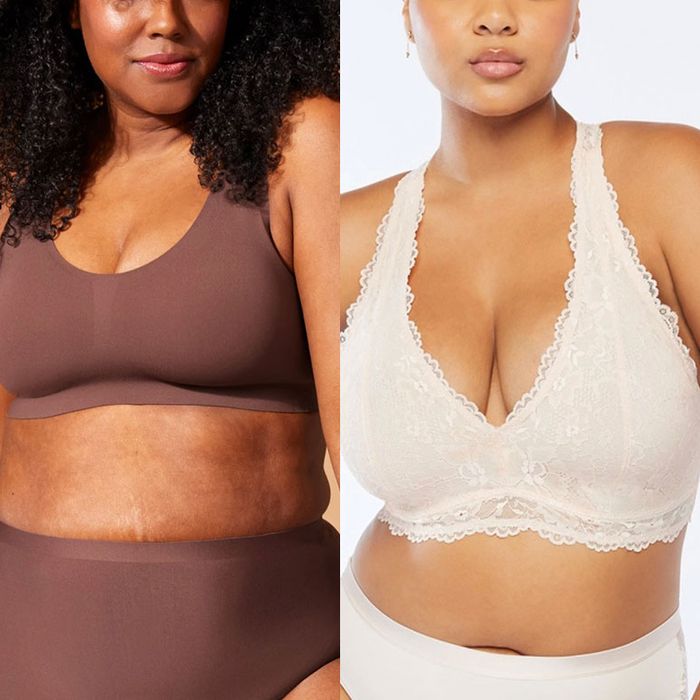 Photo-Illustration: retailers
Wireless bras are the sweatpants of women's underwear: They're minimally structured, comfortable by design, and, just like their traditionally terrycloth counterparts, they're having a moment. There's been somewhat of a bralette boom as of late, a trend only accelerated by quarantine, when many, including New York–based model Veronica Campos "ditched a regular bra immediately." But not all wireless bras and bralettes are made the same. Some are unlined and fully unstructured, while others have soft cups to offer light (or even medium) support.
But all of the best wireless bras will make you feel like you have nothing on and can elicit a feeling of "instant comfort," as Campos put it. So to help you find the best wireless bras, no matter your bust size or budget, we reached out to a handful of stylish women and pulled some highly-recommended picks from our own archive — including a lightly padded bra that one woman found on a tip from Oprah and the only mesh bralette that another brought on her honeymoon.
Best unstructured wireless bras
When you think about wireless bras, an unstructured bra is probably what you imagine first, and Negative Underwear's Sieve Non-Wire Bra is, in many ways, the archetypal version. It's lightweight and "a little sexy," but still offers enough support to wear on walks with her dog, according to creative director Emily Eisen. Part of what makes this bra unique is the clasp band, which is similar to that of a bra with an underwire, but Eisen tells us it's non-itchy and as soft as the bra itself. If you need any more evidence that it's truly a do-everything bra, take our newsletter editor Mia Leimkuhler's word for it: "It was the only bra I needed on a two-week honeymoon in Europe."
If you're looking for a pullover style, rather than one with a clasp, this one from ARQ was recommended by two stylish women in our roundup of the best bras for small-breasted women, and photographer Bri McDaniel, who is "obsessed" with the brand. "I wear it all day, sleep in it, and nurse in it," she says. Writer and brand consultant Harling Ross, who cheekily captioned a photo of herself in brand's matching set of checkered underthings as "the most presentable outfit I've worn since March," told us that she also appreciates that ARQ's products "are made of 98 percent organic cotton and are GOTS certified, which means the material is sourced ethically and sustainably."
When Everlane launched their own version of a (slightly cheaper) pullover, wide-strap bra, former Strategist writer and current senior editor at SELF magazine, Lori Keong, tested it out, writing that the "very cute" double-walled fit offers "a little more shielding" than your typical soft, unpadded bra. Since then, over 1,800 pleased customers have given the bra an average of four-and-a-half out of five stars.
Campos says that Hara the Label's bamboo bras all but defy logic: They're "made with very little material, but for some reason the fit and hold is decent, and I'm a 40DD." Like the Arq and Everlane bras, this too is a pullover, but the brand is size-inclusive — and offers up to a 5XL which is "super hard to find." The material is also incredibly soft, and the sustainable brand is "very transparent with production and supply, so I'm always loyal," she explains.