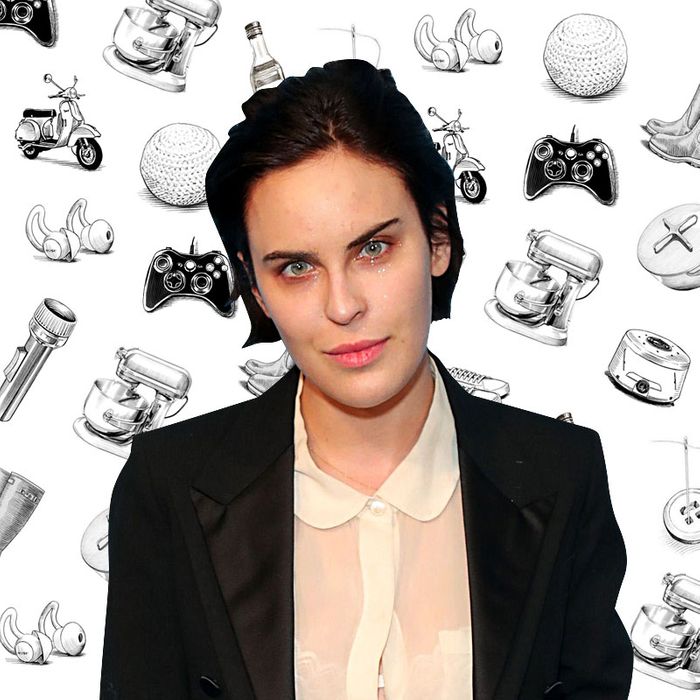 Photo-Illustration: Getty Images
If you're like us, you've probably wondered what famous people add to their carts. Not the JAR brooch and Louis XV chair but the hairspray and the electric toothbrush. We asked Tallulah Willis — the founder of clothing company Wyllis and the youngest of Demi Moore and Bruce Willis's daughters — about the fabric face masks, robe, and toothpaste she can't live without. 
Photo: retailer
I wanted a deodorant that actually works and does not have a light, airy, floral scent. This smells deeper, more grounded, woodsy — I almost wear it like I would perfume. I obsessively put it on because I love the smell so much.
It's not a huge bottle — it's a pretty tiny amount — but this is far and beyond the best, most supple body oil I've ever used. What I do is I take a bath, drain the bath, and then put the body oil on in the bathtub; otherwise, I get so cold after a bath that if I just leave the tub, I'll dry off and get dressed and get in bed. So I have to force myself to apply this, and I do it really fast. I just lather it on everywhere, let it dry, and then put my robe on.
Photo: retailer
I got one of these robes as a gift a year ago. I became obsessed and have since bought three more. I usually don't towel off after I apply my body oil and other stuff post-bath — I just slap my robe on, so it will start to smell really, really good. I feel like a Grecian goddess when I wear this.
Photo: retailer
My mom had Young Living essential oils around the house my entire childhood. She would just stop me when I was 7, and be like, "Close your eyes and breathe," then put some on her hands and rub them together. So I associate this particular brand of essential oil with safety. The Lady Sclareol blend is woodsy and floral; it comes in a little vial and you can keep it in your purse and rub it on your wrist and your neck.