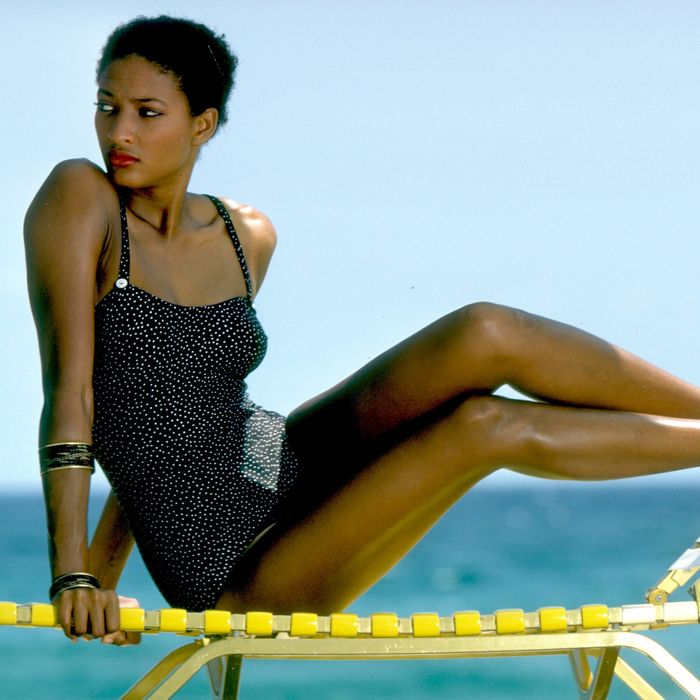 Photo: Getty/Conde Nast via Getty Images
We've talked to several women about their bikinis of choice, and several more women about their favorite plus-size swimsuits. But our survey of the best bathing suits wouldn't be complete without getting opinions on that other swimwear staple: The eternally stylish one-piece. Here, we asked 15 stylish women about their favorite one-piece swimsuits for everything from sunbathing with a book to dabbling in water sports (because you might be looking for something more resilient if you're an avid swimmer, surfer, or diver). Below, their recommendations, which span a range of prices and include high-cut suits, low-back options, and the one-piece a writer surfs the Rockaways in. Generally, the suits on this list range in size from 0 to 24; all are still in stock in many sizes, but given the time of year, some are selling out, so if you see one in your size, we suggest scooping it up (there's a lot of summer — and warm weather — still to come).
Best
under-$50
one-piece
swimsuits
Best
under-$75
one-piece
swimsuits
Best
under-$100
one-piece
swimsuits
Freelance journalist Sophia Li says this Summersalt swimsuit fits like a glove. "The material has compression but is not so tight where you can't move. It's thick yet breathable — I've worn it while surfing, swimming, and jumping off a sailboat, and the shape hasn't given up through multiple washes." Beyond a great fit, the color-blocked suit comes in 13 different color combinations, and sustainable shoppers should know it's made from 78 percent recycled polyamide fibers. If you're not into this style, all of Summersalt's one-pieces happen to be priced under $100, so you can shop around without splurging.
Photo: retailer
For women with larger busts, stylist Samantha Brown suggests this ruffle-sleeved one-piece swimsuit because it has adjustable straps for "extra support." She also loves the fact that it comes in several different solid colors — including blue, pink, and black — and has a fun belted waistline, which she says she's seeing everywhere this summer.
Photo: retailer
Andie is known for its well-fitting, sleek suits. Strategist writer Lauren Ro particularly loves the "unassuming but still stylish" Amalfi one-piece, which she describes as "a classic silhouette with thin adjustable straps." It has a built-in medium-support shelf bra with removable cups that Ro says "gives just the right amount of coverage without being too modest." Plus, it has a higher back for those, like Ro, who don't prefer a super-low-back style. And if you don't like the version shown, Andie has a style of this suit for pretty much everyone: It's available in 14 different colors and two different fabrics (flat and ribbed).