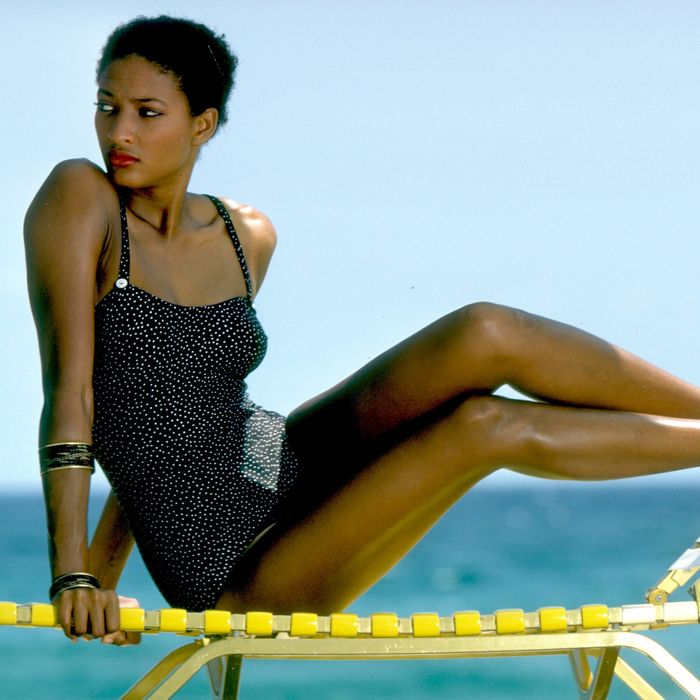 Photo: Getty/Conde Nast via Getty Images
We've talked to several women about their bikinis of choice, and several more women about their favorite plus-size swimsuits. But our survey of the best bathing suits wouldn't be complete without getting opinions on that other swimwear staple: The eternally stylish one-piece. Here, we asked 15 stylish women about their favorite one-piece swimsuits for everything from sunbathing with a book to dabbling in water sports (because you might be looking for something more resilient if you're an avid swimmer, surfer, or diver). Below, their recommendations, which span a range of prices and include high-cut suits, low-back options, and the one-piece a writer surfs the Rockaways in. Generally, the suits on this list range in size from 0 to 24; all are still in stock in many sizes, but given the time of year, some are selling out, so if you see one in your size, we suggest scooping it up (there's a lot of summer — and warm weather — still to come).
Best
under-$50
one-piece
swimsuits
Photo: retailer
Writers Nora Whelan and Amanda Richards both told us to check out Swimsuits for All for its one-pieces (most of which run up to size 24). "They have anything from sporty swimwear, to boring one-pieces (which I love), to Ashley Graham's super-sexy, super-revealing collection in a wide range of sizes," says Richards. "Swimsuits for All is the ultimate destination for plus-size swimwear, whether you're looking for a chlorine-resistant style that won't fade when swimming laps or the latest drop from GabiFresh or Ashley Graham's annual collections," agrees Ashby Vose, the head of brand at Ori, who recommended this "timeless" polka-dot suit in our roundup of the best plus-size swimwear. Vose says the suit's "fit is flexible enough that Ashley Graham even wore it when she was pregnant."
Strategist contributor Siraad Dirshe told us that she wears "this high-performance Speedo one-piece nearly every time" she hits Rockaway Beach to surf. "It stays in place, so there's minimal tugging or rearranging in the water or when peeling off a thick wetsuit," she writes, adding that she's "personally a fan of the crisscross back and fuller coverage this one offers."
Photo: retailer
Style blogger Bethany Everett-Ratcliffe is a huge fan of this suit for its "super-fun cutout detail and chic monochrome print." Another thing to like is its price, according to Everett-Ratcliffe, who points out that, at "only $42, it costs less than a lot of bikini tops I've seen." The stretchy fabric is made using polyester recycled from plastic bottles and textile waste, so not only is it good for splashing around in the waves, but it also helps to keep the ocean those waves form in a little cleaner too.
Photo: retailer
One of the writers of this story (Dominique Pariso) recently bought this strappy one-piece from Aerie. It sports a full-coverage bottom with an open back, making it great for both tanning and playing beach games. And it comes in three colors: red, black, and olive.
If you like your one-piece swimsuits with some extra coverage around the waist, Strategist contributor Alyse Whitney loves this citrusy skirted number she bought from Amazon. "It looks like a scuba dress when it's dry, with a tasteful, not-too-large cutout in the middle," she writes. While "the photo on Amazon makes it look like a huge exposure of skin," Whitney says that, depending on how you tie the drawstrings, you can hide (or show) as much of your midriff as you'd like. Plus, "the lemon isn't aggressively cutesy," she promises.