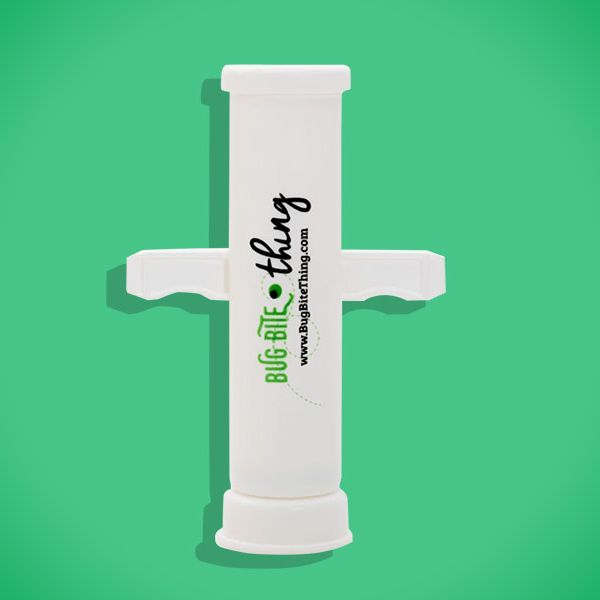 Photo-Illustration: Courtesy of the retailer
Update: Since getting my hands on the Bug Bite Thing about a year ago, I have only become more convinced of its ability. It has accompanied me on several hikes and a trip to a lake house, in addition to many a park, making it a summer (and late-spring and early-fall) staple I've used to treat dozens of bites. The most recent was on June 20, the first official day of summer 2021, when I was attacked by a giant mosquito in the few minutes I spent getting my 2-year-old out of his car seat and into the house. As soon as I felt the pest's four throbbing pricks on my ankle, I darted inside and grabbed the Thing. After using it on the bites, the urge to scratch them more or less instantly disappeared. (The slight pinch from the tool's suction, though, feels as satisfying as a little scratch.) By the next day, the bites were gone.
Mosquitoes have loved to feast on my blood for as long as I can remember. (I must have a very appealing "chemical signature.") Their meals almost always leave behind throbbing, painful welts, which would often turn into unsightly scars no matter what ointments, creams, or sprays I used to prevent or treat mosquito bites. For this reason, I sort of gave up on trying to prevent or treat them, because I assumed nothing would really make a difference and preferred to avoid the unpleasant, sticky residue left behind by lots of bug sprays and lotions and wipes.
Resigning to a life of being itchy (and miserable) meant that sometimes I'd avoid going outside altogether. So when a company reached out to me (and a couple of my colleagues) about a $10 piece of plastic that it calls "a must-have for anyone who is a 'mosquito magnet,'" I was intrigued. Named the Bug Bite Thing, the tool (which was featured on Shark Tank) acts as a suction device to extract saliva or venom — the irritants that cause itching, stinging, and swelling — left beneath the skin's surface by mosquitoes, bees, wasps, and other bugs.
Given the questionable science behind it and my track record with bite-beating products, I was skeptical: How could this three-inch doodad that looks like any old syringe instantly treat mosquito bites without using any chemicals or medicine? The only way to find out was to test it, and with my front and backyards teeming with mosquitoes, it wasn't long before I had the chance. Within minutes of taking my toddler out for a walk, I got at least three bites, and immediately went back inside to try the Bug Bite Thing (its makers say it is most effective when used right away). I placed the Thing on one of the bites, pulled up on its handles until I felt suction, and held it for the recommended 10–20 seconds before pushing down to release the suction. I repeated this procedure on the other two bites, and by the time I was done with all of them, the first bite honestly felt better. I could still see it, but it wasn't itchy or irritated. The same thing happened with the other two. I was astounded.
While this may sound too much like a coincidence, I promise it's true. The next day, at the park, a bee stung my hand. I'd brought Bug Bite Thing with me because I knew there'd be a good chance I'd be bitten by something while we were out. I felt the sting — which was actually more painful than I remembered (I was a kid the last time I got stung) — and then saw the stinger lodged in my skin. After removing it with my finger, I grabbed the Bug Bite Thing and used it the same way I had on my mosquito bites. The sting site instantly felt better, and I couldn't even see it anymore.
I will say that the Thing can leave a faint hickey-like mark if I use too much suction, but since you're in control of how much pressure you apply, you can learn how to avoid this with enough practice. Because it's entirely user-controlled, I can also put it on my son's sensitive skin (unfortunately, Augie seems to have inherited whatever I have that makes mosquitoes go mad). It comes with parts that allow you to increase or decrease the size of the opening you put over a bite so you're not applying it to more skin than you need to, and even has a built-in "stinger scraper" on the handle (so you don't have to use your finger). And you can take it apart for easy cleaning. While it's not perfect, I think it's fair to say that the Thing is incredible.
It's also available in black — and this model has a convenient hole for attaching the Thing to a key chain, making it even easier to ensure you'll never be without it.
The Strategist is designed to surface the most useful, expert recommendations for things to buy across the vast e-commerce landscape. Some of our latest conquests include the best acne treatments, rolling luggage, pillows for side sleepers, natural anxiety remedies, and bath towels. We update links when possible, but note that deals can expire and all prices are subject to change.