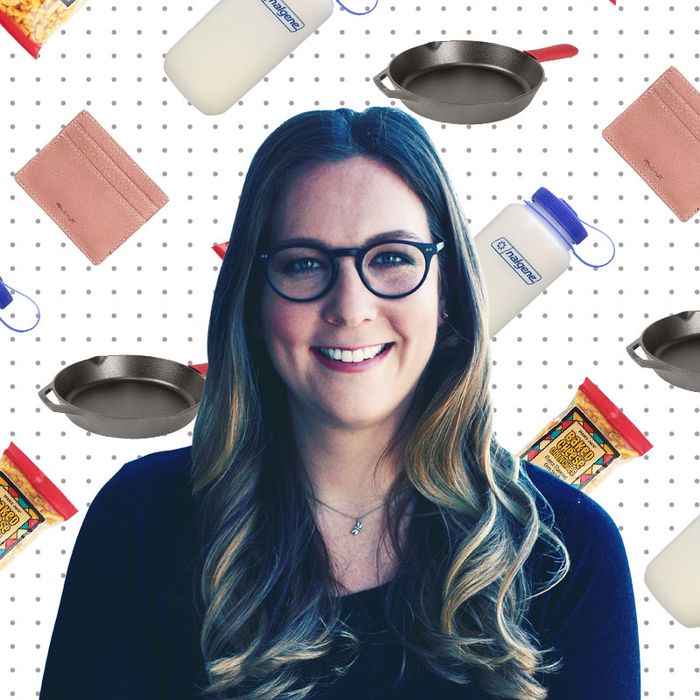 Photo: Photo-illustration: New York / Photo credit Craig Hall
If you're like us, you've probably wondered what famous people add to their carts. Not the JAR brooch and Louis XV chair, but the hand sanitizer and the electric toothbrush. And in celebration of New York Taste, we're going to be asking some of the 40-plus chefs and mixologists whose food and drinks will be served on October 21 about the things they can't live without. (You can learn more about New York Taste and buy tickets here.) Today, we talked with Emily Hyland, co-founder of the Pizza Loves Emily restaurants, about her favorite notebook, water bottle, and beauty balm.
My very first job when I moved to New York 15, 16 years ago was as a gift-wrapper during the holiday season at Williams-Sonoma — I'm excellent at wrapping gifts to this day. You got an employee discount, and so on the last day I bought my first Lodge pan. It's just such an easy cooking tool. And it's so nice to season and have that history of all the dishes that are cooked in there and that perpetual seasoning going on. I don't have a ton of cookware, but that's one of my go-to items, most particularly for chicken taco meat every week, among other things. I made some blackened fish last night that was really great. And I love to just do some simple vegetables in there, like pan-charred veggies like broccoli and Brussels sprouts, fry some eggs in there. It's so easy and accessible for such a wide range of things.
I've been using Nalgenes for the last 20, 30 years. Trying to be ecoconscious, I think it's a really durable bottle and it's not very heavy like glass, which, even with the rubber on it, I feel like it's going to break when I'm traveling around the city. On the Nalgene, I like the handle, I like the wide mouth, I like that it holds a lot of water — it's been a durable standby in my life.
I'm a really particular notebook user. I like the size of this one and the texture of it: It's firm, but it's also bendy, it's not a hardcover but it's not a softcover. For me what's really important is it's unlined. I do a lot of writing — I'm a poet and writer — and I like the freedom of not being relegated to lines or grids. I think I'm on number ten of all of their different ones. It's the most loyal I've ever been to a notebook.
A life-changing book. It's by Pema Chodron, who is one of the foremost contemporary Buddhist thinkers in the world. She writes really accessible little vignettes to help the