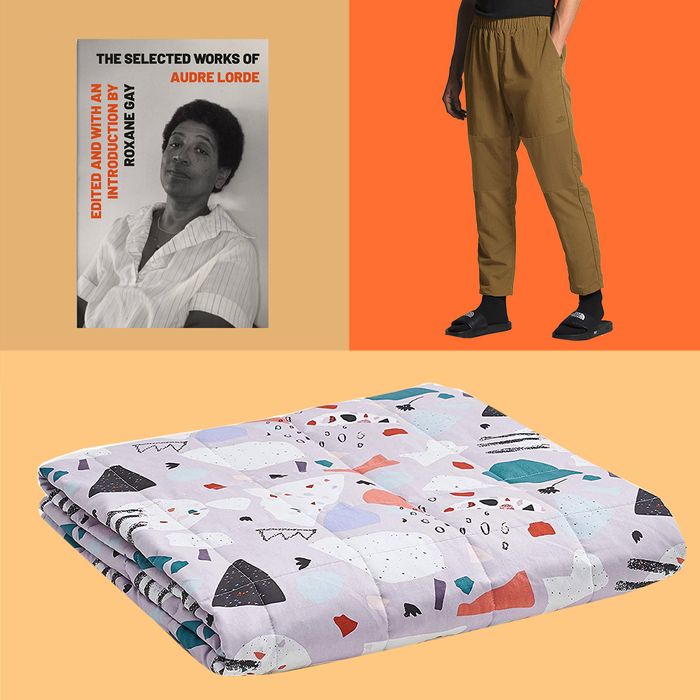 Photo-Illustration: retailers
If you follow our monthly feature "Your Shopping Cart," you know we have some eerily good intel on what you all are buying. Which led us to think that, as Strategist editors, we could turn the tables and highlight all the things we've been buying for ourselves. As you'll notice, it's both a blessing and a curse to be a Strategist editor; we're picky, but sometimes we just have to get on with it. (It's online-shopping expertise meets IRL needs.) Below, what we all bought in October.
Alexis Swerdloff, Strategist editor
On Prime Day, I could not resist getting this sweatshirt that Liza Corsillo wrote an ode to a few months ago. As she noted, it really does have the feel of a "boyfriend sweatshirt" and is extremely comfortable. Also as she noted, it was a bit long, so I lopped off a chunk of its bottom and it is now very nicely cropped.
Also on Prime Day, I got my 2-year-old this guitar. He calls it his "toggy," totes it around the house from room to room, and enjoys "playing" it to "YMCA," which he calls "Young Man."
Anthony Rotunno, senior editor
While our search for the best Baggies-like lounge pants turned up more than a few worthy options, I didn't want to buy one without doing a lay of the land myself. That lay of the land led me to these from the North Face. Like Baggies, they are made of a technical material that sort of stands out — in a good way — against the linen or cotton or wool of my not-as-sporty button-downs and (now) sweaters. They're also baggy-ish, but they have elastics you can use to nip in the ankles so they don't look too sloppy. I like that they come in a handful of solid colors (I got black and navy) with a relatively minimal logo that is far less noticeable in person than in pictures. Best of all, they were just a few bucks more than the shorts I swapped out.
Shortly after learning we might be working remotely until September 2021, I broke the second dining-room chair I had been sitting in to work from home. I took the two developments as a sign that I should invest in a better seat. I went with this kneeling chair from our roundup of expert-approved ergonomic office chairs because it seemed small enough not to take over my open-plan home, and, since I'm trying to take walks and get up more throughout the day, I felt I could abide by the experts' recommendation to change positions while using it. I've really grown to love this chair. My legs took a couple of days to get acclimated, but now I truly never tire of the position it puts me in; in fact, it feels so natural now, I probably sit in it more than I should.
Maxine Builder, deputy editor
I've been considering buying a weighted blanket for years, and I finally bought one on Prime Day: the well-reviewed, 20-pound YnM, in a very silly print they call "Terrazzo," for just under $60, which is the cheapest I have ever seen a weighted blanket. The print is even sillier in person, but I wouldn't say it's offensive. And honestly? It could be the ugliest thing I've ever seen and I'd still love it because there's nothing I look forward to more these days than quietly lying on my couch, like a mummy in a sarcophagus, with the weighted blanket draped over my body, neck to toes, and just … not thinking about anything.
I'm a longtime Tatcha fangirl, and the brand's cleansing oil has been a staple of my skin-care routine for years. But when I finished a 5.1-ounce bottle this month, I just couldn't bring myself to spend $48 on another. So when I saw this 6.7-ounce bottle of DHC cleansing oil on sale at Dermstore on Prime Day, at half the price of a bottle of Tatcha cleansing oil, I figured I'd give it a shot. It's more viscous and feels oilier on my skin than my beloved Tatcha, but it works in that I haven't broken out since using it. And given the price, I may buy it again. (But if Tatcha brings back the ten-ounce bottle of cleansing oil, I would buy that in an instant. It just feels like a better deal!)