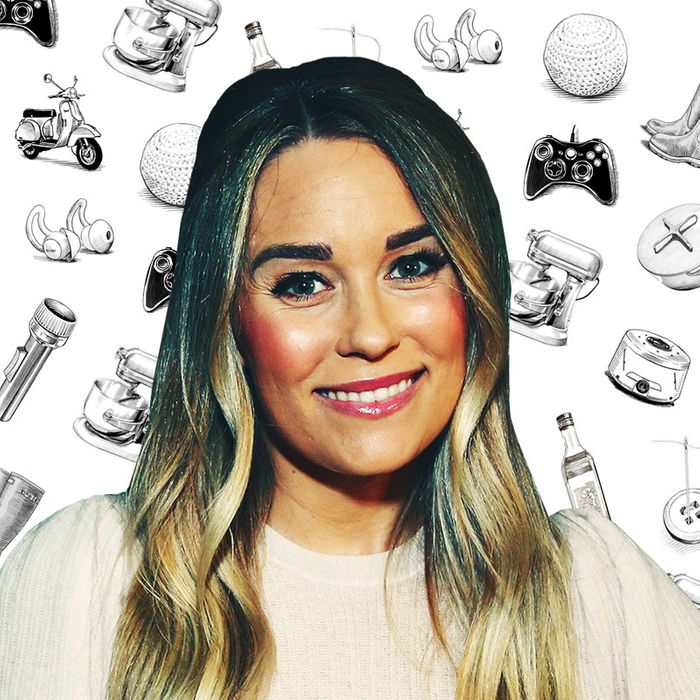 Illustration: Joe McKendry, Photo: Phillip Faraone/Getty Images for ABA
If you're like us, you've probably wondered what famous people add to their carts. Not the JAR brooch and Louis XV chair but the hairspray and the electric toothbrush. We asked Lauren Conrad — whose brand, Lauren Conrad Beauty, launched this fall and just expanded to skin care — about the coffee maker, hair clip, and wine she can't live without.
I've worked with Kristin since I was 20 — she's amazing and her whole line is literally the only thing I use on my hair: her shampoo, conditioner, stylers, everything. My hair is pretty thick. After my first pregnancy, it all fell out. I've been able to hang on to a lot of it this time around, but it still has changed a lot. Kristin explained to me that the texture of your hair changes every seven years and it changes during pregnancy. So mine has become a bit thicker — I have a lot more hair than I did before — with more of a natural wave to it. I recently grew it long enough to really do a top knot again, and this French pin makes that so easy. It doesn't cause breakage like an elastic can. I use it every single day. Even if I'm not wearing my hair up, when I get home at the end of a day, I twist it up when I walk in the door because I live with a one-year-old hair puller. I don't even look in a mirror to do it.
The first thing I do every morning is make coffee at around 6:30. Years ago I had a Keurig in my kitchen, and when one of my husband's best friends stayed with us, he very kindly said to me, "If I sent you more ecofriendly ideas for coffee, would you be open to them?" He got me thinking. The next weekend we were going up the coast for a wedding and we stopped in this small boutique, where I saw this little coffee maker. I was like, "Oh, this is so beautiful." It doesn't require anything, including filters. I got it and have used it ever since. There's a whole process to it: I grind my own coffee, and in order to use this, you need a more coarsely ground coffee. Then I pour a bit of boiling water over it, let the coffee bloom for a minute, then pour the rest in and watch it make my coffee. It's definitely more involved than a regular coffee maker or a Keurig, but I actually think it makes a nicer cup. It looks better on your counter, too, and best of all, it's a little nicer to the Earth. Mine has held up for a few years. We did have to replace one piece because my husband dropped it while washing it, but other than that, it has really lasted.
I love this one from Costco because it's a really good value. I do use it to cook, but I mainly use it for baths. At the end of the day, after we put the boys down, I try to take a 20-minute bath. It's my end-of-the-day thing — I usually have a glass of wine in there, too. And I always put a bit of coconut oil in the bath while it's running. The last thing I want to do is apply moisturizer after a bath because I'm so relaxed and tired, so putting coconut oil in there keeps my skin nice and hydrated.
Instead of having a coffee in the afternoon, I've switched to having kombucha. It's better for digestion and whatnot. I have a fridge stocked with kombucha, that's how much I drink it. I treat kombucha almost like I would beer — I have my go-tos, but I like trying different ones, and I always come back to my favorites. This is one of them. I found it at my local grocery store. It's sort of a middle-of-the-road one in terms of sweetness, for when I don't want anything too sugary. It's tasty. If I don't want to try something new, I go for this because I know I'll enjoy it.
I mainly use it to reheat things. For example, if I'm making a batch of waffles, I'll freeze the extras, then pop one in when I want it. The air fryer defrosts and crisps it up. It also brings leftover fries back to life, which is honestly enough of a reason to own one. This model is the newer version of mine, because when I went to look up mine, I only found used ones on eBay. I guess I've really had it for a minute. But mine is still working well, I don't have a reason to replace it. I got it about two years ago when I was pregnant. Some woman at a talk about how to healthily feed small children said we all needed to get an air fryer because it makes things so easy. Recently I did a Zoom wine date with one of my good friends and she texted me that she was running late; she was like, "I just finally unwrapped my air fryer from Christmas." I responded with a short novel about my air fryer, outlining everything she needs to do and try. I'm obsessed with it.
Our whole family is dairy-free. We have been for years. My oldest son is actually lactose-intolerant, but we've all struggled with dairy, so we just cut it out of our diet. Cutting out dairy is pretty easy, but it becomes a challenge with baking. Sweet Laurel's recipes are all dairy-free; she's also grain-free, so it's all almond flour. The main ingredients she uses are almond flour, maple syrup, and Himalayan salt. All of her recipes are really easy, too — I pull out cookbooks for dessert a lot, but sometimes recipes have so many steps that I get overwhelmed. The last thing I made from here was a strawberry cake for my son's birthday. I handed him the book, told him to pick what he wanted, and he chose that. It was dyed pink with beets. You don't taste them, they just made the whole cake pink.
I love a mask that gives me instant results. I don't have very sensitive skin, but when I take this off, my face is bright red. It does burn a little, but I don't mind. I really feel like it's working. I only use it once a week — I do it at night and the next morning I wake up and my skin feels great. It's a nice refresher and takes away that dull feeling I can get. I'm trying to do as much as I can at home — I haven't been able to get facials or see any specialist — and this is the closest I've gotten so far to instant results.