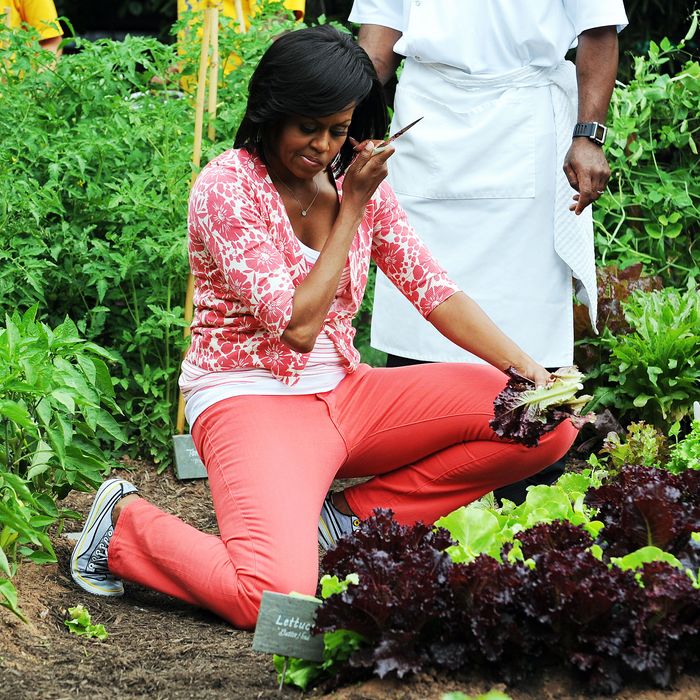 Photo: JEWEL SAMAD/Getty/AFP via Getty Images
Along with bread-baking and jigsaw-puzzling, we've noticed gardening has become a popular quarantine hobby. Many are taking this extra time at home to exercise their green thumbs, tending to plants, flowers, and even herbs and vegetables that they'll put to use in the kitchen. We've covered the best watering cans and other tools to keep your garden in tip-top shape, but if you're a gardening newbie, you might be wondering what you're supposed to wear while you're doing all that planting, pruning, and harvesting.
Fortunately, as Sara Gatanas, general manager at Urban Garden Center in Harlem, says, "There isn't really anything that you have to have for gardening" — besides clothes you don't mind getting dirty. In fact, Gatanas and the four other gardening experts we spoke with for this story say they've gardened wearing everything from sundresses to pajamas to basketball shorts. What you choose to wear will also depend on your location and the type of gardening you'll be doing. Obviously, suburban gardeners with expansive lawns need more sun and mud protection than urban dwellers planting on a windowsill or fire escape. Our five experts say there is some gear that can make gardening easier and more comfortable, though, and if you foresee your newfound interest becoming a permanent hobby, you may want to consider investing in some of their picks.
Best gardening clothes
While gardening apparel varies widely, the experts we spoke to all mentioned the importance of pockets for storing tools. "I would definitely have something with pockets so that you could carry your pruners around with you," says Houston-based Timothy Hammond, known on Instagram as Big City Gardener. "Or maybe you have a couple of peppers that are ready to be harvested or even some herbs. You could just snip them, put the pruners back in one pocket, and then keep your harvest in another pocket until you get back home." Katie Parks, who documents her Northern California gardening on her Instagram Freckles and Sprouts, agrees on the importance of pockets, and loves these Duluth overalls for that reason. "They have loads of pockets on the legs, on the front, a pocket for knee pads to be inserted into, and even a small harvest pocket that is detachable," she says. "Some of the pockets have a small opening at the bottom of the pocket so dirt can sift out." She also likes that the overalls are extra stretchy for bending and maneuvering around the garden.
Here's a Patagonia overalls style that comes in men's and women's versions. Like the Duluth pair, they both have plenty of pockets and a space for adding knee pads.
Best gardening shoes
"A lot of people garden in Crocs," says Gatanas, noting they meet all of her requirements for good gardening shoes: closed-toe for protection, a skid-resistant rubber bottom to prevent you from slipping on wet surfaces, and an easy-to-clean material.
In the summer, many gardeners prefer sandals, like Parks who says she "has the tan lines to prove it." While she acknowledges that her favorite sandals, the Blowfish Granolas, "are not at all designed for gardening," she likes that "they're supportive, with arch support, and good ankle support." She buys a pair every year, wearing the new ones casually with sundresses and rotating out last year's pair to become gardening shoes.
Birkenstocks are also a favorite among gardeners, including Gatanas and Nicole Burke, owner and founder of Houston's Rooted Garden. As Burke says, "a gardener is always running from this spot to that, and lacing up shoes or doing anything more than sliding them on is just too much to ask when there's gardening chores to do," making her easy-on, easy-off Birkenstock sandals an obvious choice for warm-weather gardening. In waterproof EVA plastic, this durable style can handle getting a little muddy.
For tougher jobs and colder weather, most of the gardeners we spoke with say they'll switch to work boots that cover the ankle. "A lot of people, like the landscapers on our staff, are always wearing Timberland-style boots," says Gatanas. "They're rugged and you can get them dirty and wet, so that's something popular in the gardening world." Parks wears a work boot, too, especially in the winter when, as she says, "I do a lot of work with wood — harvesting branches and trees, cutting them up, and building fences and arbors. Also a lot of digging and creating new growing areas. There is a lot of hard work and mud involved, so I need something comfortable and durable."
Hammond says that gardeners who work in mud or wetter areas often wear rubber boots, like rain or wading boots, that go at least 12 inches up the leg for staying dry. "If you step in a puddle, you don't have to worry about your socks or your pants really getting wet," he says.
Best gardening hats