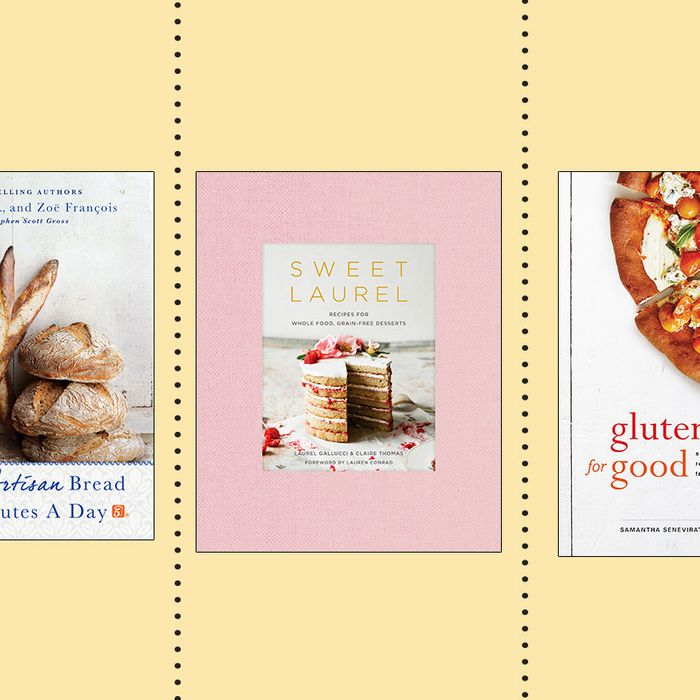 Photo: Courtesy Retailers
Gluten is the protein in wheat, rye, and barley that gives those starches their stretchiness and allows dough to be kneaded until it's springy and soft yet still structural. It's an amazing thing, unless it makes you feel sick, which is why people with certain autoimmune disorders or allergies go gluten-free. But giving up glutinous grains doesn't have to mean forgoing pasta, pizza, pastries, and carbs forever. You just need to find the right gluten-free substitutes — like flours made with gluten-free grains and starches like millet, corn, or rice, or grain-free flours made with nuts or chickpeas — that will replace the wheat in the recipes you're making.
If you're feeling overwhelmed by finding the right gluten-free substitutions, there are plenty of gluten-free cookbooks to help you figure out what's what. The trick, however, is finding gluten-free cookbooks that are actually simple. They don't complicate cooking methods or pack ingredient lists with fillers to imitate the stretchy texture created by gluten (but can actually result in gloopy baked goods and less-than-satisfying mains).
To find the best gluten-free cookbooks for baking, bread, and dinner that don't make things harder than they need to be, suitable for both beginners and those gluten-free veterans who are looking to shake up their weekly meal rotation, I spoke with seven gluten-free bakers, chefs, and cookbook authors about their favorites — along with a couple of my own gluten-free favorites.
Best gluten-free cookbooks for bakers
Gluten-Free Baking Classics by Annalise Roberts is a great starting point for beginners, those who know they need (or just want) to switch over to gluten-free or alternative flours when baking, but aren't totally sure how to make the conversion. "This book contains all the basic recipes you'd ever need," says Tully Phillips, founder of Tu-Lu's Gluten-Free Bakery. "The author teaches you how to make a gluten-free flour mix to use in many of the recipes in the book, which makes gluten-free baking less daunting to someone new." It was actually the first gluten-free cookbook Helene Godin, owner of By the Way Bakery, bought when she wanted to leave corporate America to become a baker, and she still references it nearly a decade later, saying, "Whether you fastidiously follow Roberts's recipes, or use them as a starting point for your own recipes like I did, you won't be disappointed."
For a slightly chef-ier introduction to gluten-free baking, geared toward professional bakers or those with an interest in the food-science side of things, Erica Fair of Sans Bakery recommends this one, written by a professor of baking and pastry arts at the Culinary Institute of America. "It was essential when first starting out to get a basic knowledge of how gluten-free flours worked and what was needed to make things taste good."
Alanna Taylor-Tobin, a San Francisco–based food photographer and stylist behind the recipe website Bojon Gourmet, describes this James Beard Award–winning cookbook as "quietly gluten-free" because it "highlights the unique flavors of gluten-free flours like teff, buckwheat, oat, and chestnut," rather than striving to re-create conventional flour recipes. The idea is that you're using these alternative flours because they taste good and add to the flavor of the final dessert, not just because they don't have gluten. Aran Goyoaga, author of Small Plates and Sweet Treats: My Family's Journey to Gluten-Free Cooking and the website Cannelle et Vanille, also recommends this book, citing the recipes for "wonderful pastries using all the different gluten-free flavorful flours."
Taylor-Tobin's book Alternative Baker builds on some of the same principles as Flavor Flours. "Alanna's recipes celebrate gluten-free whole grains, the recipes don't contain a lot of 'filler' flours or starches, but rather showcases 14 wonderfully unique gluten-free flours," explains Lindsey Love, author of Chickpea Flour Does It All and creator of Dolly and Oatmeal. Goyoaga also recommends this cookbook for those looking to minimize refined sugars in their bakes.