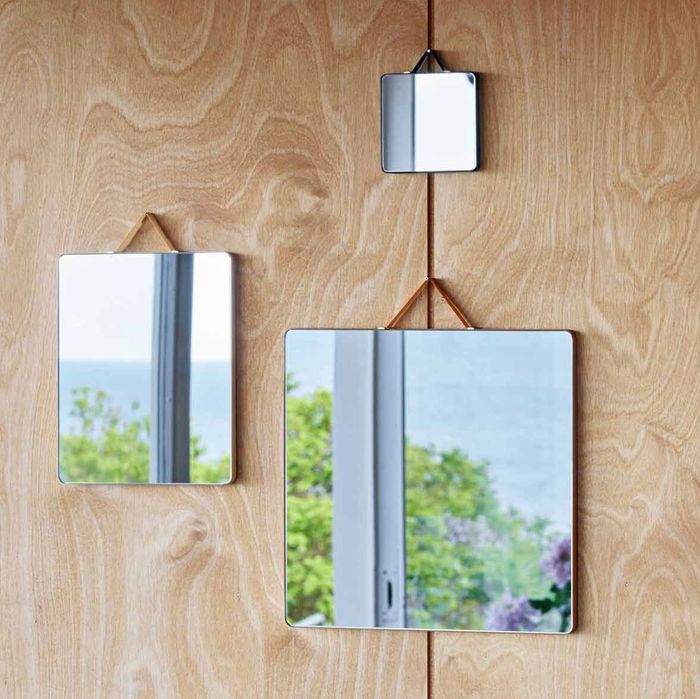 Photo: Courtesy of the retailer
We all know that mirrors are useful for getting dressed, flossing, and doing your makeup — basically any activity that requires checking yourself out. And they are of course imperative for getting that perfect mirror selfie. But a mirror can also make small spaces feel larger, which is why the interior designers and other cool people we talked to say they often use them simply as décor, too. "I use mirrors all over my own small apartment," says Laura Fenton, author of forthcoming book The Little Book of Living Small. "A huge, $20-from-Craigslist mirror makes my entryway feel larger than it really is."
As Fenton points out, decorative mirrors can be as affordable as they are useful. But they can also be investment pieces that double as works of art (just ask anyone who owns an Ultrafragola). So to help you find the best one for your space, we asked her and 11 other interior-design-minded folks to point us to their favorite eye-catching (and light-catching) decorative mirrors on the market. Read on for their suggestions, which range from delightful picks under $100 to special, splurge-worthy mirrors you'll want to stare at from any angle.
Best
under-$100
decorative
mirrors
Amber Uhl, a designer with online interior-design service Havenly, recommends this cheeky mirror in the shape of an eye that's handcrafted in Peru with engineered wood. She calls it a great "accent" piece: "Use this mirror to add an interesting pop to a gallery wall, style it with a chair and a tall plant to complete an empty corner, or add it to that skinny wall in your home that always felt like it needed something," she suggests.
A round mirror is also quite easy to incorporate into your space because of how versatile its shape is. "It just works. I've lost count on the number of times I've seen this mirror in someone's home — but I totally get it," says decorator Carrie Carrollo. "It's simple and easy to style, super-affordable, an ideal size, and the circle shape makes it that much more interesting than your standard square or rectangle." Corrollo adds that the mirror, which is 28 inches in diameter, works in just about space and with any style of décor.
Like the round mirror above, this uniquely shaped mirror from Target's Project 62 line is another favorite of Carollo's (who told us she generally loves Target's Project 62 line for affordable décor). While the flat-bottomed mirror's name suggests using it on a mantel, she says you can put it in many other places, as well, such as "over a credenza or dresser, couch, or even a shelf in your hallway." Of the metal-framed mirror, Carollo adds that "the shape is clean yet stylish, and it's a great size and price."
Best
under-$150
decorative
mirrors
Uhl also likes round mirrors, which she says are "very in right now" and can "truly go in any room of your home, whether it be above your bathroom vanity or above a cute console table in your entryway." This one, she says, "has quickly become my favorite affordable piece to decorate with, after hunting high and low for the perfect mirror." At 37 inches across, it's larger than Carrollo's pick above and is framed by black rubber, giving it a bit of an industrial feel. Uhl says that the price is a deal, considering its large size and the fact that it "goes with darn near every design style." Clémence Poles, the creative director and founder of online magazine Passerbuys, also recommends this mirror, saying that it "really opens up a room."
If you're looking for a round mirror with an extra dimension, Tiffany Thompson, the founder of Duett Interiors, recommends this two-toned borderless mirror, which she calls "a great update to the traditional round mirror" and "aesthetically pleasing but still functional." Measuring about 19 inches across, it can be mounted at 45-degree increments, thanks to the guided mounter on the back, Thompson explains. "I love the idea of hanging it horizontally or vertically," she says. "It allows you to get creative."
Reminiscent of a racetrack, this round mirror recommended by Carrollo features a grooved engineered-wood frame with a metallic-paint finish. "Although it's a new piece," she notes that it actually looks vintage and "perfectly captures that Art Deco look." Carrollo adds that "you can't go wrong with an oval pill shape" and that, for what you're getting, this mirror is "pretty well-priced: You could easily pay more from a vintage seller."
For something straightforward that gets the job done, Thompson suggests the Hovet mirror from Ikea. Even though it's simple, she says that "if you go into any influencer's home or your favorite retail store, I guarantee that three out of five places will have this mirror." That's because, according to her, the mirror's size — it's 77 by 30 inches — and simple aluminum frame make it both useful and unassuming. "It's the perfect height for a floor mirror and fairly inexpensive," Thompson adds, noting that it can be mounted horizontally to open up a space. If you want to get creative, she suggests painting the metal finish to give it a different look.
This powder-coated-steel mirror with a subtle shelf is as decorative as it is useful. Fenton recommended it, calling it "sleek" and "modern" and adding that "the rounded corners are a good move for a small space where you might bonk into a corner." One place she suggests hanging it is in a "tiny bathroom to make a spot for some of the daily toiletries that tend to creep onto the sink." But the mirror can just as easily be placed on top of a vanity or console instead of being hung.
We've already praised wall ladders for their ability to neatly organize clothes and blankets, but when you combine one with a mirror, you get an all-in-one closet assistant. This metal-framed wall ladder–mirror hybrid is a favorite of Thompson's; it comes with a full-length mirror and rungs for hanging accessories. "I love this because it's versatile — not only can you check out your outfit, but you can utilize the ladder for self-organization," she says.
Designer Betsy Burnham says that a mirror is a great way to incorporate organic and natural elements into a room. She particularly likes this woven rattan mirror made of banana bark, calling it "unique and a little nutty." While it would normally fall in the below category, right now it's on sale for 40 percent off. Burnham adds that "rattan itself is timeless and versatile and one of my favorite materials to work with."
Best
under-$200
decorative
mirrors