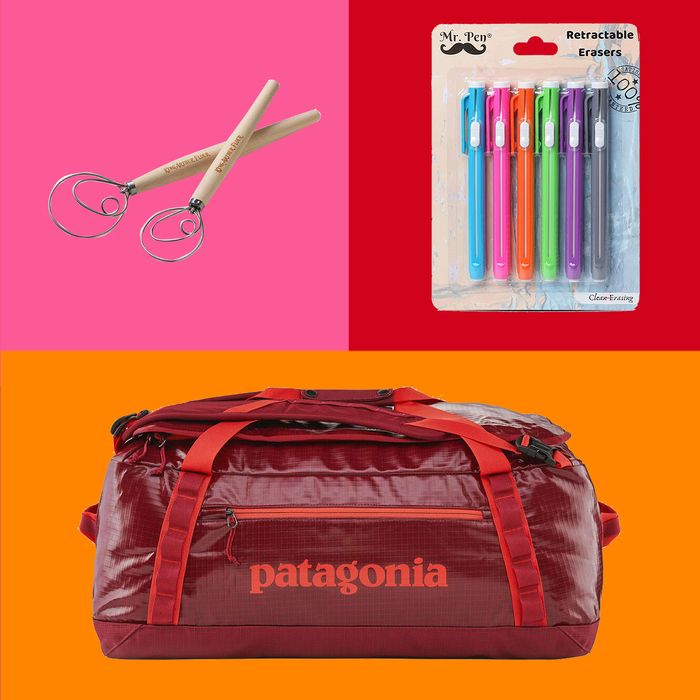 If you follow our monthly Strategist Haul, you're familiar with the idiosyncrasies of our editors' and writers' shopping habits in everything from underwear to work bags. To celebrate Father's Day and the conclusion of Dad Week, we wanted to do something a little different: We asked our dads about their favorite things, and the items they can't live without. Read on for their picks, including everything from a Tibetan singing bowl to an eraser pen.
Maxine Builder, managing editor
My dad is an early Patagonia fanboy. He climbed across the United States in the 1970s and 1980s and still has a set of pitons that were hand-forged by Yvon Chouinard himself. My dad's uniform includes one of his many synchilla fleeces (though he's convinced Patagonia has changed its sizing so that a men's large now is about the size of a men's medium, back in the day). But the one thing from Patagonia that my dad absolutely cannot live without is their Black Hole duffels. He was an early adopter, picking up his first one in 2014 for a trip to New Zealand, "because I knew I was going to go up by helicopter, so I needed a duffel you could throw your gear in and not be too big." He's since collected "more than [his] fair share" in different colors and sizes, from the smallest 40-liter to the largest 100-liter. His favorite size is the now-discontinued 60-liter, which is actually a little smaller than the current 55-liter. "It was just a very handy, convenient bag for my outing trips like that. The whole top opens up, so they're more convenient than regular duffel bags," he tells me. Plus, he can run through an airport wearing it like a backpack, easily throw it into the overhead compartment of a plane as a carry-on, and still bring a week's worth of clothes. Turns out these bags also make excellent dog beds, as my dad regularly sends us photos of the family Bichon plopped on top.
Chloe Anello, junior writer
Alexis Swerdloff, editor
Lauren Ro, writer
Jenna Milliner-Waddell, junior writer
Kayla Levy, junior writer
Casey Lewis, senior editor