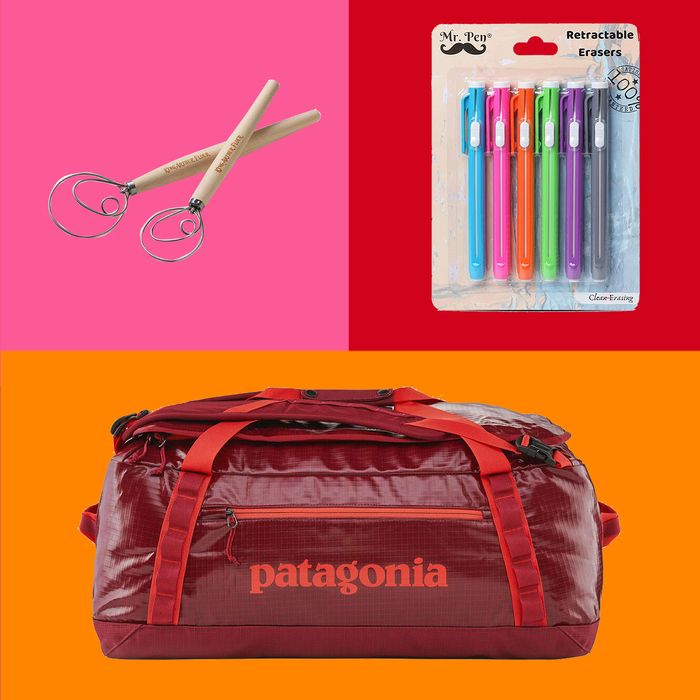 If you follow our monthly Strategist Haul, you're familiar with the idiosyncrasies of our editors' and writers' shopping habits in everything from underwear to work bags. To celebrate Father's Day and the conclusion of Dad Week, we wanted to do something a little different: We asked our dads about their favorite things, and the items they can't live without. Read on for their picks, including everything from a Tibetan singing bowl to an eraser pen.
Maxine Builder, managing editor
My dad is an early Patagonia fanboy. He climbed across the United States in the 1970s and 1980s and still has a set of pitons that were hand-forged by Yvon Chouinard himself. My dad's uniform includes one of his many synchilla fleeces (though he's convinced Patagonia has changed its sizing so that a men's large now is about the size of a men's medium, back in the day). But the one thing from Patagonia that my dad absolutely cannot live without is their Black Hole duffels. He was an early adopter, picking up his first one in 2014 for a trip to New Zealand, "because I knew I was going to go up by helicopter, so I needed a duffel you could throw your gear in and not be too big." He's since collected "more than [his] fair share" in different colors and sizes, from the smallest 40-liter to the largest 100-liter. His favorite size is the now-discontinued 60-liter, which is actually a little smaller than the current 55-liter. "It was just a very handy, convenient bag for my outing trips like that. The whole top opens up, so they're more convenient than regular duffel bags," he tells me. Plus, he can run through an airport wearing it like a backpack, easily throw it into the overhead compartment of a plane as a carry-on, and still bring a week's worth of clothes. Turns out these bags also make excellent dog beds, as my dad regularly sends us photos of the family Bichon plopped on top.
Chloe Anello, junior writer
My dad bakes weekly — mostly bread, and gluten-free things for me. He has lots of fancy equipment (or, well, it's fancy to me, a non-baker, but pretty normal for an avid baker), but out of all the tools he uses and talks about, this King Arthur dough whisk probably gets the most attention. "This is my favorite tool for baking. It whisks everything together better than a regular whisk and nothing clumps," he says. You can find a similar bread whisk anywhere, but he happens to be a big King Arthur fan. He almost exclusively uses their flour (including gluten-free), parchment paper, and other various ingredients because he says it's better than any other brand.
Alexis Swerdloff, editor
I'm going to let my dad speak about this beloved eraser for himself …
"I erase a lot. I know you're not supposed to. I know you're supposed to commit to the line when you draw. Live with it. Learn from it. But that's not me. Some writers can't complete the second paragraph until the first is right. I can't draw until the first few strokes are where they should be.
Pens and pencils get good press. Erasers not so much. Nevertheless, there's one that's functionally perfect. It works — and looks — like a cut-rate ball-point pen. It consists of long stick of white eraser stuff wrapped up in a plastic tube. When you wear it down you press it to extend some more. It's like the un-pointy end of a No. 2 pencil — except it doesn't run out, like those do, weeks before the pencil's even close to being finished.
My favorite eraser is from 'Mr. Pen.' Odd name for something that isn't a pen at all. That's rather the opposite in fact. But there it is. And it's cheap. Six for about six dollars in a brightly colored bubble pack.
Great sculpture, they say, is simply subtracting what isn't needed from a block of marble. I do indifferent drawings the same way. Eraser first." — Peter Swerdloff
Lauren Ro, writer
I got this for my dad in dark brown for his birthday five years ago, and he's been carrying it ever since. He takes it to church every Sunday, where he's an elder and therefore has many meetings. "It holds my bible, folders, and files, and it's formal enough to go with my suits," he says. "I also use it during the week. I like that it's not too modern but has a more traditional look." He also appreciates that it has many pockets, with a wide strap that doesn't dig into his shoulder. "Everything is made out of leather or canvas and it is very durable," he adds. "The zippers are heavy duty and look like they will never break."
Jenna Milliner-Waddell, junior writer
"Growing up in Gary, Indiana, my mom would stop at the candy counter in the department store and buy warm, salty cashews. These aren't as good, but they're close," says my dad of these Planters cashews. My dad is in his 70s, and I'm in my 20s, so I can hardly even picture a time when department stores had an elaborate candy counter, but what I do remember — and am witnessing now while quarantining with my parents — is my dad eating cashews almost every day and shaking them in his hand before actually eating them, which apparently all dads do. I personally hate everything about cashews, and used to turn my nose up at him for eating them, but now knowing the nostalgia they bring my dad I at least have to respect it.
Kayla Levy, junior writer