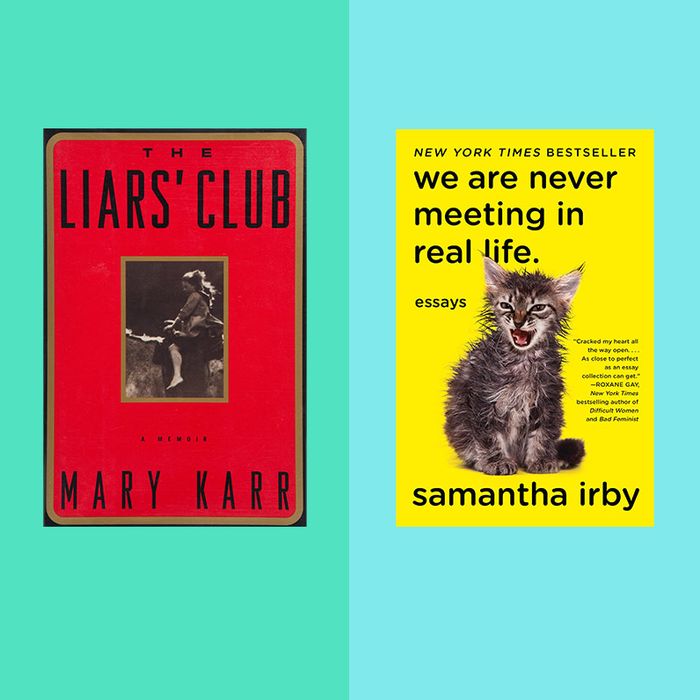 Having a story read to us has calmed humans down for centuries. It's why we were read to in bed as toddlers, and it's the reason the Von Trapp children all rush into Maria's room as soon as the thunderstorm hits in The Sound of Music. Seeing as we're living through a particularly stressful time right now, we thought we'd take the opportunity to ask some of our favorite authors about the audiobooks they like to have read to them when they're feeling particularly frazzled, frenetic, or frustrated.
In speaking to these authors, many also noted the other inherent benefit of having a book read to you: That you are more likely to actually finish it, because you can listen while doing other things, like the dishes, walking, driving, or simply sitting on the couch. Our 17 authors' 18 favorite audiobooks span genres, too, so there's something for everyone — they also feature narrators as compelling as the material itself, from A-list celebrities like Diane Keaton and Armie Hammer to the books' authors themselves. Before we get to the individual picks, we should note that all of the recommended audiobooks below are available on Audible, and for $15 a month, you can get all of them for free via a monthly Audible subscription. Otherwise, you can pay for each individually, but know that most titles cost more on their own than the price of a monthly subscription.
Editor's note: All but two of these authors have either recently published new books or are about to publish new books. But due to the restrictions on gatherings and crowd sizes amid the coronavirus pandemic, they have been forced to postpone tours and events to promote them. So in addition to each author's recommendation, we've noted their most recent titles as well.
"There is something intoxicating and soothing about the experience of listening to Sally Rooney's debut. As I try to sort out why, I imagine it's because there's a conversations-with-friends quality to the writing, which lends itself perfectly to a listening experience. It was as if I was simply over hearing — and then becoming part of — a particularly juicy conversation. I find myself remembering the sensual nature of the prose and the remarkably mellifluous voice of Irish actress Aoife McMahon. I close my eyes and imagine the story and it merges with my listening experience." —Joanna Hershon, author of St. Ivo
"The conversational tone of Sally Rooney's coming-of-age novel is truly at home in an audio setting, mainly due to the skilled narration by Irish actress Aoife McMahon. Conversations With Friends is a story about the way our emotional impulses are in constant conflict with social restraint, and Aoife's voice lends instant charm and authenticity to the inner world of 21-year-old college student Frances." —Lang Leav, author of Poemsia
"I lost myself in the narration of Middlemarch, a book I could not get through in high school or college, but that drew me in completely because of the fabulous narrator, Juliet Stevenson. The story itself is so good, but it's harder to get into when it's flat on the page. Stevenson is British: Her voice is really appropriate for the world George Eliot creates, and the period in which the book was written (the 1870s). I became completely involved with all the characters; fell in love with some, hated others. Stevenson's narration makes the book incredibly compelling: I liked it so much, that when the narration was over, I actually bought the print book just to have the words nearby." —Eilene Zimmerman, author of Smacked
"There is no better companion for long socially distanced walks than all 35 hours of Eliot's greatest novel, which is the most engrossing, gossip-filled soap opera imaginable. Juliet Stevenson's narration is a miraculous performance, with the each of the innumerable characters fully imagined and distinct. It is pure, glorious pleasure." —Garth Greenwell, author of Cleanness
"I talk all the time to anyone who will listen about Diane Keaton reading Joan Didion's Slouching Towards Bethlehem. It's just the most soothing experience, in part because Didion's whole style already is to describe things that seem chaotic in a way that isn't all that chaotic. There's a music to how Didion writes and a rhythm that is clearly hers, which makes the audio versions of her work even better. And Keaton, who's obviously a professional, reads in the same observant yet disaffected way that Didion can famously make things seem not real. It almost seems like she's playing Didion as a character. I never thought someone could make lines like, 'People were missing, children were missing, parents were missing' sound so soothing, but she does. I've listened to that opening paragraph almost a thousand times. I once missed my subway stop listening to it." —Conor Dougherty, author of Golden Gates