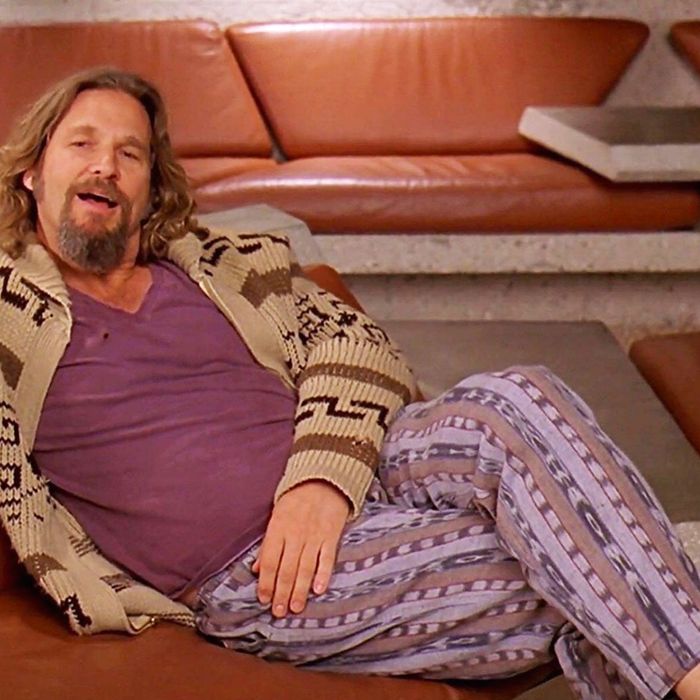 Photo: Universal Pictures
Last month, a novel question popped up in a menswear forum I regularly check in on (the private Blamo! podcast Slack channel, which anyone can join for $5 a month). "Been living in Baggies all summer," it began. "What's a decent fall/winter pant that I can still throw a blue button-down and some loafers on with?" When I reached out to the commenter who posed the question, he provided context that I — and I think many others — can relate to. "Baggies spoiled me this summer; for fall, I want something similar that would allow me to jump on my bike, walk the dog, and still look put-together if I decide to go out for a beer," says Elliot Pen, who lives in Canada and works in tech.
Pen isn't the only person I've spoken with who told me that, come fall, they're looking for pants that hit the sweet spot between the too-casual sweats they wore when starting to work from home and the too-formal chinos they might otherwise wear to an office when temperatures start to dip. To help him and other inquiring minds, I reached out to 12 cool guys to see what kind-of-smart, kind-of-slouchy plants they plan to trade for their summer shorts. Read on for their 17 recommendations, from stretchy corduroys to versatile climbing pants to, yes, even a few pairs of (elevated) sweats.
Best
under-$100
(Baggies-like)
lounge
pants
Photo: retailer
Publicist Jamie Holloway told us that he's most excited to start wearing these Uniqlo pants again as temperatures get cooler. While corduroy, their "great amount of stretch" makes them just as suitable for the couch as it does for a socially distanced dinner at a restaurant. "I will wear them with an oatmeal or burgundy turtleneck for a full look," he explains, "or just slob around at home in them with a hoodie." Holloway promises that "they're so soft and cozy," adding that the corduroy fabric "has a good thickness to it and makes them more interesting than your classic chino."
Photo: retailer
Pen told us that in choosing his own lounge pants for cooler weather, he ultimately stuck with the maker of his beloved Baggies and picked up two pairs from Patagonia. One of them is this G.I. Pant, which he likes for its "built-in belt" and because it's "cozy enough for the cooler months."
Photo: retailer
The second pair of Patagonia pants Pen bought also a built-in belt, but is far more plush due to its fabric — the very same material Patagonia uses for its famous fleeces (which, like Baggies, are another product from the brand beloved by Strategist writers and editors). The pants' belt and tapered leg make them slightly more appropriate for the world outside than your average sweats, according to Pen, who says you can "style them in a number of DGAF ways."
Photo: retailer
We've heard about the quality and comfort of Topo Designs' clothes from Strategist editors, podcast hosts, college students, outdoorspeople, and more. While none of the folks we spoke to for this story specifically recommended the Dirt Pant, it was a popular response to Pen's question in the menswear forum — so between that and how much we've written about the brand, we felt it worth including the pants on this list. They have a straight leg and are garment-dyed, a process that typically means clothes will have a softness from the get-go and require little breaking in. And, like all Topo Designs stuff, these are created with an active outdoors lifestyle in mind, so they're sure to have plenty of give and stretch.