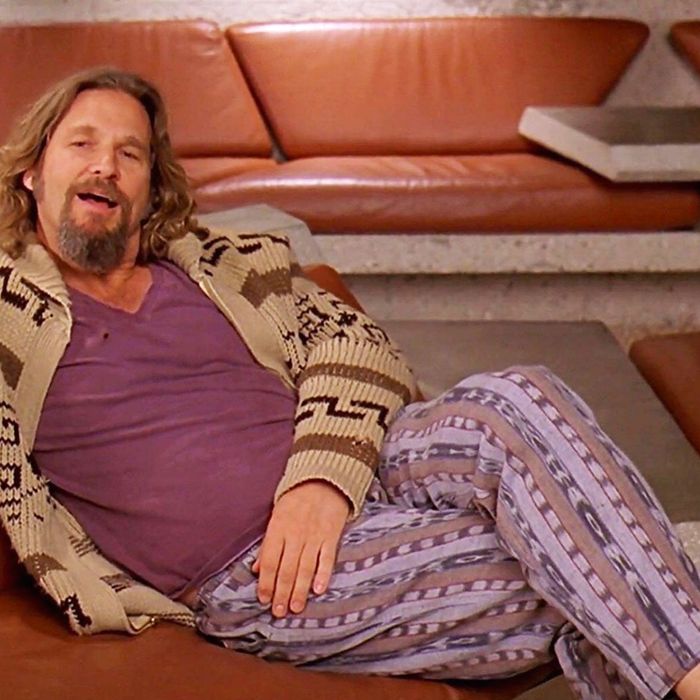 Photo: Universal Pictures
Last month, a novel question popped up in a menswear forum I regularly check in on (the private Blamo! podcast Slack channel, which anyone can join for $5 a month). "Been living in Baggies all summer," it began. "What's a decent fall/winter pant that I can still throw a blue button-down and some loafers on with?" When I reached out to the commenter who posed the question, he provided context that I — and I think many others — can relate to. "Baggies spoiled me this summer; for fall, I want something similar that would allow me to jump on my bike, walk the dog, and still look put-together if I decide to go out for a beer," says Elliot Pen, who lives in Canada and works in tech.
Pen isn't the only person I've spoken with who told me that, come fall, they're looking for pants that hit the sweet spot between the too-casual sweats they wore when starting to work from home and the too-formal chinos they might otherwise wear to an office when temperatures start to dip. To help him and other inquiring minds, I reached out to 12 cool guys to see what kind-of-smart, kind-of-slouchy plants they plan to trade for their summer shorts. Read on for their 17 recommendations, from stretchy corduroys to versatile climbing pants to, yes, even a few pairs of (elevated) sweats.
Best
under-$100
(Baggies-like)
lounge
pants
Photo: retailer
Publicist Jamie Holloway told us that he's most excited to start wearing these Uniqlo pants again as temperatures get cooler. While corduroy, their "great amount of stretch" makes them just as suitable for the couch as it does for a socially distanced dinner at a restaurant. "I will wear them with an oatmeal or burgundy turtleneck for a full look," he explains, "or just slob around at home in them with a hoodie." Holloway promises that "they're so soft and cozy," adding that the corduroy fabric "has a good thickness to it and makes them more interesting than your classic chino."
Photo: retailer
Pen told us that in choosing his own lounge pants for cooler weather, he ultimately stuck with the maker of his beloved Baggies and picked up two pairs from Patagonia. One of them is this G.I. Pant, which he likes for its "built-in belt" and because it's "cozy enough for the cooler months."
Photo: retailer
The second pair of Patagonia pants Pen bought also a built-in belt, but is far more plush due to its fabric — the very same material Patagonia uses for its famous fleeces (which, like Baggies, are another product from the brand beloved by Strategist writers and editors). The pants' belt and tapered leg make them slightly more appropriate for the world outside than your average sweats, according to Pen, who says you can "style them in a number of DGAF ways."
Photo: retailer
We've heard about the quality and comfort of Topo Designs' clothes from Strategist editors, podcast hosts, college students, outdoorspeople, and more. While none of the folks we spoke to for this story specifically recommended the Dirt Pant, it was a popular response to Pen's question in the menswear forum — so between that and how much we've written about the brand, we felt it worth including the pants on this list. They have a straight leg and are garment-dyed, a process that typically means clothes will have a softness from the get-go and require little breaking in. And, like all Topo Designs stuff, these are created with an active outdoors lifestyle in mind, so they're sure to have plenty of give and stretch.
Best
under-$150
(Baggies-like)
lounge
pants
Photo: retailer
Salomon Thiombiano, a creative director at fashion platform DucDubois, told us that when "colder temperatures are approaching, I gravitate towards fabrics that offer a balance between comfort and practicality," adding that he also looks for "sustainability" in the garments he wears. To "properly transition into" fall this year, Thiombiano bought this pair of "earthy tone" pants from Alex Mill. "They perform very well in cold temperatures," he says. "The fabric softly wraps around your body, giving you a warm yet comfortable feeling."
Photo: retailer
A third pair of pants with a built-in belt (we're sensing a trend), these climbing pants from streetwear label OnlyNY are what design and style writer Timothy Latterner says he'll be relying on this fall and winter. He's had them for a few seasons now, telling us "they pull right on and are synched at the waist and ankles so there's a lot of room without having to worry about anything getting caught in a bike chain." While Latterner admits he "personally wouldn't meet the girlfriend's parents in them," he says that "for a quick errand during the day or, obviously, actual climbing on the weekends, they're great."
Photo: retailer
As our cool people's suggestions thus far imply, we asked them about pants that feel a touch more elevated than your standard sweats — which is exactly how freelance art director Chirag Patel describes these. "MORE than just a sweatpant," he tells us (emphasis his), these "loose, organic-cotton track pants can be easily elevated with an oversized cable-knit roll-neck sweater and chunky-soled sneakers." Patel says he "discovered Pangaia during lockdown" and quickly became a fan of its clothes "made with responsibly sourced materials and eco-friendly dyes." Speaking of those dyes, these pants come in 17 bright colors, as well as in a range of different cuts if a looser fit isn't your thing.
Photo: retailer
Personal trainer Tom Fitzgerald told us that he (understandably) wears sweatpants on the job, but then slips into these because he "doesn't want to give up the feel of sweats." The pants, he says, "have a heavy weight and look polished, but they also have lots of stretch in the fabric so they're comfy to wear." Fitzgerald adds that the zipped cuffs on these are a "nice extra touch — and make them easier to get on and off my size-13 feet."  
Photo: retailer
Chirag is another COS fan, and says he puts on these pants when he wants to wear something a bit more polished than — but just as comfortable as — his Pangia ones. He calls these his equivalent to a "little black dress," explaining that "they're classic, 100 percent wool, and versatile." Plus, their wider-cut legs provide the roominess of sweats, he adds. As for how he wears them: "With a collared shirt and derby shoes, or with Stan Smiths and a tucked-in oversized T-shirt, or with a sleeveless tee and leather sandals for a WFH look."
Best
under-$200
(Baggies-like)
lounge
pants
Photo: retailer
Grant Bloodworth, the founder of fashion agency Bloodworth & Co., tells us these tick all his boxes when it comes to a casual, do-it-all pant. "They have an elastic back and drawstring waist so they are super comfy, but they look like pants you can wear to a casual work day or dinner," he says. Bloodworth adds that a few seasons of wearing them has taught him that the pants "look great dirty — and you can just wash the heck out of them, because the fabric gets softer and better over time."
Photo: retailer
Another pair with a drawstring, these Noah pants (with a sort of daytime-pajama feel) are the style that realtor Myles Fennon has his eye on right now. Made in Italy, the pants have an elastic waist, but are cut from a rugged cotton-twill fabric that should hold up with time. He hasn't added them to his cart just yet, but says the pants "look like a nice balance of stylish and comfortable." We're inclined to take his word for it, because Fennon told us he owns other Noah garments that he can both exercise in and wear to his "relatively conservative" office. "Noah is a great brand for someone who appreciates a company with something to say," he adds. "It's very easy for brands to engineer a story, but Noah truly reflects the environmentally conscious mindset of its founder."
Photo: retailer
Model Adam Onassis told us these wide-leg trousers from Rowing Blazers (which, along with Noah, has been cited as a brand ushering in a new era of preppy style) are going to be his "fall go-to's." He's actually been wearing them since last fall and says that they've "held up great," adding that "frequent washing has softened them up quite a bit, but the wide-leg style has been cozy from the get-go." He sums up the pants' appeal by calling them "simple classics that are exceptionally well-made and reminiscent of clothing from a bygone era."
Photo: retailer
These pants by Hiro Clark come recommended by another model, Eric Rutherford, who says they're a favorite. He likes that the "tailored pants in French terry" have a "pleated design that gives them a little more flair than your gym sweats," describing them the way many others have praised lots of pants on this list: "comfy enough to wear at home and cool enough to wear to dinner."
Photo: retailer
Latterner says these baggier chinos are another pair of "go-anywhere-be-anything pants" that he owns. The pants, he explains, are "pleated and taper a bit, so there's a nice roominess to them without feeling like they're about to slip off at any time." He adds that Beams Plus has become a go-to brand for him because everything it produces is sturdy, well-made, and versatile. "I've worn these with a T-shirt to take out the trash; I've worn them with a navy blazer to the office," says Latterner.
Best
splurge-worthy
(Baggies-like)
lounge
pants
Photo: retailer
Two people told us that Issey Miyake's pants have been among their wardrobe staples for years. "The king of being comfortable, but also totally interesting when it comes to trousers, is for sure Issey and his signature pleats and draping," says self-proclaimed "fashion kid" and consultant Eric Jess, who told us these pants are in his "forever rotation." Interior decorator and photographer Tommy Lei, who owns a similar (though out-of-stock) pleated pair, echoes this praise, saying that Issey Miyake "simply makes the best trousers with plenty of room for function, and plenty of oomph for aesthetic. They are the comfiest, chicest pants I own," Lei promises.
Photo: retailer
"The fit and length of these trousers is impeccable, as are the seamless waistband detail and perfectly placed pleats," Patel says in praising these pants he calls "the perfect transitional trousers." They're constructed from a hefty Italian stonewashed denim, but the looser fit allows for plenty of movement. If, like us, you're new to King and Tuckfield, Patel explains it is one of his "favorite British brands" because its range "effortlessly combines heritage with modern elegance."
Photo: retailer
It's understandable that many folks may not want to splurge on clothes this year, but Rutherford notes that some people are "experiencing overwhelming success and are overworked," and might be in the mood to reward themselves. To those whose ideal treat is a new pair of fancy (but still comfy) pants, Patel suggests these trousers from Parisian fashion house Lemaire, whose name you may recognize from its frequent collaborations with Uniqlo. "If one pair of trousers could define 'wide,' 'relaxed,' and 'languid'" — three words that describe how many of us may be feeling these days — "it would be these," he says. Given that their fabric is almost half wool, these should be wearable through even the coldest of winter (though you might not want to bike in them). They also have a built-in belt (!), and although Patel doesn't own them, we're again including them because he told us he owns a similar pair from the brand and can vouch for their quality.
The Strategist is designed to surface the most useful, expert recommendations for things to buy across the vast e-commerce landscape. Some of our latest conquests include the best acne treatments, rolling luggage, pillows for side sleepers, natural anxiety remedies, and bath towels. We update links when possible, but note that deals can expire and all prices are subject to change.