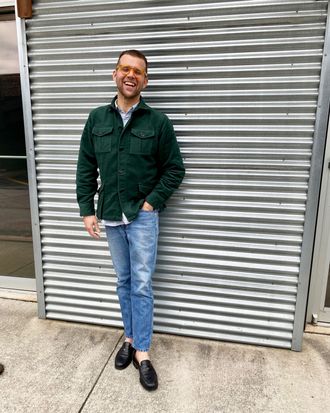 Chris Black.
Photo: Ezra Morris
If you're looking for the most powerful hair dryer or the handiest chef's knife, those things can be easy enough to find. Other objects of desire are a little more taste-based. What's the next status water bottle or hand wash, for instance? Chris Black (he's a partner at brand consultancy Public Announcement) is here to help in the form of a regular column. If you have a burning question about the next fanny pack or Noah rugby shirt, drop us an email with the subject line "Ask Chris" at strategist@nymag.com.
What are your favorite pairs of tassel loafers? Both affordable and not so affordable.
This some real TAKE IVY shit, but I am here for it. I own a pair of Bass Lexington Tassel Weejuns in black (and, as I've previously written, also own some non-tassel Weejuns). These have moc stitching, which I love, and the price is RIGHT. $110 — basically free! Affordable stunting, you love to see it.
I have been known to flirt with a kiltie (or fringed leather tongue), and the black Adrian loafers from Dr. Martens — which aren't much more than the Weejuns — have both tassels and kilties. The big sole also has a little more height to it. Go ahead, give yourself a boost.
They're on the other end of the price spectrum, but when you stroll into the squash club in a pair of "museum leather" tasseled loafers from John Lobb, your peers will be forced to take notice. The beautiful quilted in-sole promotes comfort but is also a sweet little secret.
I'm a college student who has recently gotten into interior design and finer home goods. But I'm still a college student. What are some décor brands — and affordable products from each — that I should get to show off my burgeoning taste?
Your friends are still making treks to Ikea and trolling the CB2 website, but you are striving for more. I commend you.
Let's start with Hay, the Danish gods of modern affordable design. Strategist editors and writers have praised the aesthetics of many of its products, from toothbrushes to oversize tote bags to plates to vases to furniture. Of the latter, the brand's Bella coffee table is durable and fits in almost any space.
For something a bit smaller, how about a free-standing, but still easily portable, lamp?! This has an LED bulb, rechargeable battery, USB charger, and touch-controlled step dimmer. It's useful and looks great in olive — or black, or white.
Even more affordable, the Shade Bin makes for an excellent (and excellent-looking) trash receptacle. A detail your design-minded guests will notice and appreciate. Blush is one of five colors you can get it in.
Heath Ceramics may be a status maker, but it also produces a lot of great stuff that is relatively affordable. If you're into design, you probably know you should be buying flowers weekly to impress guests and make sure your house/apartment/dorm smells right. Heath's simple bud vase — which the Strategist previously named as one of 20 go-to furnishings for a starter apartment — is a perfect accessory to display a stem from your fragrant bounty.