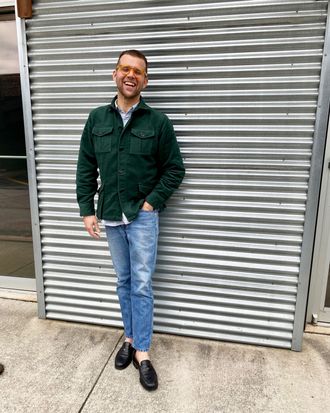 Chris Black.
Photo: Ezra Morris
If you're looking for the most powerful hair dryer or the handiest chef's knife, those things can be easy enough to find. Other objects of desire are a little more taste-based. What's the next status water bottle or hand wash, for instance? Chris Black (he's a partner at brand consultancy Public Announcement) is here to help in the form of a regular column. If you have a burning question about the next fanny pack or Noah rugby shirt, drop us an email with the subject line "Ask Chris" at strategist@nymag.com.
What are your favorite pairs of tassel loafers? Both affordable and not so affordable.
This some real TAKE IVY shit, but I am here for it. I own a pair of Bass Lexington Tassel Weejuns in black (and, as I've previously written, also own some non-tassel Weejuns). These have moc stitching, which I love, and the price is RIGHT. $110 — basically free! Affordable stunting, you love to see it.
I have been known to flirt with a kiltie (or fringed leather tongue), and the black Adrian loafers from Dr. Martens — which aren't much more than the Weejuns — have both tassels and kilties. The big sole also has a little more height to it. Go ahead, give yourself a boost.
They're on the other end of the price spectrum, but when you stroll into the squash club in a pair of "museum leather" tasseled loafers from John Lobb, your peers will be forced to take notice. The beautiful quilted in-sole promotes comfort but is also a sweet little secret.
I'm a college student who has recently gotten into interior design and finer home goods. But I'm still a college student. What are some décor brands — and affordable products from each — that I should get to show off my burgeoning taste?
Your friends are still making treks to Ikea and trolling the CB2 website, but you are striving for more. I commend you.