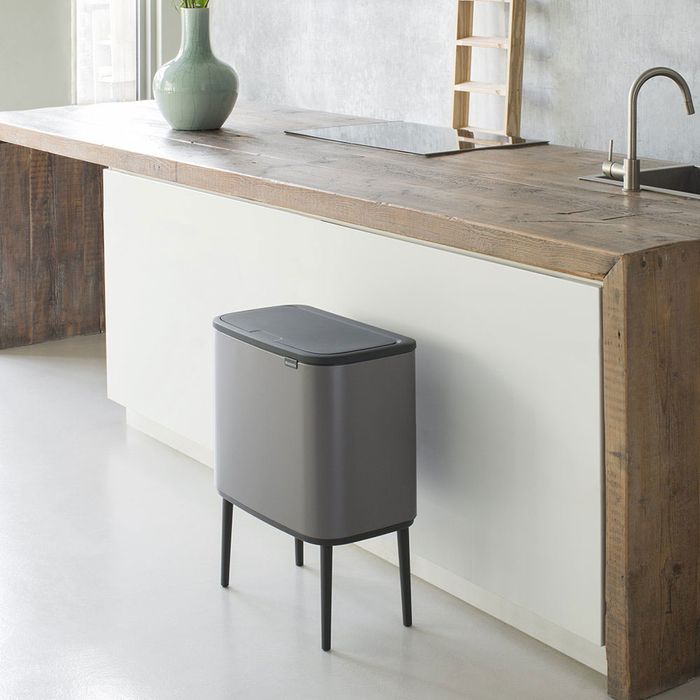 Photo: Courtesy of the retailer
Traditionally, kitchens have been rooms tucked away, out of sight from visitors, but with the advent of open floor plans and the rise of the serious home cook who doesn't think twice about going sous vide on a weeknight, the kitchen has become its own design focal point. We have gadgets like KitchenAid stand mixers and Staub cookware in every color imaginable, but what about the humble trash can?
While hiding a trash can under the sink is a common solution, it's not always possible depending on your kitchen design, and home cooks know it's best to have your trash or compost bin easily accessible when you're busy in the kitchen. Fortunately, there are functional options out there that aren't total eyesores. "Trash cans are not as ugly as they used to be," says Jessica McCarthy, creative director at the online decorating platform Decorist. "Companies are trying to create trash cans you can leave out in your kitchen and have them be somewhat attractive." We spoke with McCarthy and four other design pros to find the best-looking garbage solutions.
Best-looking multi-compartment kitchen trash cans
Minimalist options from Dutch brand Brabantia came recommended by three of our designers. With legs that evoke mid-century modern furniture — and make cleaning up underneath easier — this model stands flush against a wall to save space and comes in a variety of neutral shades that blend in with different kitchen designs. "I love the Brabantia Bo because it doesn't even look like a trash can," says Alessandra Wood, director of style at Modsy. "Its beautiful design seems more like a plant stand and fits into any modern home." Its two compartments keep your recycling or compost separate from your trash.
This more compact, step-pedal version of the Bo can be tucked into a nook in a smaller kitchen.
We're not surprised that innovative English brand Joseph Joseph, makers of our favorite colander and salad bowl, designed a trash bin that's both highly functional and actually attractive. Separate compartments for garbage, recycling, and food waste keep everything organized, and McCarthy likes that "it has breather vents [to prevent odor] and bag hooks so you can keep your bags in the garbage can." Along with the vents, a replaceable charcoal filter helps control smells. The recycling bucket is removable for mess-free emptying.
Known for their streamlined kitchen accessories, Simplehuman's trash bins are also favorites among decorators and designers. Wood says she's "always a fan of Simplehuman stainless trash cans. They feel like just another one of the kitchen appliances." McCarthy loves that this dual-component bin is voice- and motion-activated so you can open it by waving your hand or saying "open can." It's a high-tech feature that's very useful if your hands are full or dirty.
Best-looking step-pedal trash cans
If you're not ready to splurge on a voice-activated trash can, step-pedal models offer the same hands-free access. The slim Brabantia NewIcon model fits into most kitchens and can, as Wood says, "create a design moment for trash." She likes that "it's not trying to hide that it's a trash can, but rather makes it part of the design." Homepolish interior designer Liz Lipkin says, "I'd go so far as to call this one 'cute.'" It comes in 12 colors, ranging from traditional stainless steel and soft almond to metallic mint and bright yellow.
For smaller spaces, this five-liter Brabantia may be better proportioned.
"Ideally, your trash can is built into your cabinetry and hidden away from view, but we aren't all that lucky," says Shelby Girard, head of design at Havenly. This simple, unobtrusive model from Kohler is one of Girard's and Lipkin's top picks. "From the matte white finish to its clean lines and concealed hinges, this style feels very elevated, and that's saying a lot for a trash can," says Lipkin. Bags fit securely and discreetly around the removable inner bucket.
Originally designed in 1939 by a Danish metalworker for his wife's hair salon, the Vipp pairs elegant design with seamless usability. According to Lipkin, "All Vipp styles feature a step pedal, an air-tight closure, and a rubber base that won't scratch your floor." While the classic white version is part of the MoMA collection, in matte black it's a little more modern.
Ideal for compact kitchens, this mini Vipp feels vintage-y.
When McCarthy talks about brands thinking more about trash cans as aesthetic pieces, she brings up Simplehuman's range of metallic options as an example. Whether your kitchen accents and hardware are dark bronze or stainless steel, there's likely a Simplehuman bin that'll fit right in. She recommends this model because "it comes in a brass finish, which is super cool because it's rare you see a brass trash can." Girard likes it in rose gold.
Best-looking lift-top kitchen trash cans
Similar to the step-pedal model above, this lift-top Simplehuman can has a low-profile design that'll work with most décor styles and won't overpower tiny kitchens. Alexa Battista, a public relations specialist at Wayfair, likes that it's a "traditional style, but with a slim and sleek look that's a bit more modern." It's narrow design will fit into tight spaces.