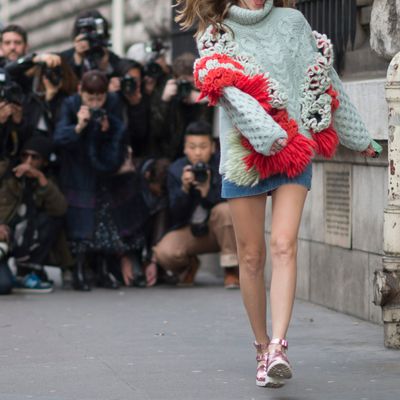 Photo: Timur Emek/Getty Images
Finding the perfect holiday gift can be maddening — is this the color they'd want? Is it something they already have? Is it so last year? — but really, once you have a sense of a person's taste, it's not impossible. This season, we'll be talking to members of various tribes (we're calling them the Hard-to-Shop-Fors) to find out exactly what to get that serious home cook, skin-care Redditor, or gamer in your life. Think of it as a window into their brain trust — or at least a very helpful starting point.
You hear the phrase "for the person who has everything" a lot during the gifting season, but when you're talking about those whose job it is to "influence" on Instagram — people who make a living by promoting things on social media — that characterization is particularly apt. To find out what (if anything) the wizards of sponcon are pining for during the holidays, we asked Natalie Lim Suarez (@natalieoffduty, 564,000 followers), Alyssa Coscarelli (@alyssainthecity, 185,000 followers), and Dan Chizzoniti (@danchiz, director of influencer marketing at Ogilvy who himself has earned 41,000 followers) for a short list of their holiday wishes — with the caveat that they not include anything from brands they're currently promoting or have worked with in the past. Don't miss all of the Strategist's holiday gift coverage right here, too.
Beauty
The person who's traveling all the time might want something that can help with staying moisturized in high altitudes. Suarez, for one, is "obsessed with sleeping masks and rehydrating throughout the day." She always likes to refresh on the go with a mini cream, which is why she's asking for this Sisley Paris gel mask for the holidays. "This mask looks like one that I can use and easily wipe off before a crazy morning or right before bed. It's Sisley Paris, and I always trust in their products to do my skin good."
For winter skin, a hydrating tinted lip gloss would come in handy, too, and the colors would pop in a photo shoot. "I live in Cle de Peau lip glosses in the winter because they are extra hydrating, with a hint of color," says Suarez. "Lately, I've been wearing Fire Ruby, but I'm dying to try out this gorgeous fresh pink-red color, Dream Stone."
Chizzoniti relies on weekly charcoal masks for keeping his pores clear, so he's looking to re-up for the holidays: "Every Sunday I meal prep for the week while I put on a face mask. Charcoal masks are my favorite and I've been looking to add the Boscia Charcoal Mask into my rotation because it's peel-off."
And in the realm of decorative hair accessories, Coscarelli's been wearing a lot more hair clips recently. She's partial to the vintage-leaning ones from Reliquia, which is why she likes this pearl-festooned one. Every piece is meant to look like it's been borrowed from your grandmother's closet: "As if I'm 10 years old again, I can't get my hands on enough hair clips lately, and this one specifically is aesthetic goals."
Fashion
A good pair of face-obscuring shades can always come in handy for travel. Last year, Adam Selman's Last Lolita cat-eye specs were everywhere. This season, the shape is still popular, but showing up in different colors and styles, like these tortoise-y ones from Cutler & Gross that Suarez is eyeing. "These are a classic, old Hollywood pair of glasses that I can wear with everything," she says. "Cutler & Gross make insanely good Elton John-esque glasses. I want to grow my collection."
And a new statement dress couldn't hurt. Here's one from Danish brand Rotate that Coscarelli wants, which feels very Dynasty-meets-In the Mood for Love. "If you ask me, this is the most perfect dress ever created," she says. "The gorgeous fabric, the puffy sleeves … It's like me, in garment form."
Suarez is sometimes photographed in lingerie for her Instagram shoots, so you might see this colorful Dora Larsen bra make an appearance if she gets one for the holidays. "This is such a romantic bra with a really cool and beautiful color palette. It's easy and will work so well under little silk dresses."
The mini bag is a big staple on Instagram, and the ones from Shrimps are especially popular these days. "UK brand Shrimps really blew up for its pearl bags over the last couple of seasons," Coscarelli explains. It's part of a bigger trend of beaded bags that includes Susan Alexandra's fruit-shaped minis, but she feels that the latest season of Shrimps bags is still fresh and relatively uncharted, which is why she wants one. "This is a new variation on [beaded bags] that not a lot of people have yet, and that's what makes it so appealing."
A sign that the bags are truly making the rounds: Suarez wants one, too; specifically, this yellow beaded bag that she describes as both "glamorous and quirky." She's hoping that it will add some cheer to the next few dreary months. "It's amazing for the winters here in New York because it's like a little burst of sunshine that I carry with me."
A pair of sensible, non-boring stompers will always have mileage in New York streets. Suarez is okay with a little more height, so she's considering these suede-heeled Maryam Nassir Zadeh boots. "The heel on these black boots make them feel super special. They have a cool retro feel that makes me want to wear them with everything from my favorite trousers to jeans!"
And although Suarez has already invested in a few Chanel bags, she's looking to add some variety to her rotation, which is so far exclusively classic black. "I'm ready to take that leap and go for something with an amazing, unexpected color. This blue reminds of me of Santa Monica, CA, where I was born. A girl can dream!"
Even though underwear and socks can feel like uninspired gifts, Coscarelli says she's always happy to receive them because she doesn't really buy them for herself. She'd at least be inspired by these "culottes" from French brand Girls in Paris: "These are the cutest darn undies on the internet right now, I'm convinced."
Photo: Copyright 2018. All rights reserved.
Since she already owns a ton of statement jewelry, Suarez says the thing she's missing in her collection is more pared-down pieces. "I'm looking for something more simple and chic, that feels very artistic and handmade," she says. "Sabrina SL's pieces feel perfect to wear with just about anything and I love supporting local NYC designers."
On the splurge-y end of minimal, everyday jewelry, Coscarelli wants something from sustainable Brooklyn jewelry brand Wwake. "I'm partial to gold jewelry, and this chain, in particular, would really round out my collection. It's the perfect width." And there's something to be said for its cost-per-wear: "It's solid gold, so I would never have to take it off … Ever."
But if you're only going to get one standout piece of jewelry, it might as well be from L.A. jewelry store The Last Line. Coscarelli says, "In a perfect world, I would overhaul my entire earring collection with pieces from The Last Line." The concept behind the brand is that it's an assortment of jewelry you've always been searching for, she tells me, so it's really the last jewelry line you'll ever need. "That's how I feel about every single piece, especially this adorable rainbow stud."
Home
Home comforts are essential when you're always on the go. For Suarez, it's all about lighting up a candle when she gets home. "I burn them like mad so I need to stock up," she says. "Big Sur After Rain smells like the trees and the earth on a gloomy, crisp day. This is my scent of the season."
Chizzoniti prefers to create more of a celebratory atmosphere at home. The Champagne Penthouse scent is his favorite: "I always need this candle in my apartment. When one dies, I need another." The Lafco ones also do double duty since they come in such big jars. "What I also love about these candles is that you can repurpose the chic glassware after. I'm currently repurposing mine as succulent pots."
Chizzoniti's trying to wean himself off his phone, so he says this Areaware puzzle will do the job of distracting and challenging him: "I love testing my mind but I also want to decrease my screen-time, so puzzles are a fun way to accomplish both. I want the gradient puzzle because it looks intense. It will definitely keep me busy for a while."
Coscarelli's still in the midst of decorating, so this pillow from Brooklyn illustrator Kaye Blegvad is calling to her. "I have a tattoo designed by Kaye Blegvad and it just so happens she has a ton of cute merch and printed matter featuring her designs, like this throw pillow that my couch is basically begging for."
Food and kitchen
Even those with big Instagram followings have tiny kitchens, so a small coffee maker would make a big difference. Chizzoniti says he's eyeing this Soma brew bottle because of how compact it is. "I've recently decided that I need a coffee maker; however, I don't have room in my kitchen for another appliance."
To cut back on his seltzer-buying habits, he's also looking to move to a more economical and environmentally friendly system with a SodaStream. "I purchase an obscene amount of carbonated water. I hate the environmental impact of my habit. Time to make the switch."
Chizzoniti's even been influenced himself when it comes to food, which is why this truffle hot sauce is on his list: "I love truffles and I am a hot sauce feen. All the Instagram ads [for Truff] have lured me in!"
Though he wouldn't mind also getting some chocolate-flavored protein to supplement his workouts. "I've become obsessed with the taste of this protein. I usually consume a bit midday before I head out to a workout. I can never have enough. Chocolate is easily my favorite flavor."
Tech
And it's simple, but the person who needs to be plugged in all the time could use a lightning-fast charger for when their phone craps out during the day. "I just bought the iPhone XS and I am ready to cut the charging cord," says Chizzoniti. "I want a charging station to upgrade my charge so I can live my best life."
Add to that an external battery for when you need as much juice as possible. "I travel often and I honestly don't have time to keep recharging my external battery. I need one that will last a full weekend," says Chizzoniti.
The Strategist is designed to surface the most useful, expert recommendations for things to buy across the vast e-commerce landscape. Some of our latest conquests include the best acne treatments, rolling luggage, pillows for side sleepers, natural anxiety remedies, and bath towels. We update links when possible, but note that deals can expire and all prices are subject to change.
Every editorial product is independently selected. If you buy something through our links, New York may earn an affiliate commission.