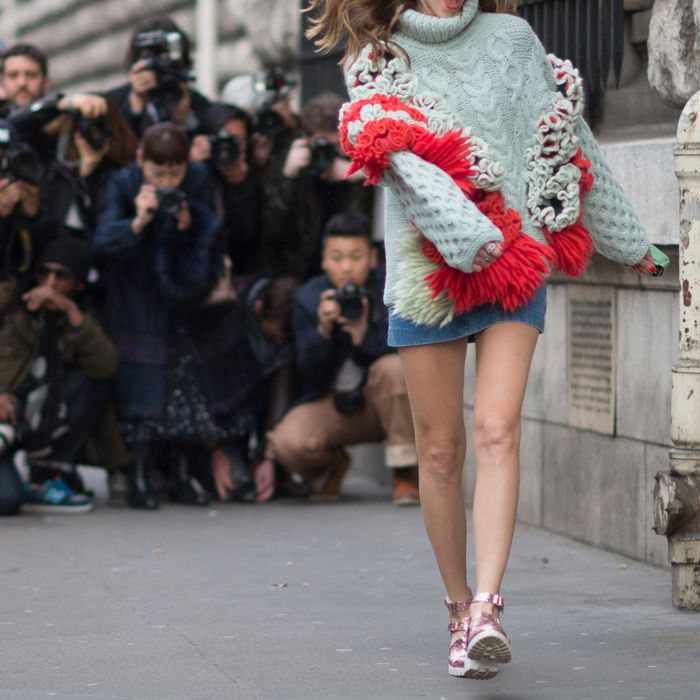 Photo: Timur Emek/Getty Images
Finding the perfect holiday gift can be maddening — is this the color they'd want? Is it something they already have? Is it so last year? — but really, once you have a sense of a person's taste, it's not impossible. This season, we'll be talking to members of various tribes (we're calling them the Hard-to-Shop-Fors) to find out exactly what to get that serious home cook, skin-care Redditor, or gamer in your life. Think of it as a window into their brain trust — or at least a very helpful starting point.
You hear the phrase "for the person who has everything" a lot during the gifting season, but when you're talking about those whose job it is to "influence" on Instagram — people who make a living by promoting things on social media — that characterization is particularly apt. To find out what (if anything) the wizards of sponcon are pining for during the holidays, we asked Natalie Lim Suarez (@natalieoffduty, 564,000 followers), Alyssa Coscarelli (@alyssainthecity, 185,000 followers), and Dan Chizzoniti (@danchiz, director of influencer marketing at Ogilvy who himself has earned 41,000 followers) for a short list of their holiday wishes — with the caveat that they not include anything from brands they're currently promoting or have worked with in the past. Don't miss all of the Strategist's holiday gift coverage right here, too.
Beauty
The person who's traveling all the time might want something that can help with staying moisturized in high altitudes. Suarez, for one, is "obsessed with sleeping masks and rehydrating throughout the day." She always likes to refresh on the go with a mini cream, which is why she's asking for this Sisley Paris gel mask for the holidays. "This mask looks like one that I can use and easily wipe off before a crazy morning or right before bed. It's Sisley Paris, and I always trust in their products to do my skin good."
For winter skin, a hydrating tinted lip gloss would come in handy, too, and the colors would pop in a photo shoot. "I live in Cle de Peau lip glosses in the winter because they are extra hydrating, with a hint of color," says Suarez. "Lately, I've been wearing Fire Ruby, but I'm dying to try out this gorgeous fresh pink-red color, Dream Stone."
Chizzoniti relies on weekly charcoal masks for keeping his pores clear, so he's looking to re-up for the holidays: "Every Sunday I meal prep for the week while I put on a face mask. Charcoal masks are my favorite and I've been looking to add the Boscia Charcoal Mask into my rotation because it's peel-off."
And in the realm of decorative hair accessories, Coscarelli's been wearing a lot more hair clips recently. She's partial to the vintage-leaning ones from Reliquia, which is why she likes this pearl-festooned one. Every piece is meant to look like it's been borrowed from your grandmother's closet: "As if I'm 10 years old again, I can't get my hands on enough hair clips lately, and this one specifically is aesthetic goals."
Fashion
A good pair of face-obscuring shades can always come in handy for travel. Last year, Adam Selman's Last Lolita cat-eye specs were everywhere. This season, the shape is still popular, but showing up in different colors and styles, like these tortoise-y ones from Cutler & Gross that Suarez is eyeing. "These are a classic, old Hollywood pair of glasses that I can wear with everything," she says. "Cutler & Gross make insanely good Elton John-esque glasses. I want to grow my collection."
And a new statement dress couldn't hurt. Here's one from Danish brand Rotate that Coscarelli wants, which feels very Dynasty-meets-In the Mood for Love. "If you ask me, this is the most perfect dress ever created," she says. "The gorgeous fabric, the puffy sleeves … It's like me, in garment form."
Suarez is sometimes photographed in lingerie for her Instagram shoots, so you might see this colorful Dora Larsen bra make an appearance if she gets one for the holidays. "This is such a romantic bra with a really cool and beautiful color palette. It's easy and will work so well under little silk dresses."
The mini bag is a big staple on Instagram, and the ones from Shrimps are especially popular these days. "UK brand Shrimps really blew up for its pearl bags over the last couple of seasons," Coscarelli explains. It's part of a bigger trend of beaded bags that includes Susan Alexandra's fruit-shaped minis, but she feels that the latest season of Shrimps bags is still fresh and relatively uncharted, which is why she wants one. "This is a new variation on [beaded bags] that not a lot of people have yet, and that's what makes it so appealing."
A sign that the bags are truly making the rounds: Suarez wants one, too; specifically, this yellow beaded bag that she describes as both "glamorous and quirky." She's hoping that it will add some cheer to the next few dreary months. "It's amazing for the winters here in New York because it's like a little burst of sunshine that I carry with me."
A pair of sensible, non-boring stompers will always have mileage in New York streets. Suarez is okay with a little more height, so she's considering these suede-heeled Maryam Nassir Zadeh boots. "The heel on these black boots make them feel super special. They have a cool retro feel that makes me want to wear them with everything from my favorite trousers to jeans!"