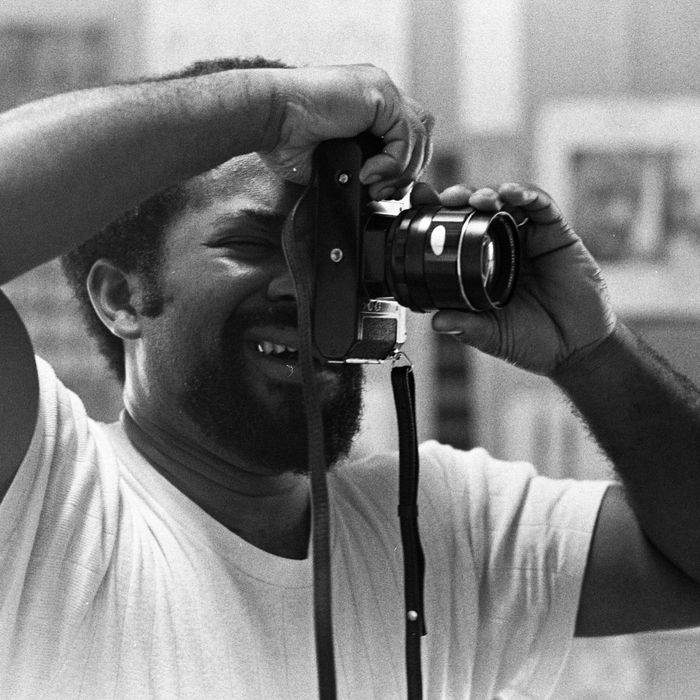 Photographer Billy 'Fundi' Abernathy sets his focus.
Photo: Getty/Getty Images
From playing guitar to picking up needlepoint, many are using their time in isolation to discover new hobbies (or rediscover old ones). If you've found yourself developing a burgeoning interest in photography or photojournalism, getting started could be as simple as purchasing a new camera (or digging up an old one) and getting out there and shooting.
But if your work turns out a little more Martha Stewart than Irving Penn, you may want to consider brushing up your skills with an online class. In fact, 11 photographers we spoke to told us online classes have been instrumental in developing their skills and careers. So to help you on your journey to becoming the next Bill Cunningham or Billy "Fundi" Abernathy (pictured above), we asked those same experts to tell us about the most useful, informative, and all-around memorable online photography courses they've taken. Their responses below range from free YouTube seminars to paid six-week classes, and include guides to everything from retouching to motion capture to printing at home.
For learning to capture your own neighborhood
Photo: Peter van Agtmael/©Peter van Agtmael / Magnum Pho
This ten-part lesson in the history and styles of street photography, from legendary photo studio Magnum, came recommended to us by photographer Anya Broido. By taking the course, you'll get (virtual) time with Magnum's world-famous roster of photographers, who, according to Broido, "take you along with them on shoot days, providing you with insightful tips and techniques."
The course, Broido says, is a mix of "interviews, footage, archival images, and practical downloadable worksheets with tasks, tips, and good reading material to explore." Added up, all of that makes it the most "all-rounder" class of the many she's tried, and the one that made her most want to get up and start shooting: "The class is primarily interested in engaging your imagination, and drawing you into street photography's spontaneous charm, motivating you to shoot."
For a primer on using Photoshop
Photo: LANNA APISUKH
Of course, there are many ways to learn how to use Photoshop, but what Broido says makes Bushwick-based BKC center's online classes different is their "live feedback, and how they answer questions in real time." In their postproduction online course, Broido says BKC covers "the ins and outs of Lightroom and Photoshop, and helps you understand how photographers can use the software to manage and edit their files artfully for publication." She singles out instructor Justin Lin in particular as being "wonderful at explaining information from the very basics to the expert detail, no matter what level you are at." You can also get your work critiqued by their experts, Broido says, adding that since completing the course she's used its teachings to "accelerate [her] digital workflow, organize properly, and create more striking images."
Photo: retailer
Photographer Boyz Bieber says that Deke McLennan's in-depth online Photoshop classes, which are produced for many different skill levels and archived so you can view them at any given moment, are a "master class." While each of McLennan's packages contain more than 16 hours of content, those daunted by that length should know that the course is taught in ten-minute mini-lessons that each focus on a different, easy-to-accomplish Photoshop skill.
For a six-week intensive on the history of photography
Photo: retailer
A few weeks into the shelter-in-place order in New York City, photographer and senior photo editor at Time magazine Thea Traff began this free course, offered by the Museum of Modern Art in partnership with Coursera, which provides an overview to the history of photography. "It's led by the museum's photography curator, Sarah Meister, and uses images from the museum's collection to guide you through the history of the medium," Traff tells us. "It was enlightening to recognize that my art is not arbitrary; I have been influenced by my predecessors and contemporaries." As for the experience of learning about photography online rather than up close in a gallery, Traff says she was worried that, as a visual and tactile learner, an online course wouldn't sustain her attention, but that "the range of slideshows, videos, vocabulary lists, and book excerpts, all sourced from the museum's collection, kept me deeply engaged throughout the entire six weeks."
For a lesson in skin retouching
Photo: retailer
"There are very few tutorials on editing darker skin tones," photographers Kahran and Regis Bethencourt told us. Which is part of the reason they loved this free, 15-minute YouTube course, which "gives an overview of high-end skin retouching" for all skin colors. "The video is straightforward, and even gives raw images to practice along," and that being able to practice techniques on the same images that the instructor used helped them ensure they were completing the steps correctly. The Bethencourts mentioned that they still use several of the techniques instructor Prince Meyson teaches when retouching edits in their professional work.
For an understanding of what each button does