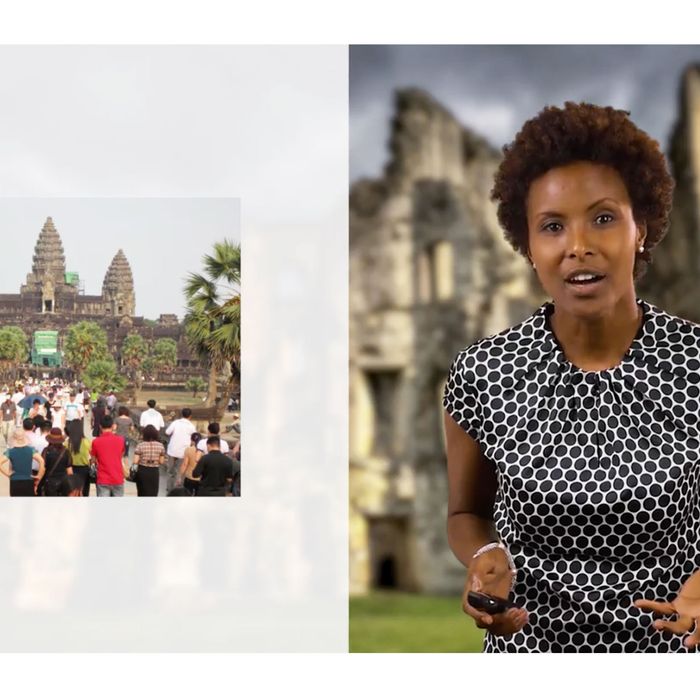 Dr. Sada Mire teaching her class Heritage Under Threat, offered by Leiden University.
Photo: retailer
Coursera launched in 2012 with the mission to make college-level education available online to anyone who didn't have the time or the means to enroll in person. Partnering with elite universities to adapt their best courses for the internet, the platform gives users two options for almost every class (including every one we feature here): audit it for free, or pay $49 and gain access to peer-review sessions, graded assignments, and, once successfully completed, a certification to add to your résumé. (For $399 a year, there's also the option to enroll in Coursera Plus, which includes access to and certifications from more than 90 percent of the platform's courses.) In the years since it debuted, Coursera has ballooned to offer more than 3,000 classes from professors across the world in practically every conceivable field, from music to coding to history, philosophy, creative writing, and more.
Pre-pandemic, Coursera boasted a healthy 47 million users. But now that a lot more people have a lot more free time and the pandemic has upended the concept of paying for a traditional "college experience," the platform is apparently surging, with enough increased demand that the company has begun to offer financial aid and free classes to unemployed workers looking to change career direction as part of the Coursera Workforce Recovery Initiative. Just this week, the New York Times reported that Coursera "added 10 million new users from mid-March to mid-May, seven times the pace of new sign-ups in the previous year." But if you haven't taken them, you're probably wondering: Are these $49 — or free — online college-level courses actually helpful in building careers or even just practical know-how?
According to the almost two dozen Coursera students we spoke to for this story, yes. Illustrator Sara Nylund, who enrolled in a course on how to create infographics, told us she's booked "a lot of jobs since because of it." Others say the program has equally valuable indirect benefits: "Using Coursera has given me a lot of confidence," a professional who works in public relations told us. "After taking some classes, the idea of going to grad school or changing careers entirely seems more within reach than it did a few months ago." Many of the students gave the same two reasons for why they find the platform so effective. First, all of the courses (which consist of bite-size video lessons you can move through at your own pace, but require you to finish one before you can unlock the next) are taught by the very professors that created them in the real world. Second, every class relies on engagement to move through it: Even though the professors' lessons themselves are prerecorded, they're interrupted by mandatory quizzes for everyone taking the class (whether you're paying or not). Still, if you're thinking of enrolling, you may be overwhelmed by the sheer number of courses to choose from. Below, the 22 Coursera students we spoke to share the courses they found the most worthwhile — all of which are beginner-friendly, according to them, in case you're looking for something entirely new.
Photo: retailer
Thirteen of the Coursera students we spoke to say the program's courses in the fields of science and psychology are what lured them in, with six telling us they specifically loved this class, an adaptation of Yale's Psychology and the Good Life course (that New York Magazine called the most popular class in America in 2018). Marketer Erin Thibeau, who enrolled to "preserve my sanity" in isolation, told us the class draws on positive psychology and behavioral science to "both debunk myths about what makes us happy, and share what actually works." One of the first assignments is to measure your own baseline level of happiness, which you can then use as a point of comparison at the end of the course, after you've practiced the happiness-boosting habits it teaches. Students are asked to practice each of the taught strategies through weekly "rewirements," such as exercising for at least 30 minutes a day. Video-game designer Lena Leray is another fan of this course, telling us that "of all the eight courses I have taken on Coursera, this is my top recommendation."
Photo: retailer
Two students we spoke to praised this course, which they describe as another highly practical psychology class. Offered by Johns Hopkins, it teaches how to provide psychological first aid to people in an emergency, be it a large fire, earthquake, individual moment of distress — or global pandemic. "It's well-outlined and well-organized, and full of examples and simulations," says college student Michael Nguyen, who told us the class has helped him feel more capable in these trying times. "Knowing I can provide aid to my community makes me feel more secure in the pandemic." While Nguyen says it's aimed at "people going into the medical field," he isn't planning to do so, and assures the course would help "anyone, in any field" that is hoping to be a better neighbor. He also notes that the course is very clear about determining when you can help, and when you need to call in an actual professional. Social-media manager Anja Burcak also took the course and told us that she liked that the curriculum includes instructions on how to care for yourself before you care for others, which she says is "especially important in an area with so much compassion fatigue and burnout."
Photo: retailer
This non-pandemic-related course on social psychology came recommended by documentary producer Neelabh Bafna, who told us it would be helpful for anyone wondering why some of their job interviews (or daily conversations) go more smoothly than others. Bafna says the class walks students through the "basic aspects of social psychology and human behavior, from the psychology of persuasion, to how we present ourselves to strangers, to how we change when part of a group." He adds that, alongside its pop-up quizzes, the "enthusiastic" professor Scott Klaus's delivery kept him engaged from start to finish.
Photo: retailer
This class, recommended to us by Leray, is also about presenting oneself in public, but specifically in the context of negotiation. If you've been intrigued by YouTube ads for former FBI negotiator Chris Voss's MasterClass, but are hesitant to fork out the $90 to take it, this seems like a more-affordable dupe based on Leray's description. She was struck by the class's meticulous approach, which explains how the right kind of preparation is essential to getting the desired result from any negotiation. And despite the fact that many of the lessons focus on examples of negotiating in the workplace — such as how to negotiate an improvement to an existing contract — Leray promises that the techniques taught by the "passionate" professor are "helpful for navigating daily life as well."
Graduate student James Kazuhiro Carter has taken these two Coursera classes to learn more about the science behind COVID-19. The first, from medical-video-production platform Osmosis.org, is more of an overview that he says is full of "to the point, updated information that dives deep into the symptoms and disease, with short readings and videos." In Carter's opinion, the Osmosis course is "likely the best value on the Coursera platform" if you're looking to educate yourself on the virus and would rather not do so simply by consuming news reports. After finishing that class, Carter enrolled in John Hopkins University's newer, more practical course that teaches students how to become a contact tracer (since its introduction earlier this month, more than 150,000 Good Samaritans have already signed up, according to CNBC.) "It allowed me to understand what contact tracing is, and what it will look like in America," Carter says of the course, which was created as part of the application process for aspiring contract tracers in New York State, where you must complete it successfully to proceed with applying for a contact tracing position.
Photo: retailer
Five of the students we spoke to have taken tech classes on Coursera. Two say that this course, taught by Coursera founder and Stanford professor Andrew Ng, is the best they've taken on the entire platform in any category. It introduces its students to the basic workings of machine learning (which centers around the concept of computer systems modifying their behavior by learning from their own experiences). Software engineer Lilly Thomas, who has taken lessons on six different software engineering platforms, told us Ng is "a figurehead in the world of machine learning," and that this specific course is the one "everybody recommends to any novice in the field." Both Thomas and entrepreneur Aswin Ramakrishnan — who has taken other Coursera courses on marketing, business, and engineering — agree that the class, despite its technical subject matter, is beginner-friendly and that you don't need to know anything about machine learning to take it. "It gently introduces people to the concepts, and provides a lot of the mathematical underpinnings for what machine learning entails in a very human, approachable way," says Thomas, who also appreciates that all students get a free version of MATLAB — a machine learning platform — to play around with. "It's proprietary software, so normally you'd have to pay for it. This course gives you the resources to try what's being taught, without paying anything."
Photo: retailer
If you're interested in learning how artificial intelligence and machine learning could improve your workplace, Leray enjoyed this slightly more advanced course, also taught by Ng, which looks at "what machine learning can and can't do" in a professional context. While Leray says it's aimed at people looking to make a difference within their businesses, she thinks anyone interested in delving further into the topic after taking Ng's introductory course above would enjoy this one.
Photo: retailer
For those with an interest in coding, two students we spoke to told us they used Coursera to learn the popular coding language Python. Kevin O'Connor, who works in financial technology, told us what makes the class so good is that even though it's about a more advanced coding language than, say, Java and CSS, the instructors don't assume that you have basic coding knowledge. O'Connor found the production value to be "really high compared to other learning options I've tried, including split screens of the professor's lecture next to examples, and a guide to downloading the software you need to perform what you're learning." He also liked the in-lesson quizzes, which kept him engaged and the course interesting: "I flew through it in a week, and retained everything I set out to learn."