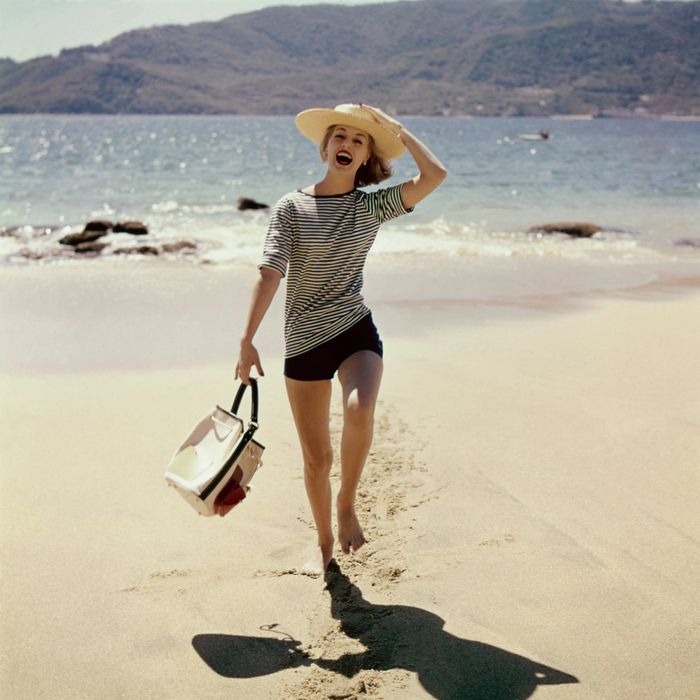 Photo: Sante Forlano/Conde Nast via Getty Images
Here at the Strategist, we like to think of ourselves as crazy (in the good way) about the stuff we buy, but as much as we'd like to, we can't try everything. Which is why we have People's Choice in which we find the best-reviewed products and single out the most convincing ones. (You can learn more about our rating system and how we pick each item here.)
And while we've written about lots of things you can bring to the beach — including the best one-piece swimsuits, beach towels, and sun hats — here we've rounded up the best beach bags, as praised by the most enthusiastic reviewers on Amazon.
Best-rated beach bag
Made of heavy-duty nylon and absolutely brimming with pockets, this bag was loved by reviewers because of its "roomy" interior and its ability to hold everything from sunscreen to large beach towels. "Never thought I'd find the perfect bag, but here it is!" says one reviewer. "I was able to pack my whole two-week vacation in it (minus my ukulele)." Also, if you're flying to your beach vacation, several shoppers commented that it makes a perfect carry-on bag. One says that it "fits under the seat on Delta flights." Another reviewer, who even found the bag, which comes in several cheery patterns, to have mood-lifting qualities, writes, "I have received compliments and this cute little bag helped bring smiles in a hard situation. Not saying that a bag can change a bad situation to a good situation, but a little light heartedness bringing grins from people who see it, makes me smile."
Best-rated (less expensive) beach bag
"This is a beautiful mesh bag — large, and roomy. The semi-wide handles are nice because you can carry them in your hand, on your arm, or across your shoulder," writes one reviewer. Many reviewers praised the bag's long straps, which make the tote versatile and comfortable to carry. "When we were walking or shopping I was able to strap it across my body and carry it almost like a backpack instead of out to my side. I felt like this was more comfortable for me but also I didn't hit people with my large bag in more crowded places." And despite the low price, the bag is well made. "Sturdy mesh construction with great zipper enclosure," one commenter writes. Another says, "Sturdy handle, lightweight bag." You might even call it the Goldilocks of beach bags. One shopper describes it as, "Not too large not too small. Just right for a day at the beach."
And now for some micro-picks of every type of beach bag you might be looking for.
Best big beach bag
Reviewers praised the size of this bag: "Look no further, this bag is huge! … I'm using it as a beach/pool bag for a family of four. This will hold towels, toys, snacks, water, swimsuits, flip-flops, and anything else you need to haul to the beach/pool. It is heavy duty canvas. A strong zipper. It is a great price for what you get. I am so happy I found it." Several consider it a less expensive version of L.L. Bean's popular Boat and Tote bag: "Really nice quality bag comparable to my L.L. Bean bag for a fraction of the cost," says one shopper. Another says, "I have both L.L. Bean's and Land's End bags … This bag is the same quality but one third the price."
Best all-in-one beach bag
"Has so far lasted through 26 continuous days of use in Tahiti, simply amazing bag and value. We packed the mesh with fins, masks, snorkels, frisbee, you name it, and it has survived!" writes one reviewer about this mesh bag, which comes with a beach mat and built-in cooler. "We love going to the beach and lake, and I've been looking for something that I can combine my needs in, without having to bring a beach bag AND a cooler. This totally works!" says another satisfied shopper. Reviewers loved that the cooler kept their food and drinks cold — and by separating their cool beverages from their clothes and towels, the bag protected dry items from the dampness of a "sweating" cold water bottle on a hot day. One reviewer even suggested using the cooler to keep your cell phone from overheating.
Best striped beach bag
Several reviewers hailed this as the "perfect beach bag" for its size, sturdiness, and looks. "Super cute!" says one reviewer. Another writes, " It's sturdy and stands up nice and tall when empty, which is just what I was looking for." And if you're into monograms, this is the bag for you: "Great quality, very large, perfect for adding embroidery to the front pocket area! I purchased this to add a monogram for my daughter's school counselor as a 'thank you gift for helping her out so much this year, and it turned out perfectly," says one shopper.
Best (smaller) striped beach bag
"It's the perfect size," says one commenter. "Big enough to use for the market, beach, shopping every day, but not cumbersome or awkward to carry." Reviewers praised the quality of the bag's construction: "This is exactly what I wanted — a durable, high-quality beach tote in a nice heavyweight fabric," says one. Another says, "It's very durable, with heavy duty canvas, well sewn, and roomy."
Best waterproof beach bag