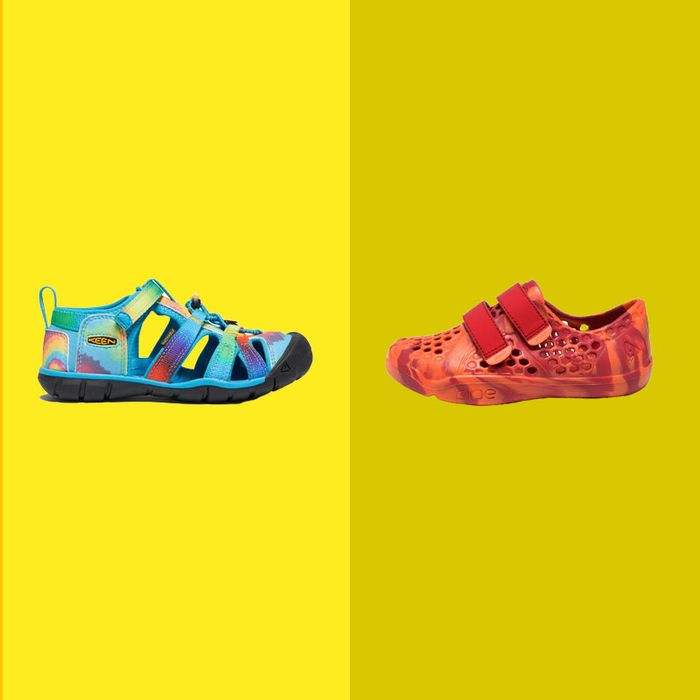 Photo-Illustration: The Strategist; Photos: Retailers
Finding summer shoes for my 5- and 7-year-olds that can withstand daily thrashing from climbing trees, city scooting, and tromping through splash pads is quite the parenting feat. Summer is when my kids are their dirtiest, wettest, and most scraped up, and while very little brings me greater joy than having them come home exhausted by the elements, I also want to make sure they're not walking around with soggy clothes and blisters all day.
They're now both at the age where they spend many of their days at camp, which usually requires closed-toed shoes so kids aren't stubbing their toes while playing soccer or out on a nature walk. Your child may love those cute, glittery plastic sandals with kitten ears and a heel, but they aren't necessarily the best option for a summer adventure.
In years past I opted for Natives in the ubiquitous Jefferson style; the vegan, waterproof shoes made of plant-derived materials are a favorite of the Brooklyn set. However, the tiny holes — the same ones that make them porous for water play — let in a lot of dirt and grime that tends to get caked on the insides and can be near impossible to scrub off. My kids also frequently came home moaning about sore feet, so I wanted to ask discerning shoppers, designers, and parents of very active kids what they turn to when the weather gets warm.
What shoes are comfortable, durable, waterproof, and can withstand getting tossed in the washing machine? Is there one shoe that your children can wear to the beach and on a hike? Not quite. But there are a few front-runners that'll get you through the whole summer and maybe even last long enough to pass down to another kid.
Best open-toe summer shoes for kids
For pattern-and-color-loving kids, Teva's Original Universal offers a plethora of cute options, from gradients to tie-dye to butterflies, in its signature style, which has been copycatted countless times since it debuted in the mid-'80s. The Velcro straps are made from a durable-but-flexible recycled plastic and are comfortable, lightweight, and dry quickly, making them good for water wear. "They are great playground and splash-pad shoes because they strap on. You can run around in them even when they are wet and not totally eat it," says Sofia Sorvino, a Brooklyn-based designer with an 8-year-old daughter. "They also never seem to give her blisters — even when they are new, you don't really have to break them in." While Tevas don't offer the toe cover required to brake on a scooter, they're a great everyday option. The Original Universal style has a foam topper layered over a rubber sole, whereas the similar but more heavy-duty Hurricane XLT 2 style, recommended to us by parent MacKenzie Alexander, offers a rubber top layer and more robust sole that's sturdy enough to hike in.
The Hurricane Drift is Teva's take on a fully waterproof shoe, made from injection-molded EVA (ethylene-vinyl acetate, a waterproof, lightweight rubber). They're lighter than standard Tevas and offer a very "easy on, easy off" option for kids of all ages. "They've got thick soles so they're comfortable to walk and run in and are substantial enough to keep their feet further from the gross city streets while still being very lightweight," says Kendel Shore, a Brooklyn marketing executive and mom of two kids, ages 5 and 9. "They also work really well as water shoes as long as there aren't any rocks," making them a quality beach option as well. The Hurricane Drift style comes only in solid or marbled colors (due to the molding method), with new colorways available each year. Teva also has a recycling program for your kids' well-worn sandals, which you can send back at the end of their life to be recycled into new materials.
Birkenstocks, known for its classic two-strap slip-on sandal, launched a line made from EVA in 2015. The EVA series is lower-priced than cork-soled Birkenstocks and comes in two kids' styles: the two-strap Milano Essentials and the Rio, recommended by design director and parent Nidhi Malhotra. "They have enough tread to not be slippery, are easy to slip on and off but don't come off while running around, and are very durable in all kinds of wet, beachy situations," says Malhotra of her daughter's Beetroot Purple pair of sandals. "And they manage to look cute with socks on."
Target's Cat & Jack line makes a $10 copycat of the Milano style, the Ade Slip-On Footbed Sandal, which is made of plastic but is lightweight, comfortable, and waterproof like the Birkenstocks. My two kids have worn through multiple pairs each, and the Velcro can wear down after getting wet a lot, but they are great for the price point. New York deputy editor Alexis Swerdloff is also a fan of these "Fakeinstocks" as backups for fancier pairs. They come in several colors in sizes up to Little Kid 12.
While style may be secondary to function for some kids, those who want sandals that are comfortable and bring a pop of flair can turn to the brand Melissa, whose shoes are made from Melflex, a proprietary PVC. The Mar sandals have a toe strap and an ankle strap and are "super-cute, very comfy — the colors are bright and clear and they're so easy to wash," according to David Yee, a vice-president of engineering at the New York Times and parent of a fashion-forward 6-year-old.
Malhotra also recommends Camper's Oruga sandals, a sturdy option that's also great for when your kid "wants to be a bit fancy" but needs to do some walking without complaint. With leather cross-straps, they are not meant for water, but the soles are made of EVA, keeping them relatively lightweight and sturdy. "They have a good tread that's been tested on gritty Brooklyn streets," says Malhotra, whose daughter has a silver-and-blue pair. She notes that Camper sizing can be a bit tricky (and often it only offers whole sizes), so the Velcro helps the shoe stay snug as your kid grows into it.
Best closed-toe summer shoes for kids
Crocs have been making their comeback across all ages (and for many a celebrity) and are the reluctant recommendation of many parents, unbeatable for the ease of getting them on and off. Made of a proprietary material called Croslite that feels like both rubber and plastic but isn't either — they're resin — the shoes are notably lightweight.
Crocs come in every color under the rainbow, as well as with character patterns, prints, and tie-dye, meaning you can always find a pair that will suit your kid. "I know that if I can find a shoe that is sparkly or iridescent in some way, there's a high likelihood it won't be rejected," says Gloria co-founder Leslie Price of her 7-year-old's black, glittery Crocs. "We got her these because they are easy to wash off, lightweight, and have some grip, particularly when worn for sports." She added that Crocs' rotating heel strap and closed toe make them "good for the pool and also for the beach because they're more secure and less likely to make her trip than flip-flops."
Eliza Blank, CEO of the Sill and mom to two kids, ages 4 and a half and 8 months, noted that her older daughter "loves that she can easily get them on and off on her own — and fast." Blank's daughter has adorned her light blue Crocs with Frozen-themed Jibbitz, the Crocs-specific charms you can push through the holes to customize your pair, another appealing feature of these shoes. Jibbitz range from designs celebrating your favorite sports teams to light-up options to Super Mario Brothers charms, so they are highly tailorable to your kid's current obsession.
For all their ease, Crocs run big and wide, some parents note, so if you're a first-time buyer, you may want to have your kid try them on IRL to make sure they're snug enough. Loose Crocs can be a tripping hazard or fly off when their wearer is running.
For closed-toe shoes that can get wet and last a few seasons, Keen's Seacamp II CNX style comes recommended by Kimberly Locke, a mom of five in Spring Lake, Michigan. "Keens absolutely win for longevity," she says, noting that a single pair has been passed down through all of her kids. "They are the workhorses of the summer. From hiking rocky terrain to creek walking, Keens don't quit." The Seacamp II features the brand's signature rubber toe bumper and a thick, grippy sole that makes them ideal for climbing and nature play. The body of the shoe is lined with neoprene, which keeps them comfortable when wet. They can do double duty as both water shoes and all-day sneakers, and they handle getting thrown in the washing machine at the end of the day (though after a while the Velcro can wear down).
The Keen Newport H2 is a similar — but slightly heavier and wider — hybrid water shoe–sandal recommended by Brooklyn-based parent Kalli Anderson, whose son wears the rainbow tie-dye colorway all summer. They're "not stinky, easy to run in, and not hot, and the rubber toe is good for playing soccer and climbing," says Anderson. Like the Seacamp, the Newport H2 has a hook and loop Velcro strap, along with a bungee lace that can be tightened so the shoes are snug on your child's foot.
For a shoe that can handle intense water play, Emily Hill, a resident physician and parent of two in Portland, Maine, gets her kids a pair of Plae Mimo water shoes every summer. They are "a riff off the Native, but thanks to the straps, you can buy them a tad bit big and ensure a good fit," she says. Additionally, the style is wider than the Natives Jefferson shoe, so it's a good option for kids who have wider feet. "The Plae sandals are plentiful on sites like Poshmark, especially the Mimos, which makes them a good investment and easy to resell once they grow out of them," adds Hill for those who want to try out a pair or are worried about longevity.
Best summer sneakers for kids
Some kids (ahem, like my 5-year-old) prefer sneakers over sandals or hybrid shoes regardless of the season, and Tsukihoshi's Racer style is ultra lightweight, with more arch support than many sandals or slip-on sneakers offer. Tsukihoshi shoes are designed to be comfortable with or without socks, which makes them helpful for getting out the door in the summer, and though they are not waterproof, they can be machine washed if they do get doused or dirty. Alexis Ching, an NYC-based parent of an 8-year-old, says her son liked them "because of the Velcro straps, and because they're so comfy."
For a sneaker that's waterproof, Ching also recommends Plae's Charlie style, which has traction on the sole so your kid doesn't slip-slide around too much and is highly breathable for sweaty and wet feet. While they're not explicitly water shoes, the nylon-based fabric keeps water out of the footbed. "I appreciate Plae's growth-spurt guarantee," Ching says, describing the company's policy of providing a 50 percent discount on the "next size up" if you get the same pair in a bigger size within 30 days.
My own son lives in his Adidas Lite Racer Adapt sneakers, a laceless, slip-on, lightweight everyday sneaker that's good for kids with wider feet. He calls them his "fast shoes," convinced they give him lightning speed, and says they're the most comfortable pair he's ever had. The upper fabric has a knit texture that encourages airflow so they dry quickly when wet, and the shoes are cushiony with a foamy sole. I know for sure they've taken a beating at the splash pad and that he drags the toepad hard when braking on his scooter — and they've held up remarkably well despite it all.
The Strategist is designed to surface the most useful, expert recommendations for things to buy across the vast e-commerce landscape. Some of our latest conquests include the best acne treatments, rolling luggage, pillows for side sleepers, natural anxiety remedies, and bath towels. We update links when possible, but note that deals can expire and all prices are subject to change.