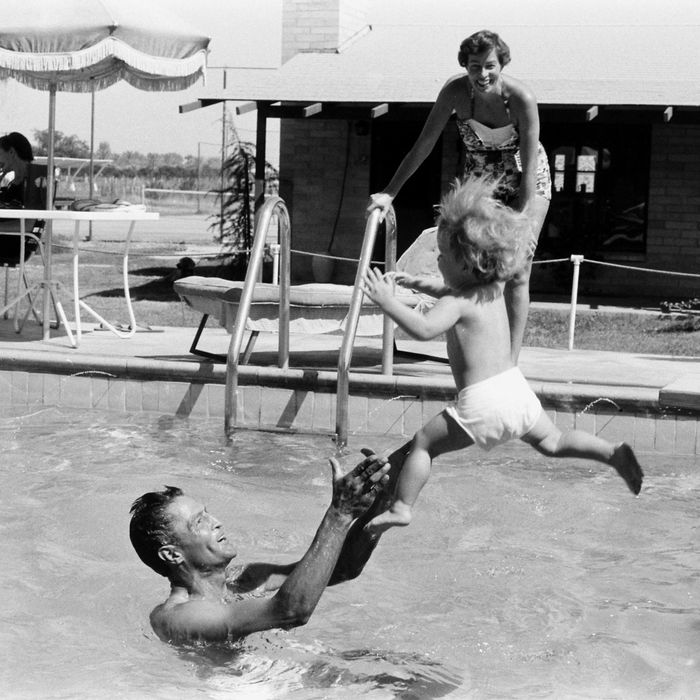 Photo: Alfred Eisenstaedt/This content is subject to copyright.
Here at the Strategist, we like to think of ourselves as crazy (in the good way) about the stuff we buy, but as much as we'd like to, we can't try everything. Which is why we have People's Choice, in which we find the best-reviewed products and single out the most convincing ones. (You can learn more about our rating system and how we pick each item here.)
And while we've written before about all sorts of baby gear — including diaper bags (that aren't actually diaper bags), organic baby wipes, and baby play mats — here we've rounded up the best swim diapers as praised by the most enthusiastic reviewers on Amazon.
Best-rated swim diaper
With close to 1,000 five-star reviews, this reusable swim diaper is a "go-to" for many parents with water-loving kids. "Bought this for my toddler who swims every day to save versus buying the disposable swim diapers," one parent writes, explaining, "She is comfortable in it while swimming or running around the yard in between swims." Purchasers also have little trouble finding the right fit for babies of all ages and sizes. One reviewer explains, "I've used these with my son since he was a newborn. We just keep ordering the next size up." Having a washable swim diaper is a big plus, many say, because it's better for the environment and less expensive. "When I discovered that I could purchase a reusable swim diaper for my daughter for the same price as a package of disposable Little Swimmers, I was thrilled," one parent raves. Many praise the "snug fit," which, as one purchaser puts it bluntly, "keeps poop in the diaper and not in the pool."
Best-rated (less expensive swim diaper)
Babygoal's reusable swim diaper only comes in two sizes, but dozens of reviewers attest that the buttons make it easy to adjust for the right fit. As one purchaser explains, "There are a million snaps on it, yes, but once you figure out the right fit for your little one you won't need to bother with all the other snaps." Another parent calls this adjustable diaper "genius," because "who wants to spend $10 for each size your kids wears? Not me. Love that you can get lots of use out of this diaper with its adjustable sizing." And this swim diaper works, too. "When I first tried this diaper she had a bowel movement and it took me a while to realize she did. I only realized she did when I finally took her out to dry and dress her," admits one parent, adding, "This is the sort of assurance I want."
And now, some micro-picks for every type of swim diaper you might be looking for.
Best adjustable reusable swim diaper
Close to 90 percent of those who purchased this Beau & Belle swim diaper gave it a five-star rating, and dozens of reviewers praise its "adorable" design. It's also adjustable, in addition to being reusable, which lets purchasers maximize the amount of wear a quickly growing baby can get out of it. "I love that it I can adjust so he will probably be fine with just one diaper this year, instead of having to size up soon," writes one reviewer. "With all the different snap options, it's very easy to get it to fit snugly around him, and he seems very comfortable wearing it." Another adds, "My son was 5 months old when he started wearing this. He's now a 22-pound chunker at 10.5 months old, and this still fits him great with lots of room to grow. He's yet to poop in the pool, but this can fit snuggly enough that I know we wouldn't have any problems."
Best swim diaper with ruffles
"The pattern is so cute and the ruffles on the bottom are adorable," writes one purchaser of this swim diaper's style, a sentiment shared by many satisfied customers. One reviewer says it looks great on its own and makes for an easy poolside outfit: "The design is super cute, so you could just purchase a swim top and your little one is ready for the pool or beach." And while the style gets a lot of attention, plenty of purchasers also highlight how well-made it is, in part thanks to functional details such as side snaps. "The last thing you want to do is try to pull a wet, poopy diaper off your small child on a sandy beach," one reviewer says. "The snaps make it so much easier to have an easy diaper change instead of a disaster."
Best leakproof swim diaper
Purchasers recommend this reusable swim diaper for anyone worried about leaks. "These work great for my son's swim lessons," says one purchaser, adding "they fit snug and NOTHING gets out of them." Another writes, "My son is a pool pooper, unfortunately. These are the first swim bottoms that actually contain the mess and give us time to get out of the pool before it spills out." Reviewers say the combination of the elastic waist and side snaps create a tight seal and help with cleanup and changing. "We had another brand that was an elastic waistband only, and when my son pooped in it, I got poop everywhere when I tried to take the diaper off. Thankfully, this has not been an issue with this diaper." Purchasers also appreciate that it comes in a wide range of prints and sizes.
Best boys' swim trunks with built-in swim diaper