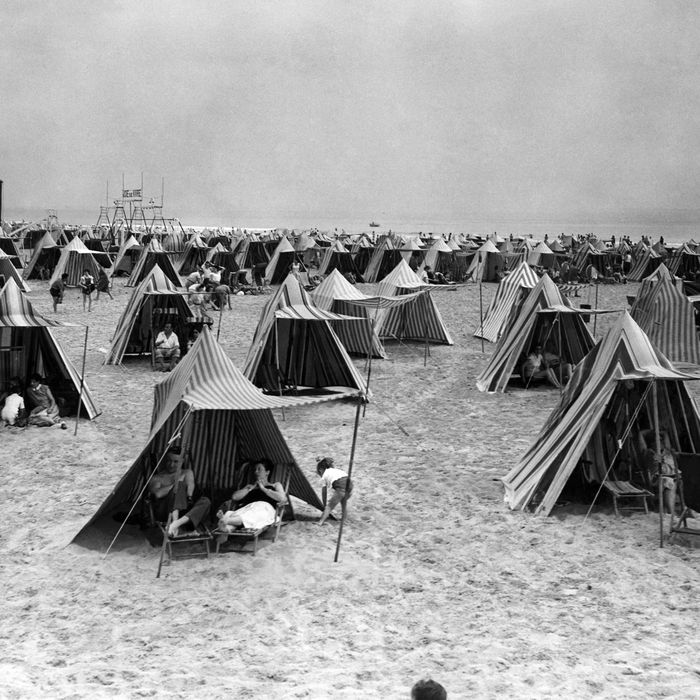 Photo: Mirrorpix/Mirrorpix via Getty Images
Okay, it's not that I never liked going to the beach, but more that going to the beach has always been somewhat of a to-do for me. As a pale brunette descended from the shtetlach of Eastern Europe, going to the beach has long meant dutifully smothering myself in SPF 50 every other hour, getting a mix of sand and suntan lotion all over my Us Weekly, and then getting that same mix of sand and suntan lotion in my Sabra hummus snack pack. I am one of those people, I think, who just does not love baking in the sun. I have a hard time falling asleep on a towel. I get lightheaded. I often think I'm getting heatstroke. So for a long time, before every Rockaways excursion, I'd remember at the last minute that this was the case, and rush to Rite Aid to buy some crappy umbrella — only to have it flip inside out and break 15 minutes into the day, or blow away and nearly impale a nearby toddler's eye.
So I started investigating other options. I had seen a few beach tents around, and had written them off as being mostly for babies and the elderly. A beach tent seemed a little embarrassing. But recently, I'd been learning to embrace comfort over looking cool — for instance, I'd just bought a pair of Dansko clogs — and after surveying the beach-tent-scape, poring over Amazon reviews, and landing on the Pacific Breeze Easy Setup Beach Tent, I bit the bullet.
The first thing that struck me about the tent when it arrived was its lightness; it can be packed up and toted around in a very manageable carry case with a shoulder strap. After taking it for a test spin around my apartment, it felt like I was carrying a mostly empty backpack. As for setup, its name does not lie, and opening it is easy-slash-a-breeze: All you have to do is pull its little lever on top and it snaps into shape, then push four yellow stakes into the ground, and for extra weight, there are several pockets into which you can deposit a few handfuls of sand. Here's my beach-tent look: an '80s-era, floral Marimekko sheet laid out atop the base, two beach chairs (one for me, one for my equally sun-averse husband), a Jambox between us, our tote bags in the back, and we are sitting pretty. My favorite thing to do, though, is actually lie down in the tent, open the two little mesh "windows" that can ingeniously roll up or roll down, depending on whether you want a little sea breeze, a little sun, or to spy on the people sitting next to you, and stick my toes out into the world — covered in SPF 50, of course.
If you're looking for other beach tents, here are some highly reviewed options from Amazon from hyperenthusiastic beachgoers.
"After opening the tent out of the cardboard box, I was happy to see that it didn't come with a bunch of pieces. It's literally bag … tent … tiny bag of stakes. I also loved that the (very simple) directions were sewn into the inside of the carrying case! I wanted to see just how 'easy' this tent went up since it was a bit of a splurge to buy a tent this pricey for the beach. Sure enough, it goes up in literally 60 seconds! It's like an inverted umbrella. Just pull on the strings and the whole thing pops up on its own hinges. NO POLES TO WORRY ABOUT!! You only have to snap down two legs that are already attached and you're DONE!
Taking it down was equally as easy. Just push down on the two pieces that have convenient yellow tags attached to them and the whole thing buckles down. I will also happily say that this is the ONLY product I have ever owned that FITS BACK IN THE BAG! Yaaaayyy! Most products come with carrying bags, and we all know we can never contort them to get back in the bag. Not so with this tent. It easily collapses, and you bunch up all of the fabric and tie it off with the included tie. It goes right into the tent bag with a little room to spare and zips shut. The size is quite large, exactly what I was hoping. It could easily fit five kids in it."
"I purchased this tent while looking for an easy tent my wife and I could set up in a pinch for our burgeoning outdoor adventures. As a photographer, I've purchased tents before, but I didn't find anything durable or of exceptional quality for my exact needs. We did some research and wanted a tent which would be weather-resistant and capable of being deployed quickly, and with the versatility of being usable on the beach as well as to retreat to when shooting in a field in the middle of the night. I also wanted something that would be a different color that green or brown, large enough for my wife and I, and that could be opened and closed very quickly.
The Arcshell tent fits those descriptions very, VERY well. We have been able to deploy it within 30 seconds and see that the sand pouches ensure that you can anchor the tent quickly without having to use the stakes. As for the interior, it's spacious enough for two people or several children. I was impressed with its ability to withstand some of the windy conditions above Shenandoah State Park while shooting starscapes, although since it's now winter, I have to admit that being able to have warm blankets inside was a helpful thing to have in between waiting between exposures."
"This tent is theeeee jam. The boyfriend and I are both super pale. We love going to the beach, but the sun in Southern California is brutal. This tent was confusing to put up for like 30 seconds, and then we figured it out. It snaps in nicely. The tent itself is well-made and has all the bells and whistles (folding windows, extended floor, a visor on the front). It's sturdy. I feel like it could stand up to a fair bit of wind (especially with the stakes in). Ultimately, it was a huge hit with the boyfriend."
"After getting used to how easy this pop-up tent is, I doubt I will ever bring any of my old tents with me. Living in the mountains, I have hiked and camped numerous times. I have used everything from a tarp tied to a tree to a giant hassle of a tent to put up. The ease of this tent beats anything I have used, and the tent is pretty large, too. As I get older, I realize I just like things that are simple and hassle-free, so a tent that is ready in less than 30 seconds, I am all for it.
What I like most about this tent is that I can lie completely down and fit just fine, and I am about six feet tall. Nothing beats lying on your back and looking up at the trees or sky. This tent has spoiled me. I don't think I am going back after this!"
"We took this to the beach two days ago and it worked great! Setup was easy and quick. My husband and I had it all set up and secured with sand in five minutes or less. Our two beach chairs fit perfectly in it, as well as our small cooler and beach bag, with room for other small extras. It was a very hot day out with just a small breeze, but we were very comfortable! I didn't want to leave! We ate our lunch inside the tent out of the sun and sand and it was great! We took a long walk and put everything inside of the tent and zipped the front shut — another wonderful feature to help keep our belongings a little safer. We used the extra-large mesh storage holders for keeping our cell phones and sunglasses up off the floor of the tent, so we'd know where they were and didn't have to worry about stepping on them. The man who was sitting near us complimented us on it; he thought it was pretty nice! We are very pleased with this sun-shelter tent and can't wait to use it again next week!"
"This tent is awesome! I set it up in my backyard to try it out before our trip and it was super easy. I'm not very outdoorsy (that is my husband's department), but even I was able to set this up with ease.
After my kids saw it all set up, of course they wanted to sleep in it that night. It was mild out, so we left the windows open. I know this isn't really a 'camping' tent, but it worked beautifully for our overnight backyard sleepover, and I enjoyed the fresh air and beautiful view. The canopy is awesome; it was nice to be able to have the whole front of the tent open for easy in and out when we were still playing around, and then to zip it up tight like a traditional tent for sleeping.
I'm excited to take this beach tent on our next beach trip, and the kids liked it a lot for backyard camping, since it was so easy to set up and take down, we might be using it for that quite often."
"Just used this for the first time on a windy day at the beach. This truly is a pop-up tent, which made things incredibly easy to set up. And there's definitely room for a person to sneak in and nurse baby. Or nap if you put your legs outside of the tent. I wouldn't bother with the more expensive, larger tents — the complicated setup alone wouldn't be worth it. This one is perfect and a great value."
"This is exactly what I was looking for. Seems durable. Bigger than expected. Perfect for taking the baby to the beach. Easy setup and fold up into storage bag. Looking forward to warmer weather to really test it out. I am certain it will work great. While folding it back up, I was thinking that occasionally one could get a babysitter, head to the beach, and use this for a beverage tent also. Fill the basin with ice and keep 'em cold and out of the sun. Great for family time or party time."
The Strategist is designed to surface the most useful, expert recommendations for things to buy across the vast e-commerce landscape. Some of our latest conquests include the best acne treatments, rolling luggage, pillows for side sleepers, natural anxiety remedies, and bath towels. We update links when possible, but note that deals can expire and all prices are subject to change.
Every editorial product is independently selected. If you buy something through our links, New York may earn an affiliate commission.