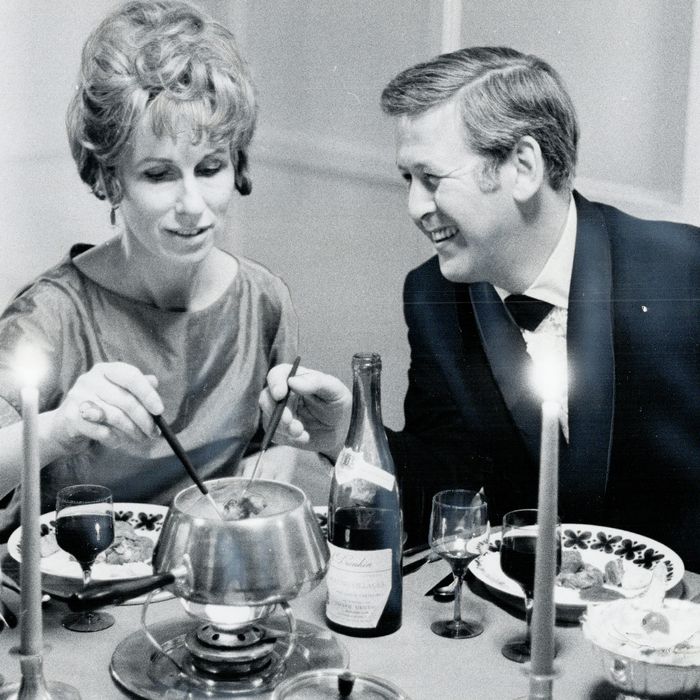 Photo: James; Norman/Toronto Star via Getty Images
Here at the Strategist, we like to think of ourselves as crazy (in the good way) about the stuff we buy, but as much as we'd like to, we can't try everything. Which is why we have People's Choice, in which we find the best-reviewed products and single out the most convincing ones. (You can learn more about our rating system and how we pick each item here.)
And while we've written about lots of kitchen gear — including the best skillets and frying pans, the best instant pots, and the best saucepans — here, we've rounded up the best fondue pots, as praised by the most enthusiastic reviewers on Amazon.
Best-rated fondue pot
"Ohhhhh, how I love these fondue pots. I have three … for chocolate, cheese, and broth," writes one reviewer who says that, although they've "had several different types of fondue pots over the years, these are by far the best. Good temperature control, EASY to clean, and stylish for any décor." Hundreds of other reviewers agreed that this fondue pot is super versatile and has superior temperature control for even heating. "It heats up super quick, the temperature adjusts to the setting you want just as quickly," one customer writes, adding, "Easy cleanup. I have put it in the dishwasher several times with no issues. I have recently purchased a second one." Many customers also noted the clever (and attractive) design, especially of the cord. "One design feature I love is that the electric cord is designed similarly to my power cord on my Apple laptop," one explains. "It is magnetic, so if someone catches the cord, it just detaches rather than pulling hot oil or cheese on someone. The pot works beautifully, is well made, and has a very pretty design." One reviewer sums it up this way: "The best product I have ever used for fonduing meats and vegetables. It kept a constant heat and didn't create the mess I am used to when fonduing. I now have three for our family celebrations when we fondue."
Best-rated (less expensive) fondue pot


Reviewers were impressed by the power of this inexpensive fondue set. "Great little set. Quality and durable. Easy wash in the dishwasher. Perfect to share with a group of people," writes one. Dozens of reviewers wrote that these work perfectly for butter or chocolate fondue, with one explaining, "This set of 'butter warmers' are an excellent way to serve restaurant-style dinners in the comfort of your own home. Whether it is butter sauce for crab legs or lobster or warm chocolate sauce for ice cream or cheesecake, you can't beat this set." Another writes, "Worked great for melted butter with lobster and clams. Still had nice warm liquid butter at the end of the meal when there would normally be a congealed mess. Tip: Pre-melt the butter then pour into the dish."
And now for some micro-picks for every type of fondue pot you might be looking for.
Best fondue pot with removable bowl
"Cheese. Chocolate. You name it, it melts it," one reviewer raves. "Makes a perfect fondue. Just take the whole bowl of deliciously made fondue to your bed and watch Friends re-runs by yourself. Seriously, if I blow this pot out making fondue I WILL buy another one of these." Customers also loved how easy the removable Teflon bowl made cleanup, with one writing, "I cannot stress how easy this thing was to set up, use, and clean." They add, "The unit heated up quickly and melted our fondue cheese and chocolate effortlessly. Cleanup was fast and painless." A third satisfied customer calls this fondue pot "great for the money. It works exactly like the directions say. I melted a pound of cheese in just a few minutes then added the extra ingredients. Clean up is a snap."
Best cast-iron fondue set
Reviewers raved about the durability of this cast-iron cheese fondue pot and how easy it is to clean. "Swissmar truly is the best cheese-fondue–pot brand. I'm Swiss, so I know what real fondue pots are supposed to look like and how they're supposed to function," writes one reviewer. "This pot works perfectly and looks great. This is the best, most traditional Swiss cheese fondue on the market at such a reasonable price. I'll have this for years." Another describes it as "a beautiful pot, heavy cast-iron, with enamel inside and out for easy cleaning. It can be used for cheese, chocolate, or beef fondue." While one reviewer does note that the "Warming base could be a little bit more secure," he ultimately concludes that the pot is still "perfect for fondue." One reviewer even claims that "this set is almost identical to the set I remember on the table in the restaurant in Gruyere, Switzerland when I had Swiss cheese fondue for the first time, a good 40 years ago." They go on to call this fondue pot "the real deal, authentic, right down to the traditional wrought-iron stylings of the rechaud," and concludes, "Bottom line: If you want fondue from a traditional set, this is the one. It's big, sturdy, and will last forever."
Best stovetop fondue pot


"This is probably the fondue pot for you if you want the European feel of artisanal, traditional fondue. You cannot tell from the picture, but the enameled pot is sturdy and lustrous. The stainless steel stand is well-built, although not quite traditional," writes one reviewer, who adds, "If you want the convenience of an electric fondue pot, look elsewhere (and maybe just use a Crockpot?). But if you want a fabulous fondue pot for your family, or perhaps a fondue party, this one is a winner." A second reviewer agrees and writes, "If you desire a traditional pot over an electric pot this is likely your best option," and goes on to list some of the benefits of this particular set: "Cast-iron construction is good for cooking the fondue and retaining heat. Can use directly on stovetop or grill burner on moderate heat to 'cook' the fondue then transfer to stand to serve. This is more efficient." One reviewer, echoing the dozens of reviewers who love the look of this set, says, "This is probably one of the best-looking fondue sets. I'm all about simple minimalist design. It is made of glazed cast-iron. Very good quality. And it is a good size. It's not too big yet not too small. The burner can be used in multiple ways."
Best chocolate fondue pot


Reviewers were in agreement that, when it comes to melting chocolate, this pot can't be beat, mainly because of how easy it is to clean. "For anyone that melts chocolate, this thing is amazing. The best part about this device is the cleanup, which is a breeze because you just take out the silicone pot insert when you are done," one customer raves, adding, "Even if you only melt chocolate once a year, the money and cabinet space spent on this is well worth it." Another reviewer writes, "I love this little candy warmer. It keeps my candy melts at a consistent temperature, hence keeping the chocolate coating smooth and silky throughout the entire project." One writes, "I bought this as a gift for my husband who loves to make chocolate goodies for friends and families. He loves the inner container (made of a non-stick silicone material) because it was a breeze to clean the chocolate out of afterward. So much easier to use than a double boiler, especially for novice candy makers." Another concludes, "Easy to use and easy cleanup. Couldn't make my cake pops without it."
Best fondue grill and raclette set


"We used this grill at a recent family get-together. We were really impressed with the versatility of this grill in cooking many different types of food at the same time. The grill adds a new dimension to fondue parties and social finger-food cooking," w