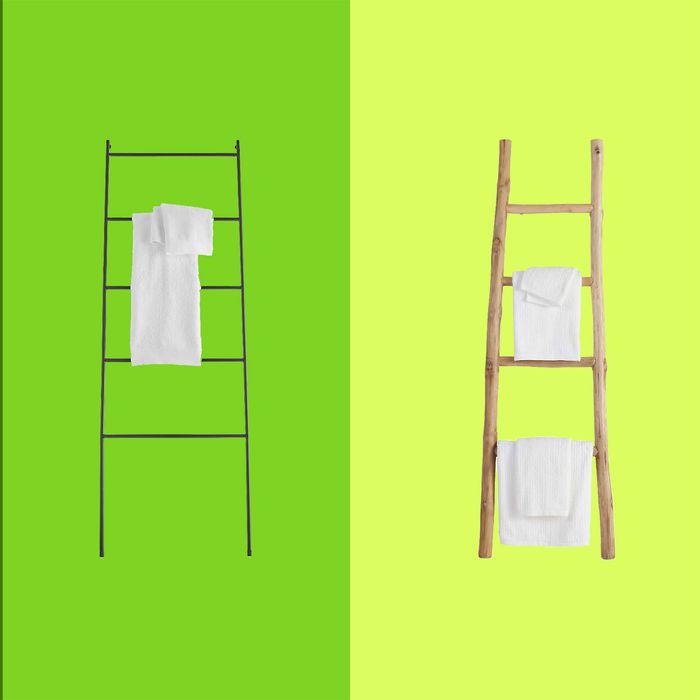 Photo-Illustration: The Strategist; Photos: Retailers
Decorating comes with tough decision-making, sometimes choosing between beautiful pieces and functional ones. But some furniture brilliantly marries the two. Wall ladders fall into this category. They look like leaning works of art. According to Lee Mayer, the CEO and co-founder of online interior-design service Havenly, "Storage ladders bring a sense of visual height to a space." And once you throw on blankets or towels or your latest copy of New York magazine it instantly turns into a storage unit too. They come in teak, metal, and even brass designs, in a variety of different heights, widths, and price points, so there is something for everyone out there. Below, Mayer, and other design-savvy folks recommend their favorite wall ladders from Yamazaki, Article, Crate & Barrel, and more.
Wall ladders under $100
When writer Laura Perciasepe wanted to replace her "clothes chair" with a wall ladder, she says it helped to have parameters: "Get my stuff off the ground and don't take up a lot of space doing it and don't look hideous and don't cost too much." This Yamazaki design checked all the boxes. "It leans on the wall next to my dresser and it holds shirts I wear a lot, the three black dresses I wear again and again to work (the tower is helpful for "uniform dressing"), and, well, bras," she writes. "Everything gets its own rung. Stuff is off the ground, off the chair, and I can see it all." It has six rungs and a large space under the last one that you could fit a basket for any overflow clothes. For things that don't easily hang on a rack you can attach an S-hook to place purses, totes, and even sunglasses on.
Before settling on the above, Perciasepe considered this five-foot ladder from Umbra, which she called "popular and stylish." Made of solid ash and powder-coated steel, it's expandable width-wise, from 16 to 24 inches, making it convenient to adjust to whatever space you put it in. While it was ultimately too wide for Perciasepe's bedroom, it may be a good option for someone who wants to play around with scale. Interior designer Courtney Sempliner is also a fan of this one because of how functional and versatile it is. "It could work well for clothing, towels or even larger blankets and can be adjusted according to your space, with the option of changing the width as you see fit," she says.
A slight upgrade to Perciasepe's Yamazaki pick above is this ladder-shelf combo with five rungs and one shelf. "It's great for storage in a small bathroom," says Tavia Forbes and Monet Masters, the interior-design duo behind the firm Forbes Masters. "The rods allow you to hang towels on it to dry while the shelf on top is perfect for open storage." Outside of the bathroom, they like using ladders where there isn't a lot of storage or to display special objects.
Wall ladders under $200
For a surprising take on the standard upright ladder, consider this triangular version that interior stylist (and the owner of vintage-textiles shop the Reserve) Mallory Fletchall recommends. Still minimal in its aesthetic like the metal ladders above, its shape transforms it into a statement piece, according Fletchalll. Made of powder-coated metal, it stands five feet tall.
Fletchall loves the "wabi-sabi and rustic look" of this wooden leaning ladder. "I can imagine it in a room with white-painted or cement floors," she says. It's 68 inches high, and is also available in brown and two-toned options.