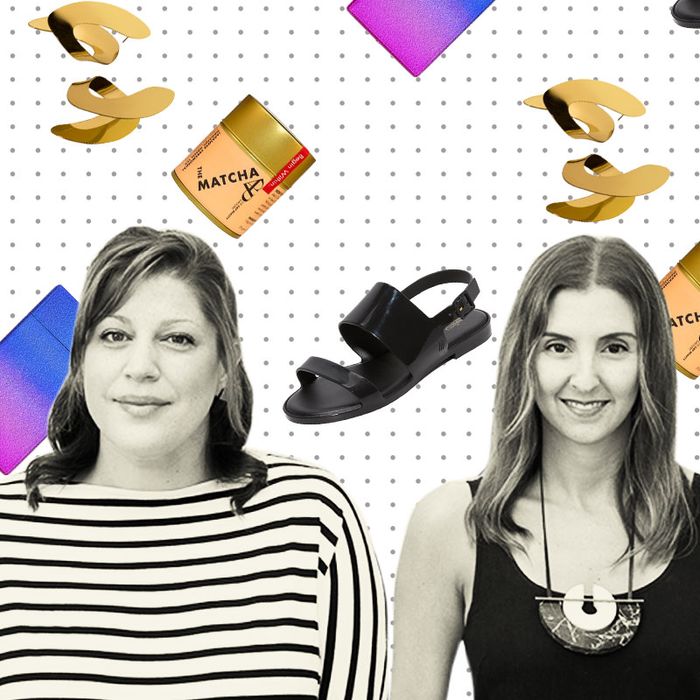 Jill Singer and Monica Khemsurov of Sight Unseen.
Photo: Courtesy of the retailers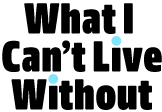 If you're like us, you've probably wondered what famous people add to their carts. Not the JAR brooch and Louis XV chair, but the hand sanitizer and the electric toothbrush. We asked Jill Singer and Monica Khemsurov, co-founders of online design and visual-arts magazine Sight Unseen, which items they can't live without. 
Every day, I blow my hair straight and put in loose waves with a curling wand. A few years ago, I had upgraded all of my hair tools, and was using this curling wand that costs more than a hundred bucks. One day it broke, and it wasn't available for next-day shipping on Amazon Prime. So I bought this cheap Remington one to hold me, and you know what? The cheap curling wand gives me pretty much the same results as the $130 one: loose, beachy, not-too-fussy, all-day waves.
Okay, first of all, I love how unoriginal the lipstick namers at M.A.C are; the reds section alone contains D Is for Danger, Dangerous, AND Lady Danger. But you can't beat the color of this lipstick, especially if you have a pink undertone to your skin. I love experimenting with lipsticks, but whenever I wear this one, people are like — THIS IS THE ONE. It's perfect and tomatoey, it's not too dry yet not too slimy, and it's matte, so it feels a bit more subtler than some of my other reds.
I did an Asian-beauty deep dive on Reddit one night after a friend told me about Baby Foot, and ordered this three-pack of scrubbing cloths on a whim. I've read that they work best if you sit in the bath for 15 minutes and then scrub, but I can't remember the last time I had time to take a bath. I use it at the end of my shower, mixed with the Geranium Body Scrub from Aesop, and it really does make your skin baby smooth. It doesn't quite replicate the experience of a full body scrub at a Korean spa, where you can see the layers of skin sloughing off … but maybe that's a good thing?
Everyone who knows me knows I LOVE a statement earring. I have all the usual suspects: Rachel Comey, Lizzie Fortunato, Faris, Annie Costello Brown, which is why I love this particular pair so much. I found these in Cape Town on vacation earlier this year in the most gorgeous boutique, and they're made by a local South African designer, which means I might be the only person in America currently wearing them. You also can't tell in this photo, but the brass patinas a bit, so people always think they're vintage.
If you're a parent, this might be the best $15 you'll ever spend. I'm constantly hearing from new moms how difficult and nerve-racking it is to cut their kids' nails, but these make it feel like you're cutting through room-temperature butter.
To be honest, I bought this matcha powder because of its cute packaging. I started adding this matcha powder to my yogurt and banana in the morning — and let me tell you, even zero percent Greek yogurt is appealing with this stuff mixed in (top it with raw cocoa nibs and flaked coconut for maximum Instagram effect, if you're the kind of person who has time to Instagram their breakfast, which I am not). Personally, I'm working up to a matcha-pistachio crust for my halibut.
For most of my life, I thought that OxiClean was just an infomercial scam. Then one night, at dinner with my kids, my son spilled an entire glass of red wine down the front of my favorite striped shirt and Madewell jeans. I started to scold him, but then the waitress shrugged at me and said: "OxiClean. I get wine spilled on me every single night." I was skeptical, but did as she suggested: I mixed the spray stain remover with the powder detergent booster, then washed everything in warm water. I had to repeat a few times, but eventually the stain was completely gone. Now I'm incredibly blasé when my kids spill things, even cherry tomatoes or avocado (the most evil stains of all).