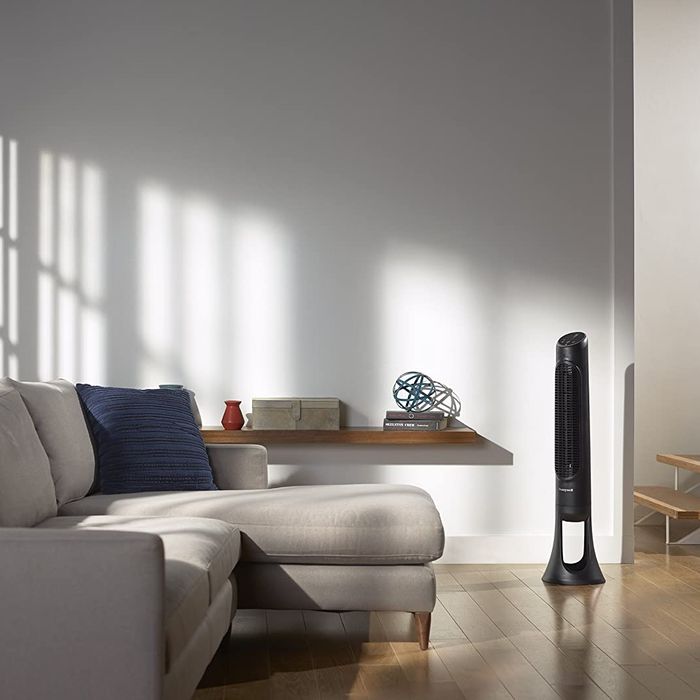 If you're looking to cut back on your electricity bill this summer, a fan is a cost-effective way to keep your apartment cool. (It's also much easier to install than an AC unit.) While we've written about all kinds of fans — including ceiling fans, desk fans, and cooling floor fans — here, we've rounded up the best tower fans, as praised by the most enthusiastic reviewers on Amazon.
Related Articles: Best Floor Fans | How to Cool Your Apartment Without AC
Best-rated tower fan
With more than 18,000 five-star reviews, this tower fan from Lasko is often described as powerful, even when cooling down large spaces. "Southern California summers are hot. But within 10 minutes of turning this on the living room significantly cooled down," writes one reviewer, adding, "I don't know how this is possible considering that it's a fan and not air-conditioning, but it does." That might be due to the oscillation, which doesn't have "any issues with squeaking or clicking like other fans," according to one reviewer. And more than 25 percent of users comment on how quiet the fan can be: "I can't even hear the Lasko from more than 10 feet away." It's also tall enough to "reach us on the bed." And best of all, according to one not-so-handy reviewer, "I was able to assemble this within 15 minutes AND without crying."
Best-rated (less-expensive) tower fan
Nearly 75 percent of reviewers give this three-speed tower fan a five-star rating, including one teacher who goes so far as to call it their "classroom pet." "Imagine, if you will, a classroom … filled with 30 teenage bodies … hovering at about 80 degrees," they write. "That, review readers, is my classroom. Every. Single. Day." Their solution is this "quiet enough for classroom use" tower fan, which they say despite its compact size "really does move quite a lot of air." Another reviewer (who uses it at home) also praised its low volume, adding that because the lights are "on top and near the back," they aren't annoying when you're trying to get to sleep like the lights on other fans they've owned.
Best mini tower fan
This tower fan is only 30 inches tall, but reviewers find it to be just as powerful as a full-size model. One reviewer moved to Florida to live with their "anti-air-conditioning grandma," and they call it a "miracle" fan that cools down an 85-degree bedroom with ease. "I also have three dogs who sleep in the bed with me, so it gets pretty lethal in there. This fan, I repeat, THIS FREAKIN FAN … is a complete blessing in my life!" They add that "for a tower fan with no thermostat … it honestly feels like it's blowing out cool air rather than just pushing it around." And just because it's powerful, that doesn't mean it's loud. Writes another reviewer: "This fan is by far the best fan I have ever used. It is quiet, built solid, and moves a LOT of air for its size."
Best tower fan with multiple settings
"Bless your living space with this fan," writes one reviewer, who goes on to call it "everything you could ever need in a fan. The low setting is actually low for when you don't want to be freezing in 10 minutes, and there's a perfect setting for any temp with eight speeds." The wide range of speeds means reviewers can easily control how much air is being moved around and how loud it is, too. "VERY quiet at lower speeds, yet still not as loud as the old nine inch diameter fans were at the highest speed," one reviewer writes. In fact, nearly 40 percent of reviewers describe this fan as quiet, "even at top speed." The noise, or lack thereof, combined with the ability to dim or completely turn off the blue LED light, makes this a great fan for the bedroom. "It even has a timer if you want to fall asleep with a nice breeze."
Best tower fan with breeze mode
"I live by the beach and the air is humid, but this fan does a great job cooling the house," says one reviewer, and the nearly 65 percent of five-star reviewers agree that this tower fan is especially effective. One, who lives in an apartment with no air conditioner, calls it a "true life saver. Every night I blast this bad boy right at my face (that's the part of my body that gets the hottest), and every night I have a cool satisfying sleep." It's also got a "breeze mode," one reviewer explains, which "literally makes any room feel like you're outside, picking up speed and slowing down in bursts just like the wind."
Best tower fan with air ionizer
The ionizer in this 42-inch tower fan from Lasko helps reduce airborne allergens, and, according to dozens of reviewers, it really does work. "I absolutely love this fan! By far the best one I've ever owned," writes one such reviewer, who uses it "every day and at night to sleep," and says that their allergies "have gotten a lot better using this." Another allergy-stricken reviewer goes so far as to call it their "all-time favorite" fan: "My allergies love the filtering feature and the timers are great if you are in and out a lot and might forget to turn it off," they write. "These fans make summer bearable."
Best tall tower fan
"Holy s**t. This thing is almost as tall as me," but that's not a bad thing, according to one reviewer. "What I like about the fan is that it puts the air circulation where you want it: on your upper body, not your feet; across the bed, not the floor," one explains. Another says, "My face and upper body can feel the cool, and it makes a world of difference." Even though it's tall, it still has a slim profile, "which means we're not always bumping into it or tripping over the base," writes one reviewer. It also doubles as a white-noise machine, which helps reviewers using it in the bedroom and trying to drown out sounds. "In our New York apartment, the 'white noise' lessens the traffic sound, but it's not so loud that it's distracting when we have company or are watching TV," one says. It also comes with a remote which one user says "is such a wonderful luxury."
Best 36-inch wide-turning oscillating tower fan
Though most of the tower fans on this list oscillate, this 36-inch model has an especially wide turning radius, which is appreciated by many. "Some fans don't have a good turn radius but this one is perfect," says one, and even with that range, "the rotation is silent the only thing you hear is the air from the fan." But the fan itself isn't too loud, either: "On the highest speed, it does make a noise, but it's not loud or annoying at all. You can only hear it if the rest of the room is completely silent. When it's on the other two levels, there is no noise at all." Reviewers also say it's a great size for small to midsize rooms, like one who says, "It pushes the heat all over our open area of 900 square feet."
Best 40-inch wide-turning oscillating tower fan
"I don't know how we managed without this. We live in the South, and have no AC in the front of our house," starts one reviewer of this slightly taller 40-inch, wide-turning tower fan. "It has a wide swing to cover the whole room while it rotates," they continue, "and it was easy to put together." And while this fan isn't totally silent, it's just right for those who prefer white noise for sleeping, and powerful enough to cool rooms of all sizes. "I need a fan in order to sleep and this is more or less ideal, it's actually quite soothing if a bit noisy," one reviewer writes, adding that the fan is "legit powerful enough to have on the other side of a room and still have it blasting your face with air."
Best adjustable tower fan
This oscillating tower fan can be adjusted to either 36 or 42 inches in height, which is nice for those planning to use it in multiple rooms. "This fan is absolutely perfect for our RV! The ability to adjust the height is great for the main living area (36") and then adjusting to reach across the bed (42")," explains one such reviewer, who particularly likes the "sleep" and "natural" modes. "I am a light sleeper so its 'sleep' mode is so quiet — I never hear it. Our feline absolutely LOVES it too — we find her always sprawled out where she can catch that 'natural' breeze." Another calls it "extremely quiet," despite its substantial air power, adding that "the controls are easy to use, plus it looks very attractive in my bedroom."
Best safe tower fan
A big selling point for reviewers is that this fan features a tight grid so little fingers can't get in, making it kid-friendly. "The wind speed of this fan is very mild and comfortable, especially suitable for children at home to use, safe and not danger for kid to touch," one wriets. It also
automatically shuts off when it overheats, so kids (or adults) can't get burned either. One says, "I love tower fans because it is safe for who has children at home. It won't hurt anyone when u touch it." But just because it's safe doesn't mean it it isn't powerful. Reviewers are not only impressed with the force at which this tower fan pumps out air but with the quality of air, too. "It actually feels like the air it pushes out is colder than the room temperature air," one writes. Another says, "The cool air that circulates feels like a fresh outdoor breeze." They continue, "The fan produces a moist gush of air, not dry like most standard fans."
Best tower fan-space heater combo
"It gets too hot in my room in the summer and too cold in the winter and I always have to stay somewhere else in the house but not since buying this dual fan and heater it's great and I love it," writes one reviewer. And though it's only 42 inches tall, it's plenty powerful to cool and heat large rooms. "Put in it a 20x16 room and it works perfectly," one says, while another writes, "My husband and I have a smaller home but it heats up the whole space in less then 20 minutes." And given that it's one machine with two functions, one reviewer thought that might affect its performance, but "I was extremely surprised by the fan only function as it put off more air than a dedicated fan I purchased from lasko less than a year ago that is the same size," they write. They also think that as long as you don't expect it to replace your central heat, the heater function works well, too. "As far as the heating goes, this unit is 1500 watt Max," they continue. "It is designed for supplement heat unless you are using it for a very small studio apartment or small add on to your house that does not have HVAC or some other form of primary heat. It is definitely sufficient for up to 400-500 well insulated square feet." It also operates relatively quietly: "I've found the fan be really quiet when on the lower 2 settings, and when it oscillates, you can't hear the gears turning."
The Strategist is designed to surface the most useful, expert recommendations for things to buy across the vast e-commerce landscape. Some of our latest conquests include the best acne treatments, rolling luggage, pillows for side sleepers, natural anxiety remedies, and bath towels. We update links when possible, but note that deals can expire and all prices are subject to change.