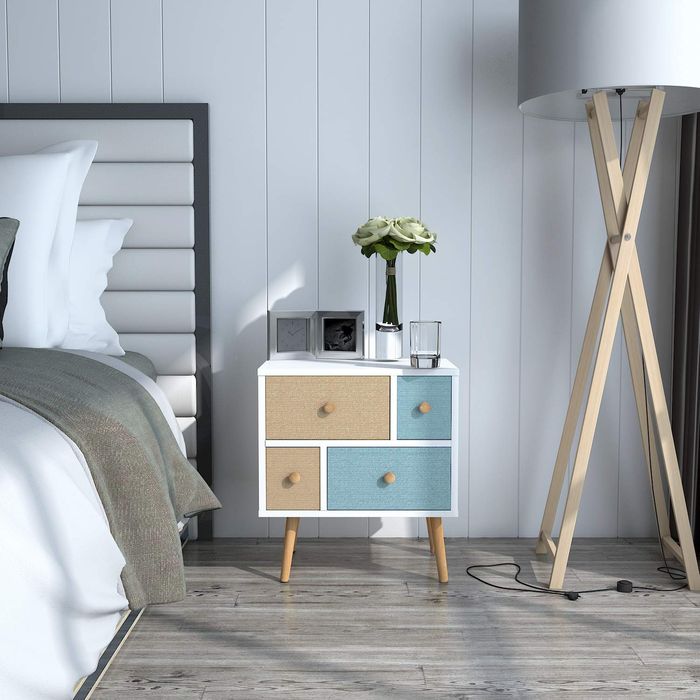 Here at the Strategist, we like to think of ourselves as crazy (in the good way) about the stuff we buy, but as much as we'd like to, we can't try everything. Which is why we have People's Choice, in which we find the best-reviewed products and single out the most convincing ones. (You can learn more about our rating system and how we pick each item here.)
And while we've written about lots of things you can buy for your bedroom — including  cheap (but expensive-looking) bedroom décor, the best pillows, and the best mattresses — here we've rounded up the best cheap-but-expensive-looking nightstands, as praised by the most enthusiastic reviewers on Amazon.
Best-rated nightstand
Over 60 percent of reviewers gave this accent table a five-star rating, and most of them used it as a nightstand. "I bought two of these tables in white to use as bedside tables in our guest room," one writes, adding "They look much more expensive and were easily assembled." Dozens were surprised at just how much surface area they provide. "They are a great height to use for beside a bed and have plenty of room for a lamp, clock, or other decorations," one reviewer writes. Another adds, "I can actually fit my laptop, a coffee mug, a vase with flowers and a box of tissues on it and still have some space." A few note that the drawer is small, which is why many users appreciate the bottom shelf for extra storage. "My favorite part is the bottom shelf where I have my salt lamp," one reviewer explains, adding, "It fits quite nicely and I am fairly happy with the product."
Best-rated (less expensive) nightstand
"My expectations weren't supremely high for this particular item as furniture items are usually pretty cheap assembly from Amazon but this is the exception," one reviewer raves. And plenty of customers are impressed by how easy and quick this nightstand is to put together. "It was probably the easiest piece of furniture I have ever assembled," one user writes, adding it took them about "about 20 minutes." Reviewers also appreciate how sturdy this nightstand is. One "not disappointed" customer says, "The surface of these tables is a good-looking melamine-type material, not the the commonly-used cheap veneer that scratches so easily with everyday use." They continue, "These tables are soooo sturdy and well-built. They are weighty, but not heavy." They even withstand damage from kids, according to at least one reviewer: "My 9-year-old son was very excited to get this and put it together himself in under 15 minutes (!!). Great table, feels sturdy, he tends to be pretty rough on things and the table has had no issues."
And now for some micro-picks for every type of nightstand you might be looking for. 
Best 2-drawer nightstand
"I don't have a nightstand and all of my night time potions and whathaveyous were piling up on the floor by my bed," one writes who found this was the "something reasonably nice looking to hold all my stuff" they were looking for. And though plenty of reviewers appreciated the easy assembly and two lightweight drawers, parents seemed to be especially pleased to have found this nightstand for their childrens' bedrooms. "I didn't want to get my daughter an expensive side table as children destroy everything they touch," one writes. "I wanted something cute but at a cheap price. This is perfect." Another says, "Functions great and it's a cute piece for a destructive 10-year-old who can store her things without breaking my pockets and damaging expensive furniture." While many reviews call out its small size, one reviewer says that has nothing to with its storage. "It's really small and compact but don't let the size fool you. It has great storage and it's really cute, too."
Best modern nightstand
More than 75 percent of reviewers give this nightstand five stars — including an interior designer who described it as "a gorgeous table." Another calls out the "modern/minimal style," while another calls it "clean, elegant and stable" a selling point that many others note. "Considering the price, my expectations weren't too high, but I'm thrilled to find that it's sturdy and well-made," one reviewer writes. Another says it "does not wobble at all which is the problem that I've had in the past with three-legged tables." Many also appreciate how large the table top is. "The size of the table top is very spacious," one writes, adding "It's perfect for holding a small tub for my random small things, a [cup] of water and a book. It could probably hold a lamp, a cup, and a book too."
Best mid-century modern nightstand with drawer
This nightstand got top marks for ease-of-assembly — and nearly 90 percent of reviewers liked it so much, they gave it a five-star rating. "If you are looking for a QUALITY nightstand, that not only looks super stylish but is easy as pie to assemble… this is the nightstand for you," one reviewer writes. They add, "Legs come inside the drawer and all you have to do is screw them on and you are totally DONE. Two minute job." Once put together — in under five minutes, according to some reviewers — people love the way this nightstand looks. One says it has a "very sturdy feel," while another writes that it's "sturdy enough that I felt comfortable putting a lamp on it even though I have two rowdy little boys." Another adds that "the veneers are well done and it looks real from all angles." They continue, "The drawer does not use any type of drawer slides, it just fits snugly in the aperture and slides in and out without any problems." One user who bought this to match a "bedroom set that cost several thousand dollars" says "they match perfectly."
Best nightstand for small beds
One reviewer describes the look of this nightstand as "cool rustic/industrial style with interesting design." However, dozens urge future buyers to read the dimensions of this nightstand as it is smaller than most. "Keep in mind, these are NOT tall stands," one user warns, but adds "I needed short ones because of my low bed height [and] these worked perfectly." Despite them being small in height, users are still impressed by how much storage these stands provide. "I ordered two of these to use as nightstands," one writes. "They far exceeded my expectations. I was so impressed that even though they are small, they hold a lot of stuff (I am an avid reader and it fit a lot of books)." Reviewers who found the too low were happy to learn these can be stacked and just bought more. One "ended up buying 4 and stacking them."
Best cloth drawer nightstand
For one user who was struggling to find a nightstand to match their existing furniture, this was the perfect solution: "I wanted a small thing in the corner to use as additional drawers in my bedroom but I did not want something wooden as I would have to try and match my bedroom set … This is very cute and sturdy. The drawers are nice and big and I was able to fit a lot in them." Another user agrees that there is "a lot of volume in those drawers," adding that they are also "easy to put together and very versatile." One reviewer says they bought theirs "for double service" and used it as a "night table and small dresser for my guest room." And while this isn't a wood nightstand, this one still gets described as sturdy. One review says, "The cloth pull out drawers are very durable."
Best glass-top nightstand