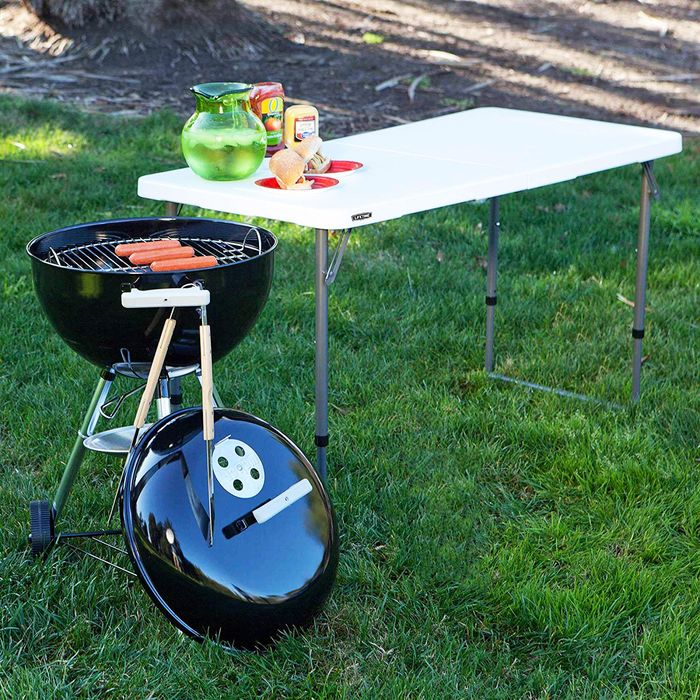 Photo: Courtesy of the retailer.
Here at the Strategist, we like to think of ourselves as crazy (in the good way) about the stuff we buy, but as much as we'd like to, we can't try everything. Which is why we have People's Choice, in which we find the best-reviewed products and single out the most convincing ones. (You can learn more about our rating system and how we pick each item here.)
And while we've written about furniture and home décor before — including the best coffee tables, dining tables and laptop tables — here we've rounded up the best folding tables, as praised by the most enthusiastic reviewers on Amazon.
Best-rated folding table
This adjustable table is a favorite for camping trips, parties, and work stations. One reviewer, an avid camper in northern Minnesota, writes, "After a year of using this table around the house for various projects, and many camping trips, it still is living up to its name: Lifetime. I am 6-foot and my wife is 5' 4", and we both find the upper height of this table perfect for cooking on." Another reviewer who uses the table when homeschooling her son likes that it can grow with him. "Love this table! There are three different height levels, so as he grows, the table can too. We are on the second height right now and it's perfect." Other reviewers love that the table is lightweight and easy for one person to set up alone. "I use this folding table as my computer desk. I know, crazy. But I can't move big furniture around. I can't lift heavy things. I type on it, eat on it, paint on it."
Best-rated (less expensive) folding table
For its size, this little table has a ton of dedicated fans. Most reviewers say they like using it on their porch or in their backyard because it's portable and nice-looking. "I have a tiny porch where I sit and enjoy my coffee while watching my neighbors play or walk past," one person writes. "There's plenty of space for my cup and a friend's cup, should I have someone over. It matches my chairs and won't be ruined by the weather." But according to this reviewer it's also great for camping trips. "I would give this table 20 stars if I could. I needed a lightweight, portable table for my cross-country, three-week camping road-trip. This table was PERFECT. It was sturdy regardless of the surface it was placed on, even inside the tent, over sand." And another reviewer likes using it as a grill table. "I put all my utensils and plates of food on it when they're waiting to be cooked, then move the cooked food over to the patio table."
And now for some micro-picks for every type of folding table you might be looking for.
Best portable folding table
Almost every reviewer mentioned how easy this folding table is to carry thanks to the built-in handle. Take this reviewer, who also appreciates the locking mechanism: "The handle is extremely nice for carrying and there is a side tab that keeps the table 'locked' shut when not in use." More than a few reviewers use this table for displaying their goods at craft fairs. "I bought two of these tables as display tables for my wife's craft shows. The tables are very easy to set up, … light, solid, and durable. I would definitely buy these again." Another reviewer advises shoppers to buy this table before the price goes up. "This is a really good table. No jokes here, it's sturdy, it's roomy, and it's so easy to fold up and put away. Carried it downstairs by myself. Buy this table before they raise the price!"
Best 8-foot folding table
Reviewers loved the extra table space this provides and how sturdy it is. One reviewer writes, "I put about 400 pounds centralized to 4 positions on this table and it holds it just fine, very stable." Another reviewer mentions how easy it is to fold in half and store when not in use. "We have borrowed eight-foot tables that do not fold in half, and it's always more than just a hateful chore. These tables are very durable and easy to load in a car trunk. I can foresee these lasting a lifetime." Not every reviewer uses this long table for large gatherings. "The table holds my two computers, three monitors, a printer, telephone, and two cubbies perfectly. Plus, it could hold me if I wanted to sit on it!"
Best round folding table
Many of the other 400 reviewers of this table said they liked using it for special events. "These are great, sturdy, lightweight tables," one person writes. "They are easy to set up and easy to take down. Our community theater group has several of these which we use for events. They have held up well over several years of use." One reviewer, who bought it for her son to use for poker nights in his college dorm room, likes that it folds in half for compact storage. "It folds up nicely — and although dorms are small … he does have a place in the room to store this."
Best square folding table
In a review entitled, "This is not your mother's bridge table," one reviewer who uses this table as a desk expresses her unbridled enthusiasm for it: "Everything about this table exudes quality. It's almost embarrassing to get this excited over a folding table." This is a common theme in the over 800 reviews for this item. Reviewers like that it's sturdy and easy to put up and take down. And for many of them it provides a space for creative outlet. "I am in heaven. I've got my table with little baskets of tags, glue dots, scissors, and tiny bows at one end," says one reviewer who uses it as her permanent gift-wrapping station.
Best folding table and bench set
Reviewers love how sturdy this picnic table–style set is and how easy it is to set up and take down. "This product is built solid," one reviewer says. "It won't blow away at the slightest breeze or even a strong breeze. I use the benches and table for flea market displays as well as for home use. Opening and closing the table and benches [is] a snap: there is a carry handle for the table and the benches have cut-out hand slots for carrying." A reviewer whose husband was supposed to build a wooden table for her was thrilled with this set as soon as it arrived. "I kept waiting for my husband to build me a picnic table and benches. I got tired of waiting and ordered this item. I used it for the first time today, and it was great. Even my husband (who doesn't build picnic tables for me) likes it."
Best wooden folding coffee table