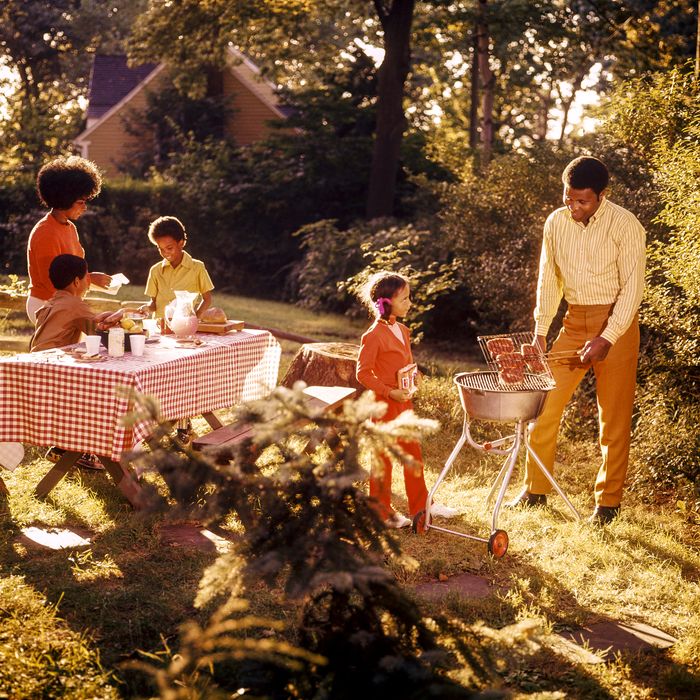 Photo: Photo Media/ClassicStock/Getty Images
If you're lucky enough to have an outdoor space that can accommodate more than a patio chair or two, setting up an actual alfresco dining situation can go a long way toward transforming your backyard into something of a getaway. And because the pandemic has put a hold on a lot of summer travel plans, a staycation may be the only vacation you may be able to take. No, getting a dining table and a set of chairs won't instantly turn your balcony into one overlooking the Aegean Sea, but it can make your outdoor setup a cozier place where you want to linger longer (like, say, a balcony overlooking the Aegean Sea).
To help you find an outdoor dining set for your space, we turned to nine interior designers for help. While many of their recommendations came in the form of bistro-style dining sets — a.k.a. smaller tables with two chairs — one of those may be all you need, given that social-distancing rules still apply in many places. Some of the sets include chairs that you can also purchase separately, though, in case you want to fit one or two more around the table (we've noted which throughout). But further down, the experts also recommend several larger dining sets, for those who need more seating or are looking to furnish bigger outdoor spaces.
Best
bistro-style
outdoor
dining
sets
Best overall bistro-style outdoor dining set
Three of our experts — Tiffany Thompson, an interior designer and the founder of Duett Interiors; Sarah Ramirez of Decorist and Found and Collected Design; and Neffi Walker, interior designer and the founder of the Black Home — all recommend this metal bistro-style set as one of the best you can get (at a relatively reasonable price) for dining outdoors. Made from powder-coated iron, the set is weather- and rust-resistant. Another reason they all like it is that it has an oval-shaped table, which sets it apart from the many other sets with round tables on this list. The table also features a nifty space-saving design that Thompson and Ramirez both told us about: The armchairs tuck right into the table when not in use. All three interior designers also note that it comes in festive colors; Walker calls the coral color shown "playful," but the set also comes in a mint green that Thompson says "instantly reminds me of summer."
Best less-expensive bistro-style outdoor dining set
Interior designer Nick Olsen calls this three-piece dining set classic, charming, and practical. Interior designer Natalie Kraiem also likes this set, which is a bit more compact than the one above, saying it may be all you need to get the most out of a smaller outdoor space. The table and two chairs are made of a powder-coated steel that's resistant to rust, and everything folds up for easy storage. In addition to this cheery pink, the set is available in black, blue, white, yellow, and mint green.
More recommended bistro-style outdoor dining sets
This wicker set comes recommended by two of our experts, Decorist designer Tina MartinDelCampo and Walker, who owns it herself. She calls it "comfortable and stylish enough for any space," and MartinDelCampo agrees, saying, "Wicker is really hot in the design world right now." Slender hairpin legs made of steel add a modern touch, while the table's glass top allows for drinks and other objects to lay flat. The set also includes seat cushions with weather-resistant, machine washable covers.
If you're looking for something basic and affordable that gets the job done, Amy Azzarito, the author of The Elements of a Home: Curious Histories Behind Everyday Household Objects, From Pillows to Forks, recommends this minimalist set from Ikea. She calls it an "Über-affordable option" that "looks good and folds for easy storage," making it ideal for smaller balconies or patios. "If you've lived in New York longer than a heartbeat, you've probably sat at one of these," Azzarito says of the dining set. To make the chairs even more comfortable, she suggests adding seat cushions, and additional chairs in the same collection are also available for $25 a pop.
For another festive set at a decent price, consider this metal one that Azzarito also recommends for how cute and petite it is. It's designed by the Novogratz design team, which has appeared on HGTV and Bravo and is known "for using bright, punchy colors," according to Azzarito. (It comes in a turquoise finish, in addition to this yellow.) She adds that "it has a great profile for a small space; I love how the chairs' high backs give the set some visual heft while maintaining a small footprint."
Another metal set, this one comes recommended by MartinDelCampo, who particularly loves the chairs' tapered legs. "It's traditional while still feeling cool and modern," she says. The fact that it's made of cast iron is another bonus, according to her, because in addition to being super durable for outdoor use, she says that you can easily spray paint it every few years when it starts to look dull. (For that, MartinDelCampo recommends using Rust-Oleum spray paints in any color.)
Thompson recommends another Ikea set, which she likes because it's "completely foldable" and "multiuse." Made of sustainable acacia wood, the set includes a square-top table that's larger than that of your average round bistro table and has two folding leaves that can be adjusted according to your needs and space restrictions. The two chairs it comes with also fold up, and Thompson notes that "you can easily break this down and store it in a small closet in the winter months." The chairs are also sold separately for $35 a piece, and you can add a chair pad to them for increased comfort.
If you prefer wood but want a round table, consider this set that MartinDelCampo recommends. "This set is a space saver," she promises. "It's a perfect set for apartment and condo owners who have limited balcony spaces but crave an outdoor dining space." Adding to its appeal are what she calls the "beautiful finish" of the Brazilian eucalyptus hardwood and the set's "classic design that everyone can enjoy."
This wooden bistro-style recommended by Ramirez also has a nifty space-maximizing design: built-in shelving in the form of a cabinet attached to the table. Made from acacia wood in a weather-resistant dark finish, it comes with two folding chairs, and everything — including the cabinet — folds up compactly for easy storage (the chairs can be tucked inside the base of the larger unit). "This petite set is very adaptable for a space that needs to be multifunctional while looking chic," says Ramirez. "I love that everything folds up into a compact unit." To dress it up a bit, she suggests hanging some plants from the frame.