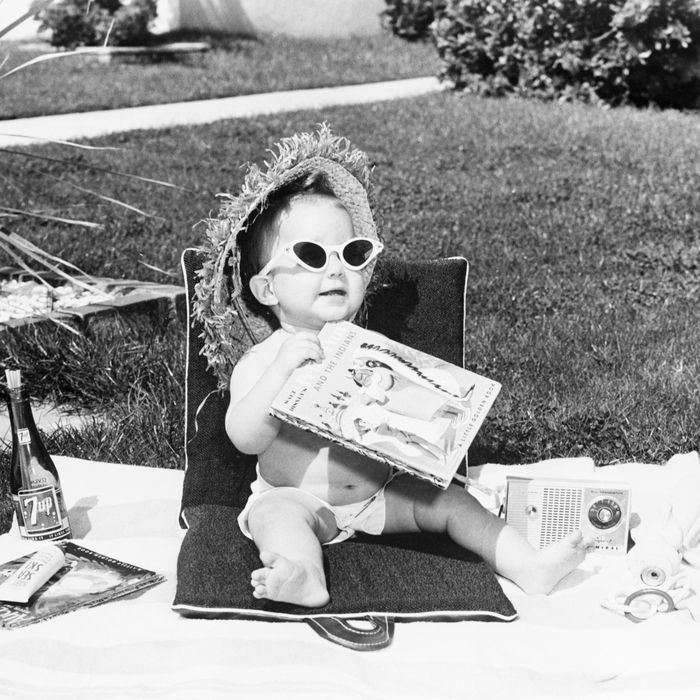 Photo: Getty Images/Bettmann Archive
Whether you set it up on a fire escape or in a private backyard, a simple lawn chair is one of those things that can make all the difference on a warm day. And seeing as fire escapes and private yards (and roofs and stoops) may be the only outdoor spaces we'll really be able to enjoy over the next several months, you might be thinking of investing in a new outdoor chair to make them that much more comfortable. Because nothing's worse than shelling out for a chair that's too heavy or rips on the first try, we asked 14 people who spend a lot of time sitting in chairs outdoors — including soccer moms and dads, campers, and other outdoorsy folk (who'd normally be getting a lot of mileage out of theirs right now) — about the ones they love to park their derrieres in. Read on for their 11 favorites, which include chairs that rock back and forth, cradle you in "zero gravity," and are designed to collapse down to fit into a tote bag — making them all the easier to pull through a window and onto fire escape on that next sunny day. (Or to shuttle to your nearest park, once it's safe to really settle in at them again.)
Best overall outdoor chair
Photo: Retailer
Three of our experts recommend this ultralight chair that many campers will likely have seen before. The Crazy Creek, which has been made the same way for more than 30 years, is a favorite of Ryan Fliss, the chief marketing officer of camping app The Dyrt, who told us it's "perfect for those who value go-anywhere seating, but don't want to commit to storage space." He and its other fans all praise the Crazy Creek, which folds flat and has handles for carrying it to and fro, for its construction and portability. While Fliss acknowledges that new users may be nervous about the legless element, he promises "you will still be comfortable, because you have a soft bottom and a seat back." The way it works, according to Asher Kaplan, a frequent camper and graduate student studying urban planning, is simple: "You sit on the bottom part, and your weight supports you as you lean back. It's like a lawn chair meets a suspension bridge. You really feel yourself supporting yourself in it."
Julia Rock, a Minnesota-based journalist and former camp counselor, adds that due to its design, the Crazy Creek is actually more than just a chair: "You can use it as a sleeping pad, by unhooking the straps and laying it flat." It's also waterproof, she notes, making it "really easy to wipe clean." Rock is partial to the tie-dye colorway, but there are eight other styles to choose from, including this teal one. The brand offers a lifetime warranty for all of its products, but none of our experts say they've ever had reason to use theirs (and Fliss has owned his Crazy Creek for nearly a decade).
Best less-expensive outdoor chair
Photo: Retailer
This more traditional-looking four-legged chair comes recommended by two parents who say it is far more comfortable to sit in than others they've set up along the sidelines of their kids' games. Barber Rodney Cutler, a dad to two soccer players, told us that other less-expensive lawn chairs he's tried don't have enough seat support, which makes them harder to get in and out of. But this chair, while still light, "sits you fully upright, so you never sink," he promises. Cutler also likes its two cupholders and additional zip pocket, which provide plenty of space to keep drinks and other essentials within reach. Alison Conologue, the aunt of two volleyball players, says she also has watched many of their games from this chair, which she's gifted to people because she likes it so much. She agrees that its seat "does not sink, making it easier to get out of," adding that it locks into place when it's open — and folded up, making it that much easier to carry (with or without the "carry bag" it comes with).
Best even-less-expensive outdoor chair
Photo: retailer
Another two people we spoke with told us that in their opinions, the best lawn chair is a very basic and affordable option like this. Trei Brundrett, Vox Media's chief operating officer (a parent of four kids, one of whom is an "active camper"), says he has "eight chairs in my truck right now," and that he likes the "cheapest chair" the most, because it's "light, easy to set up, and comes in a bright color, so you can't lose it." Camper and educational consultant Noa Kattler-Kupetz is also a fan of this chair, telling us, "I like how your butt kind of sags in it, and how it conforms to your body shape. You're gently held, like in a hammock." Even at the low price, it still has features like two cupholders and a mesh pocket for stashing small essentials. Plus, according to Kattler-Kupetz, the cupholders in this chair are bigger than those in similar styles — they're large enough, she says, that you can "just squeeze your Nalgene into one."
Best upright rocking outdoor chair
Photo: Retailer
Four of the people we spoke to recommended different lawn chairs that rock. According to Real Simple executive editor Rory Evans, the mother of softball-playing children (who told us she has a tattoo of a rocking chair on her ankle), rocking lawn chairs can "make endless kids' sports games more comfortable, and are much easier on the lower back." Writer and outdoorsman James Lynch is also a fan of rocking lawn chairs, telling us that once you've "rocked, every other chair seems pedestrian." His favorite rocking lawn chair is this model from GCI, a brand that came up a lot in chatting with our experts. "It folds up like a normal heavy duty pop-up chair, but it's so much more," Lynch says. "The metal construction is great, the fabric is durable, and it has nice hard plastic armrests and a beer can holster." But his favorite feature is the chair's patented rocking mechanism, which he says works like this: "The system works by using strong metal pistons on the back legs that compress as you push back, and then decompress to 'rock' you forward. It does take a bit of a push to get the chair going, but once it goes it's supremely comfortable." Should you want to sit still, Lynch adds that the mechanism can be adjusted so that the chair doesn't rock.
Best sling-style rocking outdoor chair
Photo: Retailer
For a rocking chair with a little more give, Fliss recommends this less-expensive GCI model, which has a more flexible sling seat. He describes it as "a rocking chair you can take anywhere." At just under 12 pounds, it's lighter than the RoadTrip rocker and, according to Fliss, "can be deployed in a few seconds."
Best low-to-the-ground rocking outdoor chair
Photo: Retailer
Clint Carlson, the creative director of multi-platform camping resource 50 Campfires, is also a fan of GCI's spring-loaded rocking chairs. His favorite style is the Firepit Rocker, which "sits lower to the ground than most chairs," a height he finds "to be more relaxing." Carlson, who says he "didn't want anything else" after sitting in this chair, adds that it "folds flat, and is easy to tote around."
Best low-to-the-ground non-rocking outdoor chair
Photo: Retailer
This low-down chair doesn't rock, but according to photography director Meg Reinhardt — who has used it for nearly a decade — it's the best lawn chair she's ever sat in. "It's light, super sturdy, easy to set up, and the mesh back means it's breathable when the sun is blasting you," Reinhardt says, adding that its lower stature makes the chair "more compact than most traditional lawn chairs, so it takes up less space."
Most luxurious outdoor chair
Photo: Retailer
If you're looking for a top-of-the-line, luxurious chair to relax in outdoors, Carlson says this GCI chair is the "ultimate in backyard comfort." While zero-gravity chairs that hold your entire body off the ground are "nothing new," he says that GCI's is the only one that allows you to lock the backrest in place while your feet are still raised. "It's excellent for conversation around a fire, does a good job of relieving pressure points, and is great to nap in, too," he says. Though he cautions this would be better for someone who doesn't intend to move it around a lot, because the 19-pound chair is "not as portable as other chairs."
Best outdoor chair that fully reclines
Strategist contributor Bianca Buchanan told us that this chair "folds up really well, despite the fact that it's very large," and has a strap so you can carry it around. Once unfurled, it also has a hole for your head, "like one you'd see on a massage table, so you can lay on your stomach and tan," Buchanan explains.