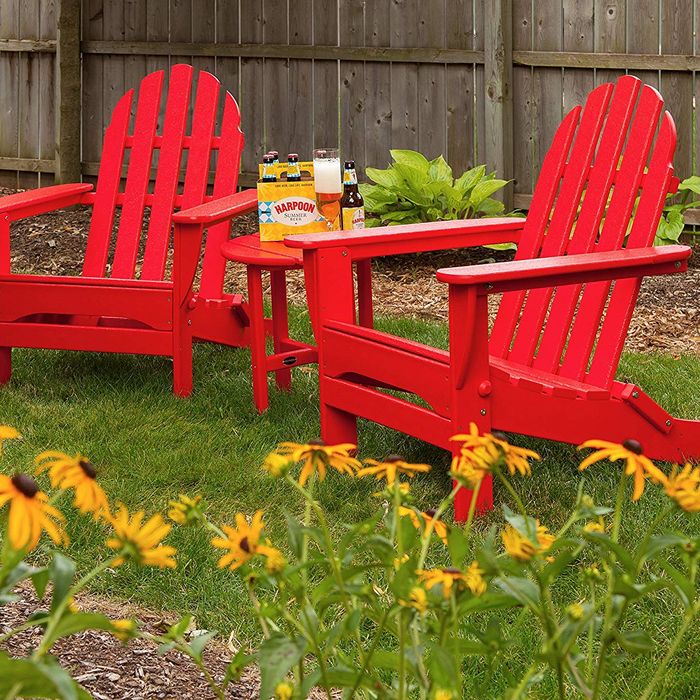 Photo: Courtesy of Amazon
Whether you've been kicking back at your campsite or on the sidelines at soccer games, there's no worse feeling than standing up with aching muscles due to a flimsy, unsupportive chair. While we've written about the best outdoor furniture for small spaces, sussed out the best patio furniture sets, rounded up the best beach chairs, and delved into the best hammocks and hammock chairs, here we're going deep on the best lawn chairs on Amazon.
Related Articles: Best Adirondack Chairs | Best Outdoor Chairs
Best-rated (and least expensive) lawn chair
For camping trips, tailgates, soccer games, and concerts at the bandshell, the Coleman Quad, with over 5,300 reviews, is a go-to pick for many happy customers. Well over 500 Amazon reviewers cite its sturdiness. One user says the chair held up "even to a 320-pound beast of a man. He and I both prepared for a break. It held him. And for several hours." People also love the built-in storage, with over a thousand reviews lauding the small cooler in the arm. "We left a single bottle of water from our big cooler in overnight and it was still cold in the morning even without ice," writes a user, who adds, "The pocket in the side is nice to hold books, flashlights, phone, silverware, napkins, and small treasures the kids find when exploring." It's also relatively light (under nine pounds) and folds up to fit into an included carrying case. "I'm petite, under 120 lbs, and it's not heavy — easy to carry," writes a parent who uses the Coleman for their son's baseball games, who adds about the chair, "I've received compliments from other parents."
Best lawn chair with back support
Available in 12 colors, the Kijaro is similar in shape and weight to the Coleman Portable camping chair, but many reviewers describe it as more "supportive" than other comparable lawn chairs. "You sit upright on a firm base instead of sagging into a hole," is how one reviewer puts it. An even higher percentage of Kijaro reviewers praise this chair's sturdiness. "Wide enough for my oversized American male body, sturdy enough I don't feel unsafe in it," says a Scout leader, who adds that the mesh pouch is big enough for "several pocket knives if the Scouts have been using them unsafely and they need to be inaccessible for a little while." It also scores high on portability: "I love that it has a carrying strap attached directly to the chair in addition to having a bag," says another reviewer. Take note: Some shorter users (5'-5'4" or so) report that their legs don't touch the ground in this chair because of the higher seat.
Best Adirondack chair
"We have had plastic chairs of all colors in our front yard, but I always wanted REAL Adirondack chairs, so I bought these. VERY COOL," raves one reviewer, specifically citing "the look, the color, the comfort, and the EASE of setting up" as reasons for their five-star rating. Another reviewer explains, "These chairs are by far the BEST I have ever had. A simple two-Allen screw assembly with pegs, similar to the Bean model and viola, you are in comfort." Plus, the faux-wood material is made to withstand even the most humid, buggy weather: "We have a couple of acres right on a Florida lake with cluster oaks. We chose these chairs for seating at one of the oak clusters. Rest assured, we are buying more in different colors for the cabana, probably white, because they fold so easy for storage to protect from the bugs, harsh sun, and mildew."
Best rocking lawn chair
"This is a fantastic folding lawn chair! It opens with a snap, and folds up with a snap, and stores flat. It is sturdy, and rocks to and fro," writes one reviewer, calling this GCI low-profile rocking chair "the most enjoyable lawn chair I have ever owned, well worth the money." Another reviewer bought this because, "I just wanted to sit by the fire with my coffee and blanket and rock back and forth under the stars." They continue, "I picked this design because the hydraulics that make the chair rock don't require a flat surface. The last thing I wanted was to feel a twig or tree root disrupting my rock … I broke it in by bringing it on a group camping trip. Son of a gun, every time I got up, someone stole my seat. Indeed, it was the most coveted chair around the fire." In fact, rocking back and forth is so relaxing that at least one reviewer is powerless against it: "Sat in it, started rocking, fell asleep for an hour, don't know how I lived without it."
Best zero-gravity lawn chair
One reviewers calls this reclining lawn chair "the best outdoor chair I ever bought," describing it as "sturdy, very comfortable, easy to adjust and get into and out of. I almost dozed off in it the first day I owned it. And it's a steal for the price." Another reviewer wonders, "Not sure why anyone wouldn't give this chair five stars. It arrived ready to relax in — so I did. After one day, my wife made make me take it outdoors. It's even better outdoors where I can easily recline and enjoy bird-watching, enjoy a sunset or stargaze." The "zero-gravity" functionality is a little divisive among reviewers, but, as one satisfied customer explains, the zero-gravity chair is great for reducing stress. "Almost immediately after reclining I felt my whole body begin to unwind. I felt like I was floating. Within five minutes or so I was becoming fully relaxed."
Best padded lawn chair
Even though this lawn chair is a little heavy, reviewers think that the extra comfort provided by the thick, supportive padding makes it worth the weight. "This is the mack daddy of camping chairs," writes one reviewer who loves how "super cushiony" the chair is. "The seat is very padded and has a strap in the back to adjust the alignment for your back … This is probably the nicest camping chair I've ever owned." Another reviewer whose boyfriend has a bad back says the chair "has such great lumbar support, he can sit in it for hours and not have to get up and walk around to stretch out," plus it's "so roomy and comfortable" that they can "literally curl up in it with a blanket." Another reviewer calls this chair "without a doubt the most comfortable folding chair … It folds up a little big and a little heavy, but it's worth it since it's well-constructed and has good quality material."
Best lawn chair with mesh back
For those who prefer to feel the breeze on their back, the mesh design of these chairs provides plenty of ventilation and air flow. Over 50 reviewers mentioned the mesh backing as a perk, including one who lives in a windy climate and says it "seemed to do a good job of letting the wind through to mitigate the chair blowing over." But even with the lightweight material, this chair has still proven fairly solid and durable; one reviewer writes that they've used the chair "just about every weekend for a month now. Solid construction and a really nice, cool back with the netting. I weigh about 200 lbs and feel quite secure in this chair." And another reviewer writes that "the chair is sturdy enough to handle the sometimes odd positions that preteens find themselves sitting in (HOW are some of those even remotely comfortable?!)"
Best lawn chair with footrest
Reviewers love that they can lean back and kick their feet up with this ALPS chair, which comes with a detachable footrest. "I am sitting here in my Alps recliner at my campsite a year after I bought it congratulating myself for the hundredth time for making this choice," writes one satisfied reviewer. "I am picky and have back issues. This chair is heaven. The hammock part of the seat is just right so that my weight pushes the canvas into my back for lumbar support. When I need to sit upright I snap the footrest clips and it drops to the ground … It's almost too good. I'm so comfortable, I sometimes have to force myself to go do the outdoorsy things I came to do." Another reviewer, who is 4'11," writes that "most chairs are just too high up for my feet to be firmly on the ground." After searching specifically for chairs with footrests, they've found that this one lets their feet "rest comfortably on it! I even like that there is no fabric beneath where your legs lie because it allows for air flow … This is almost like a reclining chair … it's very relaxing." And another reviewer likes that the footrest allows them to avoid the creatures that scurry around the great outdoors: "As someone who camps out a lot in the desert, I like to keep my feet up when I'm chillin' in it at night. There's a lot of critters crawling around out there!"
Best compact lawn chair
This Cliq chair is capable of collapsing to the size of a water bottle, making it the best compact chair we've seen. "It is remarkable that the manufacturer has managed to create such a small collapsible device [while] maintaining excellent structural integrity," writes one reviewer. "I am now writing this review only because I am so impressed by the quality, function, and stability. At 249 lbs, I have sat in regular chairs that do not compare to how secure you feel using this product. To anyone wondering if the cost is worth it, I give my full recommendation to proceed with confidence." Another reviewer calls this product "magnificently engineered" and reports that the "absolute best part" is that "IT FITS ANYWHERE, it is so compact and could go in my day bag if I needed!" And another reviewer loves how these chairs "easily fit under a stroller, in a diaper bag, our wagon, and doesn't take up room in the car if we're heading to Tahoe and need to bring a couple chairs." They call them the "best COVID purchase we've made all year" and plan to give them as Christmas presents.
Best oversized lawn chair
One big and tall user of this lawn chair, which has an 800-pound capacity, writes, "I realized that bringing my own chair to cookouts and garden parties was less embarrassing than having to be picked up out of a tangle of canvas and aluminum while people stare very intently at their hotdogs and into the bottoms of their cups." He says of the King Kong, "It supports me in all the right places. I expect to have this thing for many years to come and to continue to enjoy it the whole way." Hundreds of reviewers talk about how comfortable it is. "It's like a cross between an overstuffed chair and a La-Z-Boy," writes another, who adds, "I weigh in at a whispery 400, and it doesn't creak, it doesn't moan, it doesn't feel like it's going to collapse like EVERY OTHER CHAIR I'VE OWNED." Some say that the front of the chair causes discomfort at the back of their legs, and a number of reviewers suggest hacks to fix the issue — everything from wood blocks to a cut pool noodle to a rolled-up sweatshirt. However, the issue doesn't really diminish anyone's belief in the King Kong. As a reviewer who speaks for the majority of five-star reviewers says, "This chair is a tank."
Best oversized reclining lawn chair
Plenty of self-described "big guys" describe this lawn chair as sturdy. One writes, "This chair is sooo comfortable. I'm a pretty big guy so I don't understand a few other reviewers' comments about it breaking or not supporting their weight. This chair is extremely sturdy and well-crafted. Looking forward to sunbathing with no time restraints." Another satisfied customer says, "This chair is a very sturdy construction and very solid when sitting or laying back in it. It does not wobble or lean or anything. The bungee suspension is done very well and holds a good amount of weight." And it's so comfortable that one reviewer is thinking of bringing it inside: "I was originally thinking this would make a great addition to my patio, but now that I have it, I think I want to keep it in my living room. When my brother came over, I couldn't get him out of it. He wants one to put in his hangar at the airport. His birthday is coming up, so I think I know what I'm going to get him."
Best director's lawn chair
The view from this solid, tall chair — the opposite of a low-slung beach-style chair — is appreciated by a wide variety of reviewers. Those who preside over booths at trade shows like it: "I work craft shows and flea markets. These chairs are so comfortable and put me at the right height to talk to customer at eye-level and not be on my feet all day. They are awesome! I'm about 240 pounds and they hold me safely and securely." Reviewers who fish like it: "I love it for fishing at the pier — elevates my eye level over the rail." And people with certain health issues like it: "I'm 63 years old and have had two knee replacements. These chairs are WONDERFUL." Another customer writes, "I have advanced rheumatoid arthritis and trying to get out of a traditional camping chair is almost impossible. With this chair, the taller height is awesome and allows for me to move from sitting to standing without assistance." And tinkerers like it, too: "I needed a taller-than-normal folding chair to use by my work bench in the garage. This is it."
Best lightweight lawn chair
Adored by campers for its portability, this foldable chair weighs just over two pounds yet can support over 300. Outdoor types hail it as a kind of oasis. "This chair is the single largest piece of kit in my backpack, and I don't even mind. The morale boost and comfort it provides in the back country are more than worth it," writes a typical user. And it's easy to deploy: "You can setup and take down the chair from its carry pouch in less than 30 seconds," writes a backpacker. Most reviewers agree with the one who wrote, "Expensive, but you gets what you pays for," but a few thought the price was a drawback. Lots of reviewers point out that the chairs sits low, but most don't see that as a negative. "It is low to the ground, so one's feet and legs are extended when sitting it it, in a similar position to using an ottoman for one's legs when sitting in a regular chair," explains a user who brought their Helinox Chair One to Japan.
The Strategist is designed to surface the most useful, expert recommendations for things to buy across the vast e-commerce landscape. Some of our latest conquests include the best women's jeans, rolling luggage, pillows for side sleepers, ultra-flattering pants, and bath towels. We update links when possible, but note that deals can expire and all prices are subject to change.
Every editorial product is independently selected. If you buy something through our links, New York may earn an affiliate commission.