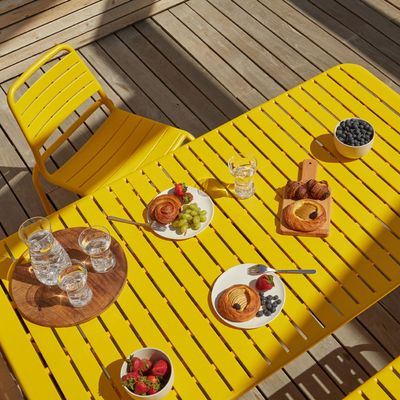 With the right patio set, you can transform a so-so backyard (or a patch of grass or a balcony) into an outdoor oasis where you can host barbecues and drinks with friends, dine alfresco with family, or simply relax with a book. To help you find a set of tables, couches, and chairs that works best for your space and style, we consulted interior designers and other experts for their favorite options for a range of budgets and environments, including small terraces, backyard decks, and poolside patios.
According to Heather Goerzen, lead designer of online interior-design service Havenly, the most common frame materials for outdoor furniture are resin wicker, outdoor-grade aluminum or iron, and teak wood because of their durable, weather-resistant, and easy-to-wash qualities. When deciding which is best for you, consider the climate you live in. Heavy rainfall can make wood sets inconvenient if you want to dine outdoors after a summer shower, while faux wicker wipes down quickly and won't have a damp feeling when you sit on it. (It's also oil, water, chemical, and abrasion resistant and one of the few elements tough enough to withstand being left outdoors during the offseason.) But no matter which material you choose, Goerzen recommends investing in covers to protect your furniture when it's not in use. "Wood will wear and fade faster if exposed to the elements, while aluminum and metal may rust over time," she explains. If you experience harsher winters, you might even want to store furniture in the garage or another indoor space.
You should also pay attention to what the cushion covers are made of. "Sunbrella fabric is typically the gold standard for outdoor upholstery," says Goerzen. "It's incredibly durable and designed to stand up to the elements." Sunbrella can be expensive, so if that's out of your budget, she recommends looking for something polyester or otherwise synthetic. "These heavy-duty performance fabrics are water resistant, stain resistant, easy to clean, and outdoor friendly."
To accommodate a range of needs and square footage, I've included two-person bistro sets (these come with two chairs and a small dining table), dining sets (a dining table plus seating for at least four people), and lounge sets (these come with a sofa, a lounge chair or two, and a coffee table). A note: Some retailers sell sets with everything included, while others sell items by the piece — even down to the cushions — so make sure you check before adding to cart. For the purposes of this story, I've included the total set price for each option pictured.
As a general rule, longevity corresponds with price, and because outdoor furniture is designed to withstand the elements, it's more expensive than furniture you use inside the house. If you're going to upgrade your set in a few years, go for one of the more affordable options. But if you plan to enjoy it for many summers, it may be wise to spring for a more expensive (and longer-lasting) collection. And as noted above, some brands, especially the higher-end ones, list sets by the piece, so you'll want to tally the price of each item for the total set price. For the options below, we denoted the recommendations as $ (under $500), $$ ($500–$1,000), or $$$ (over $1,000).
Best overall patio set
Material: Matte powder-coated aluminum | Type: Dining set - Square dining table, four chairs | Price: $$$
Two experts we spoke with, Tyler Watamanuk, author of the chair-centric newsletter Sitting Pretty, and interior designer Charlie Hellstern, recommended this powder-coated aluminum set from Floyd for its timeless design and excellent portability. It comes in five configurations, including a smaller square table (shown here) and a larger rectangular table, plus a bench option, and the chairs are shipped already assembled. This four-top is great for small spaces and easy to maintain. (I should note that the larger sets are currently out of stock.)
Thinking ahead to winter storage, Watamanuk says the set is lightweight but still durable. Cleaning is as easy as wiping down with a wet cloth — the slatted design prevents the surface from collecting rainwater (which is also convenient for spills). While aluminum doesn't rust, it can be corroded by salt, so Watamanuk recommends using furniture covers if you have exposure to a seaside breeze.
Best (less expensive) overall patio set
Material: Powder-coated aluminum | Type: Dining set - Dining table, one bench, two chairs, | Price: $$
For a more wallet-friendly (and larger) dining set, Hellstern recommends this rust-proof aluminum collection from Ikea that doesn't sacrifice design for value. This set is a smart choice if you expect a lot of wear and tear because powder-coated aluminum is "almost indestructible," according to Kim Rotondo, proprietor of Eisenhower Consignment. Several clever design elements also make this a strategic buy for those who want a mix of seating with the option to add more later. The table is accompanied by a bench and two chairs, and can accommodate two more (there are additional configurations with chairs only or a smaller table). Unlike other chairs with arm rests, these are also stackable, which helps save space in storage.
Hellstern says the set's contrasting colors are both visually appealing and practical because the aluminum is a lighter color (and will therefore stay cooler) on the table and chair edges that will touch bare limbs. She recommends adding cushions to the bench, which can make up (somewhat) for the discomfort of not being able to lean back.
Best bistro patio set
Material: Powder-coated steel | Type: Bistro set - Dining table, two chairs, | Price: $$$
For those who fear aluminum may be too lightweight for blustery winds, consider this powder-coated steel set from Danish design studio Hay recommended by Hellstern, who's a big fan of the designers behind it. Steel provides the durable and easy-to-clean qualities of aluminum, while also bringing an added weight (the table is 51 pounds to the Floyd's 27). The set has a similar slatted design to the Floyd one above, but curved edges give it an elegant silhouette. You can purchase chairs individually (there's also a version with arms).
Best (less expensive) bistro patio set
Material: Steel and wicker | Type: Bistro set - Round table, two chairs | Price: $
Amy Azzarito, author of The Elements of a Home: Curious Histories Behind Everyday Household Objects, From Pillows to Forks, recommends this affordable mixed-material bistro set of two chairs and a circular table. It's not the heftiest (each piece is under 12 pounds), but that means it's extra portable, a plus when it's time for storage or moving. Another benefit: With flexible wicker cables stretched across a durable steel frame, the seats absorb minimal heat and reduce skin-to-chair contact (which is great for anyone wearing shorts). And if you have a boardwalk-style deck with gaps that furniture legs may get stuck in, Azzarito notes that these chairs' Breuer-esque bases will solve that dilemma.
Best retro metal bistro patio set
Material: Steel | Type: Bistro set - Round table, two chairs | Price: $
Devin Shaffer, lead sales designer at Decorilla, loves this retro three-piece bistro set because it reminds him of one his late grandparents owned at their farmhouse in rural Kansas. "There's something about this tried-and-true design and metal construction that makes it more durable and long-lasting than other outdoor seating options," he says. Made of weather-resistant, powder-coated steel, the set comes with two vintage-inspired clamshell seats and a round pedestal table and is available in four colors. The chairs have a wide seat and a cantilever base that provides a little bounce. As far as quality goes, Shaffer explains that he "examined this set very carefully, and the bolts, screws, and tubular steel are exactly the same as my grandparents' set that they had for four to five decades."
Best wood bistro patio set
Material: Acacia wood | Type: Bistro set - Round table, two chairs | Price: $
If you like the look of teak but prefer something a bit more affordable, Rotondo recommends this three-piece bistro set with a finish that could pass for the real thing. While the treated acacia isn't as sturdy or hardy as teak, it's still durable and weather-resistant enough to place in direct sunlight on a balcony or poolside, with an expected lifetime of about five years. Bonus: The chairs come with water-resistant neutral cushions that will match almost any outdoor décor.
Best mixed-material bistro patio set
Material: Cast aluminum, marble, Sunbrella upholster | Type: Bistro set - Round table, two chairs | Price: $$$
If you want to combine a variety of materials, Goerzen recommends this bistro set from CB2 that incorporates marble, Sunbrella seat cushions, and a cast-aluminum frame, all of which she says come together to create an "elevated" look. The base of the pedestal table, which has a zebra-marble top, and the chair frames are tinted with a lacquer finish that gives the metal a vintage patina of forged iron. Goerzen suggests using this set on a small patio, porch, or balcony.
Best wicker lounge patio set
Material: Resin wicker, stainless steel | Type: Lounge set - Coffee table, sofa, lounge chair | Price: $$$
For a more laid-back vibe, consider this set from Crate & Barrel that Goerzen loves for its "soft silhouettes and trendy curved details." It includes a sofa and a lounge chair made from resin wicker that Goerzen calls "a touch boho," and both come with "streamlined" removable polyester-wrapped cushions in ivory that "lean simple and modern." The set is sold piecemeal; together, all three components cost just a hair under $3,000. "This is the perfect choice if you're looking to add warm texture and color to an outdoor setup," she says. "I would pair this with metal side tables for a hint of contrast."
Best (less expensive) wicker lounge patio set
Material: Resin wicker | Type: Lounge set - Coffee table, love seat, two armchairs, | Price: $$
This set is also made of faux wicker, which Shaffer says "lasts a lifetime," but for a fraction of the price. He says he's impressed with the quality and price of this four-piece seating group, which includes a coffee table, a love seat, two armchairs, and foam cushions. If you opt to leave the set out year-round, Shaffer suggests storing the cushions (available in beige or white) inside and protecting the set with covers. Another perk of faux wicker is extremely easy cleaning: Shaffer recommends a power wash every month or two.
Best teak lounge patio set
Material: Teak wood, Olefin-upholstered cushions | Type: Lounge set - Sofa, two chairs | Price: $$$
I bought an older version of this set last year using a press discount after looking at all the heavy hitters (Pottery Barn, Crate & Barrel, etc.) and realizing a set from one of those would cost double what Article was charging. Outdoor-furniture sets made from solid teak are shockingly expensive, and this one, which comes with a large sofa and two chairs, was among the more affordable options and had good reviews. I liked the bleached-teak finish and the light-gray cushions and the fact that it looked quite modern and streamlined. (We also got a matching coffee table that has since been discontinued.) It was relatively easy to put together, and while there were some quality-control issues — a couple of nicks on the wood frame, and the fabric and color of the cushions didn't match completely — I am overall happy with it and actually impressed that it survived the entire winter with minimal maintenance. Article recommends bringing the furniture inside during inclement weather, but we left it out with covers on and everything still looked great when we opened the garden this past month. We sometimes forget to put on the covers when it rains, but the upholstery always dries quickly and water never seeps inside. Stains aren't a huge problem either: A friend accidentally squirted mustard all over the seat once, and we were able to get it all out using a patio-furniture cleaner. The updated model has additional slats on the backrest, and the upholstery also got an upgrade (from standard polyester) and is now made with UV- and water-resistant Olefin fabric.
Best metal lounge patio set
Material: Aluminum, Sunbrella upholstery | Type: Lounge set - Coffee table, sofa, two chairs | Price: $$$
Pottery Barn sells sets by the piece, and this one includes two metal chairs and a sofa as well as a concrete coffee table with wooden legs. The seating — with Sunbrella upholstery — is made of rustproof aluminum, while the table has chunky acacia supports. Goerzen likes that the mixed materials make it look not too "matchy-matchy" but "simple, stunning, and timeless." The whole set, which requires you to purchase the cushions separately, will come out to $6,173, but you can pick and choose which components work best for your space.
Best (less expensive) metal lounge patio set
Material: Wrought iron, Sunbrella upholstery, tempered glass | Type: Lounge set - Coffee table, sofa, two chairs | Price: $$$
"It doesn't get any more classic than this Lucier outdoor set from Birch Lane," says Goerzen, who adds that it channels the French Riviera or the Amalfi Coast thanks to its elegant wrought-iron frame and white Sunbrella foam cushions. The set includes a sofa and two chairs with removable, machine-washable upholstery and a smoked-glass coffee table, all constructed from fully welded, powder-coated wrought iron sealed with a five-step finish for durability. This four-piece set is sold together (including the Sunbrella cushions) and costs slightly over $4,000.
More patio furniture we like
If you're not ready to splurge on a full set, buying outdoor furniture à la carte can save a few bucks — or at least spread out the cost over time. French brand Fermob makes a range of brightly colored, designer-approved metal pieces you can mix and match according to your taste. (You'll notice that some of the metal sets above take cues from Fermob's shapes and styles.) Consider this teak-and-steel chair that Suzanne Turell, founder of Modern Canvas, a Northern California–based company that makes wood-and-fabric shelters, bought after considering a number of factors, including color fastness and sustainability, eventually deciding on something made of either wood or metal. Still, as Turell explains, "an all-metal chair felt simultaneously too cold and then too hot in the summer," while chairs made completely of wood felt "pretty heavy, with huge chunks of wood." These Fermob chairs combine both, having a steel frame, which comes in 22 different colors, and non-oiled teak slats. She ordered six of them in yellow. "We love how they look, and they are comfortable for outdoor-dining chairs (meaning we wouldn't choose to lounge in them all day)," she says. Plus, "these chairs were light enough to easily move around, are stackable, and didn't look like just another mass-market piece." The chairs are sold in sets of two for $645.
Some more Strategist-approved outdoor furniture and décor
The Strategist is designed to surface the most useful, expert recommendations for things to buy across the vast e-commerce landscape. Some of our latest conquests include the best acne treatments, rolling luggage, pillows for side sleepers, natural anxiety remedies, and bath towels. We update links when possible, but note that deals can expire and all prices are subject to change.