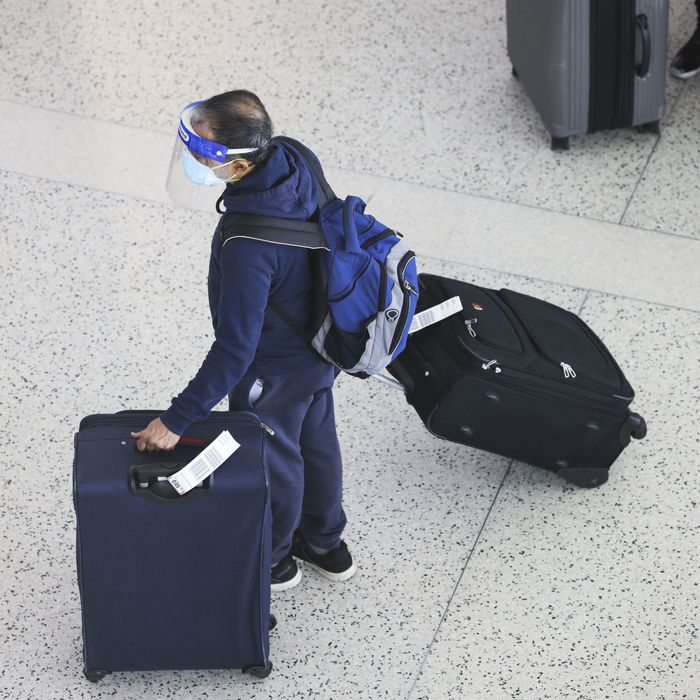 Photo: Angus Mordant/Bloomberg via Getty Images
Even as the rate of fully vaccinated Americans exceeds 25 percent, the number of people infected with, and dying from, the coronavirus in the U.S. is still growing. Since last summer, the total number of cases in the United States has risen from 3.5 million to 31.9 million, with this week's average number of daily infections topping 60,000. Still, with many states opening back up again, more and more people are beginning to travel and commute near and far, which begs the question: What is the safest way to do that in amid an ongoing pandemic?
To find out, we checked in with a handful of experts — including Dr. Waleed Javaid, the director of infection prevention and control at Mount Sinai Downtown; Dr. David Hirschwerk, an infectious-disease specialist at North Shore University Hospital; Dr. Aaron Glatt, the chair of medicine at Mount Sinai South Nassau and a spokesman for the Infectious Diseases Society of America; Dr. Purvi Parikh, an immunologist with NYU Langone Health and an allergist with the Allergy and Asthma Network; and Dr. Syra Madad, an American pathogen preparedness expert and epidemiologist. We also spoke to many of the same experts in March 2020, around the time the coronavirus epidemic became a global pandemic, and again in July 2020.
Much of the advice they gave us back then — like wearing a mask, maintaining social distance, and keeping hand sanitizer, disinfecting wipes, and tissues close at hand — remains in place. But now, more than a year into the pandemic, the doctors shared some new best practices for travel and commuting. Arguably the most important: Everyone who is eligible to be vaccinated should get the vaccine as soon as possible. And even though it's less likely that vaccinated people will contract COVID-19 or spread it, it's not impossible, so you should continue to wear a mask and keep a safe social distance whenever possible.
In addition, each doctor stressed that just because they are advising on the safest way to travel and commute amid the pandemic, that doesn't mean they endorse actually traveling and commuting amid the pandemic if you don't need to. "Trips should still be very limited," Javaid says. "If you don't have to travel, don't." According to Parikh, "the risk of contracting COVID or one of the more contagious variants increases when you travel because you don't know how many people around you have been vaccinated and we haven't quite hit herd immunity yet." She says we should still keep our guard up — wear masks, social-distance, and stay home if you feel sick. If you do have to travel out of town, it's a good idea to check the infection rates of your destination first. Glatt says, "The more cases in the place you're traveling to, the more likely it is that you will encounter somebody that's positive or one of the variants. For example, traveling to Brazil comes with different risks than traveling to Buffalo, and people should be aware of those risks and take appropriate precautions." You should also consult with your individual airline and check local COVID regulations if traveling internationally about what kind of proof of vaccination or negative COVID test results you will need to present at the airport.
Should you choose to travel or commute, below are the products our experts say you need to do so safely, in order of importance.
As we noted above, the doctors insist that wearing a mask in public, and while traveling and commuting, is the best thing for your own health and the health of everyone around you. Glatt says this guidance even applies to people living in areas where the transmission rate is currently low. "Because of the way we can travel in this country, you just don't know [if those around you have come from a high-endemic area]." We're still seeing increasing cases in the United States, so it's reasonable for people to be extra careful even if they are vaccinated because it might make the people around them feel more comfortable. As he points out, "Some people don't have the option of being vaccinated for whatever the reason and they're nervous."
We've been extensively reviewing masks since the pandemic began, and this pack of 50 breathable masks (which is a staff favorite) will ensure that you always have backups, should one break or be damaged. (Javaid tells us he keeps backup masks in his car for that very reason.) The masks' three-ply fabric construction and flexible metal nose band provide more protection than the average disposable mask, and their thinner material will be less uncomfortable in the heat. For extra protection while traveling or commuting Javaid, Parikh, and Glatt all recommend double masking. If you're looking for sustainable mask options, you can find a variety of reusable styles in our stories about the 28 face masks we've tested, our editors' favorite masks, the best masks for kids, the best masks for running, and the best masks for impressing the fashion set.
Whether you are vaccinated or not, Parikh recommends wearing a well-fitted medical-grade mask like a KN95 or an N95 anytime you are in close quarters with other people for long periods of time. She says, "I've personally known people who have gotten sick while traveling even after they were fully vaccinated." You should be especially careful if you are traveling to places where the virus is out of control or where there are other variants, she says.
Though masks are the most important thing you should be wearing, Parikh says that if you are unvaccinated and anxious about traveling to a high-risk location, wearing a face shield can't hurt. But she stresses that it should be worn in addition to a mask, not as a replacement for one.
While Javaid says that wiping down each product you bring home from the grocery store may not be necessary, he told us it's a good idea to wipe down things like subway poles, plane armrests, bus seats, or any other surface that you'll be in contact with for a sustained period of time while traveling or commuting. For this, Madad recommends using wipes specifically designed for disinfecting, like those from brands like Clorox and Lysol. "People think baby wipes are enough," she told us, "but you need something with chemicals."
And back to those subway poles: Despite your gut instinct, if you're riding on the subway while standing, or taking stairs in the station, you should still grab on to the pole or handrail, according to our experts. "The injury you'll receive from falling because you aren't holding on is far more severe than the chance you'll protect yourself from infection by not touching a pole," Hirschwerk says.
If you're quickly traveling to and from a given place (say, to the pharmacy or grocery store), our experts recommend using hand sanitizer before and after entering those enclosed spaces. And if you don't have or didn't use wipes, you should use it when getting on and off subways, buses, and planes, too —especially before touching your face. According to Hirschwerk, "hand hygiene" is just as important now as it was in the early days of the pandemic, especially if you're traveling or commuting to "areas where there are crowds of people in indoor spaces that aren't well ventilated." These spaces, he says, are the subject of "ongoing attention and concern" in the medical community.
Strategist writer Tembe Denton-Hurst has written about how Megababe's FDA-approved hand sanitizer, which has a vegan formula with 62 percent ethyl alcohol (the FDA says sanitizers are only effective if they contain 60 percent alcohol or more), is pretty consistently available and won't dry out your hands. For more hand sanitizers, head here.
According to all of the doctors, it should go without saying that if you feel sick (currently recognized symptoms of COVID-19 include fever, cough, shortness of breath, fatigue, nausea, and a loss of taste and smell), you shouldn't be going anywhere at all. "The CDC's recommendation remains clear," Hirschwerk told us. "If you have an illness, you should not be in an area that can affect other individuals." Even if you feel sick and want to see your doctor, you should always call their office first for advice on whether you should be leaving your house.
That said, sometimes you just have to cough or sneeze unexpectedly. When that moment does come, our doctors recommended having tissues to cough into. Both Hirschwerk and Madad told us that using proper cough etiquette during travel is essential, which is where pocket tissues come in. According to Madad, if you find yourself needing to cough while on the go, "cough or sneeze into a tissue, then throw that in the trash. If a tissue isn't available, sneeze into your elbow."
Once you're back home — or, if you're commuting to an office, once you've arrived — all of our experts say you should wash your hands immediately. "Every time you see a sink, use it," Glatt implores. This advice is backed by data: According to Madad, during the 2008 swine-flu pandemic, people who washed their hands frequently saw their risk of infection reduced by between 30 and 50 percent.
As for how to wash your hands, all the doctors we talked to shared the same wisdom — wash for 20 seconds and nothing less — with Madad adding, "Use warm water, sing the 'Happy Birthday' song twice, and cover both sides of each hand completely." In our guide to washing your hands, doctors told us that any standard soap is fine — and dermatologist Jennifer MacGregor actually advised to "stay clear of antibiotic cleansers, which can lead to bacterial resistance." Mrs. Meyer's, which we've called the best natural soap, has a formula full of natural ingredients that won't strip your hands, and it even smells pleasant, too.
Depending on the airline and the country you are traveling to, you might have to carry your vaccine card with you as proof. Because they are made of paper and are pretty flimsy, it makes sense to use some sort of plastic sleeve to protect your card from accidental rips, creases, or food stains.
The Strategist is designed to surface the most useful, expert recommendations for things to buy across the vast e-commerce landscape. Some of our latest conquests include the best acne treatments, rolling luggage, pillows for side sleepers, natural anxiety remedies, and bath towels. We update links when possible, but note that deals can expire and all prices are subject to change.