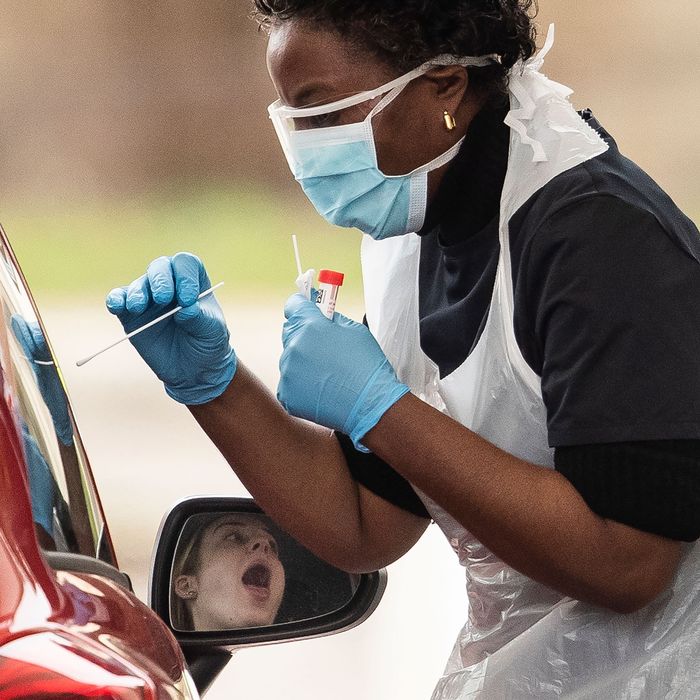 Photo: Dan Kitwood/Getty/Getty Images
Even though COVID-19 vaccines are now available and are gradually being distributed throughout the world, accurate testing is still essential for monitoring new cases and detecting new variants. Testing helps public-health officials track the disease and trace the contacts of those who've been infected. With schools and offices reopening, at-home tests allow people to quickly and easily know if they have the virus and could potentially spread it to others. While it took several months to develop at-home tests at the start of the pandemic (and many required a prescription to buy), there are now several reliable options that doctors recommend for fast and convenient results.
Paul Sax, clinical director of the division of infectious diseases at Brigham and Women's Hospital, is an advocate for rapid at-home tests. "A rapid-testing program is very justifiable on a cost basis and a public-health basis because it would greatly reduce the number of contagious people in the community and reduce the number of COVID-19 cases and the number of COVID-19 deaths," he says. The FDA has issued emergency use authorization (EUA) for a growing list of at-home tests, some of which are available online or at pharmacies. An EUA, according to an FDA spokesperson, allows a company to bypass some parts of the approval process while still demonstrating that its test is accurate and that the benefits of making it available to the public outweighs the risks.
There are three types of COVID-19 tests: molecular, antigen, and antibody. Molecular tests, also known as a polymerase chain reaction or PCR tests, detect the virus's presence in a nasal swab or saliva sample by amplifying the genetic material in the sample. Antigen tests detect virus proteins on the surface of a sample. These tests, which you may know as rapid tests, are able to deliver results quicker than PCR tests but are more likely to report false negatives in asymptomatic people. An antibody test is a blood test that detects if your body has developed an immune response against the virus. Initially, only molecular tests — that involved taking a sample and mailing it back to a lab — were available for at-home use. In the past few months, several rapid antigen tests have been approved, allowing you to get results at home within minutes. Recently, the FDA has also approved an at-home antibody test that involves taking a blood sample via a finger prick and sending it to a lab for results.
According to Sax, the at-home molecular and antigen tests are about as accurate as the ones you'd get in person. Daniel Larremore, an assistant professor of computer science at the University of Colorado Boulder who has published papers on the statistics of COVID spread, says that despite their potential for false negatives, at-home antigen tests are especially valuable. "They're particularly useful for identifying when somebody has a high viral load, which happens during the middle part of the infection when you are most infectious to other people," he says.
These tests are not without flaws, though. The cost — some are covered by insurance but many require an up-front payment of at least $100 — is prohibitive, and the waiting times for PCR tests are as long or longer than their in-person equivalents. With the emergence of the highly contagious Delta variant, demand for at-home tests has skyrocketed, and it's often difficult to find them in stock. The Biden administration recently announced a plan to make home tests more affordable and widely available by the end of the year. Ideally, Sax says the entire population would have access to low-cost rapid tests that they could take on a regular basis to stop the virus's spread. If you want to try an at-home test, the kits below have EUAs and include detailed instructions on collecting your sample (via nose swab or saliva) and how to return the kit to the lab (if applicable).
One of the first at-home rapid antigen tests to earn FDA authorization, the BinaxNOW tests come two to a box and are FSA eligible. Packaged with easy instructions for taking your own nasal swab and testing your sample, the test delivers results in 15 minutes. It's recommended to test yourself twice with at least 36 hours between tests after a potential exposure to ensure the results are accurate.
Like the BinaxNOW test, this one from QuickVue requires two testing samples within 36 hours and delivers results within minutes. It's another solid option if you can find it in stock.
Although it's currently not available for purchase online, Ellume is the only at-home rapid antigen test that requires just one test for accuracy. Some test kits have recently been recalled due to an increased chance of false positives. (Learn more about the recall and see if you've purchased an affected kit here.) The Ellume test links to a smartphone app that gives you instructions for taking the test, displays your result, and offers the option to report results to local public-health authorities for data-collecting purposes. It's suitable for kids as young as 2 — and it's something you'll be able to find at your local pharmacy.
Unlike the in-person nasopharyngeal swabs that must be inserted deep into the nose, this test allows for a shallow nasal swab — Larremore calls it the "nose pick area" — that's much more comfortable. The test is FSA and HSA eligible, and Everlywell will also provide you with an itemized receipt for possible insurance reimbursement. Because its lab only operates Monday through Saturday, it's important to collect and send your sample (via FedEx or UPS same-day shipping) on a weekday. Results will be delivered in 24 to 48 hours. The test is approved for adults ages 18 and up.
This test from Pixel, an offshoot of the diagnostic lab network LabCorp, ships to all 50 states, and also uses a simple nose swab. Like the Everlywell test, your kit comes with illustrated instructions for collecting the sample and a prepaid FedEx return label. For the most accurate results, your sample should be mailed back the same day you collect it. Results are available online within 24 to 48 hours. If you are experiencing symptoms, have been exposed to a person with COVID, or live or work in a congregate setting (like a nursing home, college dorm, or in-person school) there is no up-front cost, as the test is covered by insurance. This test can also be used for kids as young as 2.
If you'd rather not take a nasal swab, this Vitagene test was the first saliva-based test to earn an EUA. Like the tests above, you'll get your results within 72 hours of sending your sample.
This saliva-based test comes with a prepaid express FedEx return label and claims to provide results one to three days after your sample has been received. You can buy the DxTerity test on Amazon (where it's FSA and HSA eligible) but you'll have to register your kit and answer a questionnaire on the company's website once it arrives. DxTerity provides information for insurance reimbursement here.
Here's another FDA-authorized saliva test that's FSA and HSA eligible. Phosphorus gives you the option of paying $49 with insurance coverage (if you meet certain criteria) or $119 if you don't.
The first at-home antibody test to receive emergency authorization, this kit from Elicity includes everything you need to take a finger-prick blood sample. This test won't detect an active COVID infection and is not designed for anyone who is currently experiencing symptoms. Instead, it's recommended that you test one to three weeks following a possible infection to see if your body has developed antibodies against the virus. After receiving your sample in the mail, you can access your results online in three to five business days.
The Strategist is designed to surface the most useful, expert recommendations for things to buy across the vast e-commerce landscape. Some of our latest conquests include the best acne treatments, rolling luggage, pillows for side sleepers, natural anxiety remedies, and bath towels. We update links when possible, but note that deals can expire and all prices are subject to change.