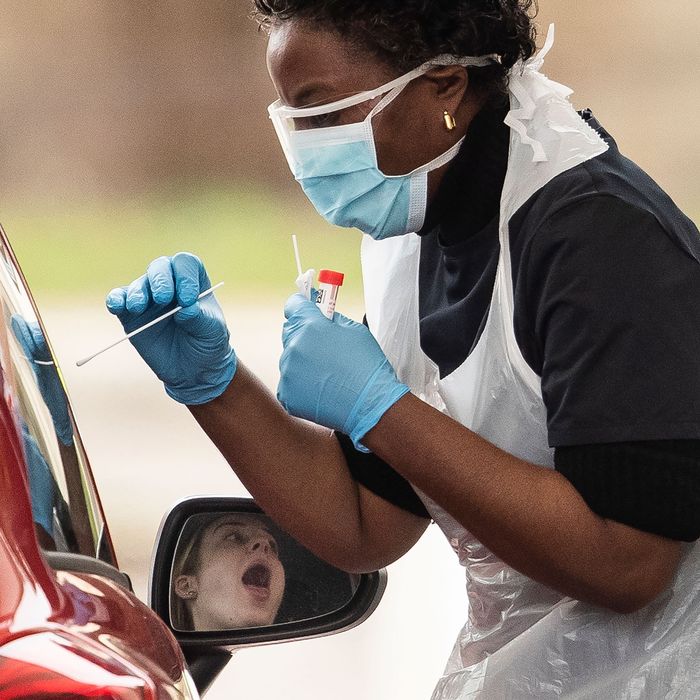 Photo: Dan Kitwood/Getty/Getty Images
Even though COVID-19 vaccines are now available and are gradually being distributed throughout the world, accurate testing is still essential for monitoring new cases and detecting new variants. Testing helps public-health officials track the disease and trace the contacts of those who've been infected. With schools and offices reopening, at-home tests allow people to quickly and easily know if they have the virus and could potentially spread it to others. While it took several months to develop at-home tests at the start of the pandemic (and many required a prescription to buy), there are now several reliable options that doctors recommend for fast and convenient results. Unfortunately, at-home COVID-19 tests are still difficult to find in stock because of increased demand for testing given holiday travel and new concerns over the Omicron variant. In our product recommendations, we've tried to include links to multiple retailers where you may find tests available online or in-store.
Paul Sax, clinical director of the division of infectious diseases at Brigham and Women's Hospital, is an advocate for rapid at-home tests. "A rapid-testing program is very justifiable on a cost basis and a public-health basis because it would greatly reduce the number of contagious people in the community and reduce the number of COVID-19 cases and the number of COVID-19 deaths," he says. The FDA has issued emergency use authorization (EUA) for a growing list of at-home tests, some of which are available online or at pharmacies. An EUA, according to an FDA spokesperson, allows a company to bypass some parts of the approval process while still demonstrating that its test is accurate and that the benefits of making it available to the public outweighs the risks.
There are three types of COVID-19 tests: molecular, antigen, and antibody. Molecular tests, also known as a polymerase chain reaction or PCR tests, detect the virus's presence in a nasal swab or saliva sample by amplifying the genetic material in the sample. Antigen tests detect virus proteins on the surface of a sample. These tests, which you may know as rapid tests, are able to deliver results quicker than PCR tests but are more likely to report false negatives in asymptomatic people. An antibody test is a blood test that detects if your body has developed an immune response against the virus. Initially, only molecular tests — that involved taking a sample and mailing it back to a lab — were available for at-home use. In the past few months, several rapid antigen tests have been approved, allowing you to get results at home within minutes. Recently, the FDA has also approved an at-home antibody test that involves taking a blood sample via a finger prick and sending it to a lab for results.
According to Sax, the at-home molecular and antigen tests are about as accurate as the ones you'd get in person. Daniel Larremore, an assistant professor of computer science at the University of Colorado Boulder who has published papers on the statistics of COVID spread, says that despite their potential for false negatives, at-home antigen tests are especially valuable. "They're particularly useful for identifying when somebody has a high viral load, which happens during the middle part of the infection when you are most infectious to other people," he says.
These tests are not without flaws, though. For PCR tests, the cost — some are covered by insurance but many require an up-front payment — is prohibitive, and the waiting times are as long or longer than their in-person equivalents. Ideally, Sax says the entire population would have access to low-cost rapid tests that they could take on a regular basis to stop the virus's spread. If you want to try an at-home test, the kits below have EUAs and include detailed instructions on collecting your sample (via nose swab or saliva) and how to return the kit to the lab (if applicable).
With results in just ten minutes, the On/Go test is one of the fastest tests available. You can download an app that guides you through the testing process and store results if you need to show them for travel or events. To ensure an accurate result, On/Go recommends testing twice with 24 to 48 hours in between tests. There are two kits in the box, so you only need to buy one.
If you want to stock up on at-home tests, FlowFlex is your most affordable option. It can be used on kids as young as 2, and there's no need to test again in two to three days like some other kits recommend.
Like the On/Go test, this one from iHealth links to an app for step-by-step testing instructions and to store results. The app (which you don't need to download to use the test) also lets you monitor results for a whole group.