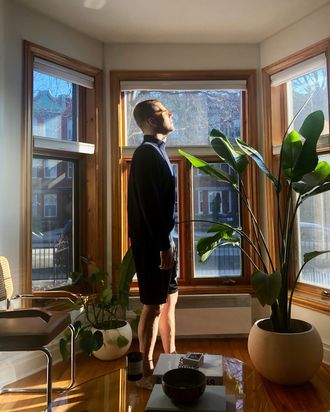 If you're looking for the most powerful hair dryer or the handiest chef's knife, those things can be easy enough to find. Other objects of desire are a little more taste-based. What's the next status water bottle or hand wash, for instance? If you have a burning question about the next fanny pack or Noah rugby shirt, Chris Black is here to answer it in a regular column.
Now that we are all making an effort to wear them, what reusable face masks do you recommend?
The new flex will be the designer face mask. Since we cannot see each other smile or frown, a branded piece of cloth will have to emote for us. Many of the below options come from retailers that are donating masks for every purchase, but if you can afford to buy extra and donate them yourself, please do.
Etsy, not surprisingly, is home to a small fortune of cotton face masks. If you want to stay safe but also let people know you are from the greatest city in the world, replace your New Era fitted with this (nonregulation) New York Yankees–inspired face mask. Or, wear hat and mask together to really show your support.
Baggu's colorful, machine-washable versions are made from 100 percent Kona Quilter's Cotton. The fabric's tight weave and thick thread are effective at "blocking respiratory droplets" while still allowing you to breathe, according to the brand. Baggu is donating masks for every set it sells, and even has a video on its site that tells you how to properly put them on. The masks are available for preorder, and will ship in early June.
I have been wearing the 100 percent cotton masks from Los Angeles Apparel. They're no frills, do the job, and come in lots of different colors and prints so you can express yourself while going to the grocery store … again. Certain colors are sold out, but others, like this plaid print called "Madeline," are in stock and ready to ship. As this website has pointed out in its extensive list of masks, Los Angeles Apparel also donates a mask for every purchase.
In a wildcard pick, St. John, the luxury knitwear brand, has come through with the on-trend animal-print mask in a soft pique cotton for anyone who wants to take a (socially distanced) walk on the wild side. The company is donating three masks "to those in need" for every one purchased, and while it is advertising pandemic-related shipping delays, the mask is currently in stock and ready to ship.
New York–based brand Collina Strada is making some wild masks from deadstock fabrics. With their dramatic bow fastens, they look almost like couture — and are priced appropriately. But they're not just fashion: These also have a slot for inserting a filter, making them functional, too. The brand is donating five masks to "healthcare workers in New York City" for every one purchased, making the price tag a bit more reasonable. These are in stock and available to ship, and one final note from the brand that I felt compelled to share: "If you or a loved one is sick and this is out of your price range, please reach out to us directly; we have other masks available to send to you at no charge."