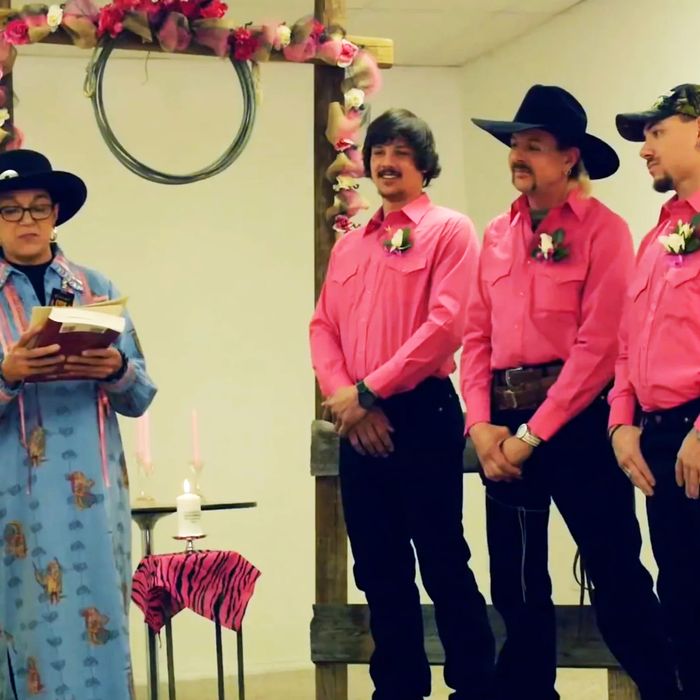 After finishing Tiger King, I quickly decided I had to have the exact hot-pink Western shirt Joe, John, and Travis were married in. I fancied the shirt not just for its specific shade, but because it's entirely solid. Don't get me wrong: A patterned Western takes me to a ranch in my own mind, but Joe's shirt, I could tell, was the rare "wear with all" — something one could wear more or less daily. As luck would have it, I happened upon the fellas' full wedding video on Oprah Magazine's website, which included footage of Joe taking a trip to the store to buy the shirts for the big day. You can't see the name of the store, but I posted a few screenshots of the scene to my Instagram Stories to see if anyone recognized it.
Sure enough, a follower of mine from Oklahoma replied almost immediately. He said it was either Mettry's or Steppin' Out, both of which are in Wynnewood, Oklahoma, where Joe Exotic's animal park was located. I called Steppin' Out because I liked the name (and the Google Maps pictures looked similar to what I saw in the video) and asked if they sold Joe Exotic his wedding shirts. The sweet gal who answered the phone chuckled and said, "Probably, he buys most of his shirts here. I'm the only one working and I've got three customers but if you ring back in a bit I'll check his records." I thanked her, but before hanging up she mentioned that they didn't have any hot-pink Westerns in stock at the moment.
I gave up for a little, but then I got a DM from Jon Caramanica, who writes the Critical Shopper column at the Times. He'd done a deep image search of Western labels based on the screenshot I took from the Oprah video, and somehow managed to find one that matched the picture. The brand, it turned out, was White Horse Apparel — a generic, wholesale Western-wear label, established, per the website, "in 1984 by Richard Baker, Gary Roe, and Bob Goughnour." And while the company doesn't seem to currently produce the shirt in the exact bright-pink color the fellas wore to their wedding, a second round of searches led him to find someone selling a vintage version on eBay. I love more than anything that the eBay seller makes no mention of the show in the description of the shirt — they may be the only person on Earth who hasn't seen it.