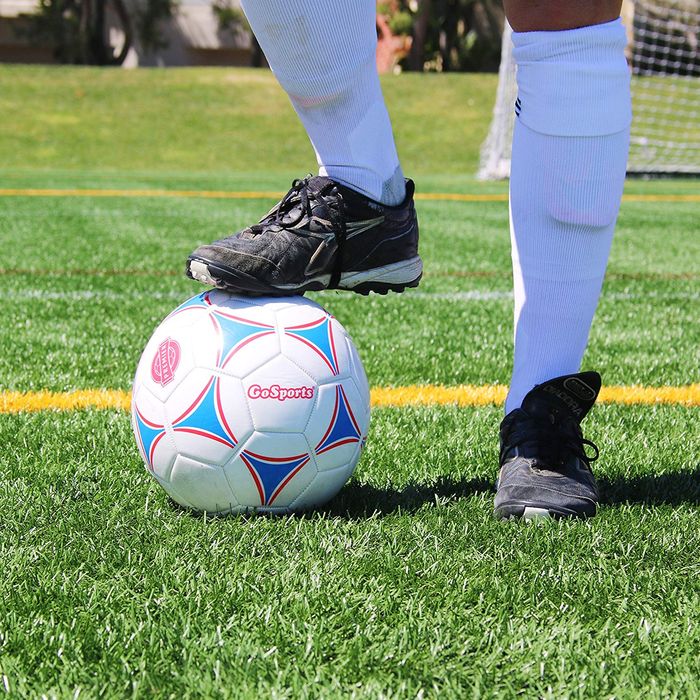 Photo: Courtesy of Retailer
Here at the Strategist, we like to think of ourselves as crazy (in the good way) about the stuff we buy, but as much as we'd like to, we can't try everything. Which is why we have People's Choice, in which we find the best-reviewed products and single out the most convincing ones. (You can learn more about our rating system and how we pick each item here.)
And while we've written about lots of sporting equipment before — including soccer nets, inflatable kayaks, and soccer cleats — here, we've rounded up the best soccer balls, as praised by the most enthusiastic reviewers on Amazon.
Best-rated (and least expensive) soccer ball
"Quality" was the word most people used to describe this Adidas soccer ball. It's a classic, professional-level ball, which reviewers appreciate. One mom and her son looked at dozens of balls before settling on this one. "My son plays around with it often. He doesn't really leave his side. The ball has maintained its air after months of use. It's got a good bounce too." Another parent calls it "beautiful and functional." She says her daughter "practices all the time with it and it's held up." Adults like playing with the ball, too. One reviewer who is "training to join an adult soccer league" says he "wanted a ball that wasn't too bouncy and not too soft or hard." This ball has "met and exceeded my expectations," he says. "After shooting a few days I was able to get some decent shots and the ball has held up really well."
And now for some micro-picks for every type of soccer ball you might be looking for.
Best soccer ball for kids
This is a great ball for anyone looking to introduce their kids to soccer. "We wanted an age/size appropriate soccer ball that didn't sacrifice any of the attributes of a normal, regulation soccer ball for our son to learn with," writes one mom. She says this one is "great for an almost two-year-old to kick around by himself or with mom and dad." Another parent, a "soccer fanatic," who bought this ball "to introduce [his] little one to soccer," says, "This size three soccer ball is perfect for just kicking a ball in your back yard or if you are trying to introduce small feet to the beautiful game. Very encouraging for kids because of the size of the ball they lose some of the intimidation of having to kick the regular size five ball." One more reviewer also calls this "a good entry level soccer ball for kids to play with until they grow and need something more professional." He adds, "After almost a year of use in our neighborhood park, it is in good condition."
Most durable soccer ball
Dozens of reviewers mention this ball's durability. One woman, who is part of a soccer team that plays "once a week," writes, "This ball has lasted quite a bit. A few tears here and there but that's due to field conditions or being slammed on the edges of the indoor arena walls! One of my favorites and the team's too so far." Many reviewers also appreciate the unique pattern, which one calls "sharp looking." According to another, "the ball is easily spotted on turf as the neon logo stands out, and the camo pattern is dark enough against turf." A third reviewer, who originally "was kind of worried about buying a soccer ball online," got over her fears as soon as the ball arrived. "It came in inflated perfectly it was completely protected this is a very durable very great soccer ball," she says.
Best soccer ball for practice
"Skip the other big name brands," says one reviewer. "I have used Nike, adidas, voit, champion, and many other brands of soccer practice balls and they all last one season at best. This is one of the best feel and durability balls you can get," he says. He believes so much in this ball that he came back and updated his review a couple years later: "These balls last. They keep their shape, can survive being left in the backyard, don't get saturated during wet conditions, and keep holding air." And that's the main difference between this ball and a game ball. It's bouncier than game balls, and it should last a long time. One youth soccer club coach says "they are the only practice balls I buy any more. These Mikasa balls are by far the best all-around value I have found. They are high-quality, hold air well, have a soft cover the kids will play (headers, chest, etc), along with a good feeling." Plus, he says, "when they get lost or stolen or finally wear out, they are pretty inexpensive to replace."
Best futsal ball
A futsal ball is a type of soccer ball used on a hard court, not grass. A lot of reviewers find its qualities to be beneficial for training. "It feels like a small medicine ball, for it has low bounce and heavier than a regular size five soccer ball which makes it harder to handle. With these characteristics it makes for a SUPERB training ball for it makes you work harder on your ball handling skills and kicks," writes one reviewer, who says her "son has improved a lot, training with the size three futsal ball." Another mom calls this a "top notch futsal ball." Over four months it's gone through "hard abuse," yet "it still feels and looks great," she says. "The ball has kept its shape, stitching, etc. Other balls would have peeled or ripped by now." If you want to use this ball as a futsal ball, you can obviously do that, too: One high school futsal coach says, "I have used it a couple of dozen times and it has never lost any air. Used on high school gym floor and the girls won't play with anything else."
Best soccer ball with a pump
Nearly half of all five-star reviewers mention how handy the pump is. "The cool feature on this pump is the needle storage in the handle. This should be standard on all pumps. It's super convenient," writes one reviewer. "The quality of these balls is nearly equal to the $15-$40 Adidas, Nike, etc. designer and match replica balls." Another pump-fan also notes that the "ball is extremely well put together and appears to have sturdy seams." You can also buy these balls in packs of six, which makes them great for teams. One customer has "coached for many years" and "originally ordered these balls for a non-competitive girls team." After testing them out, "I was very impressed," he says. So impressed that he "placed another order for my competitive U12 Boys team in size four. I will keep ordering from Go Sports for both teams in the future. I found myself checking to see everything else they sold."
Best easy-to-inflate soccer ball