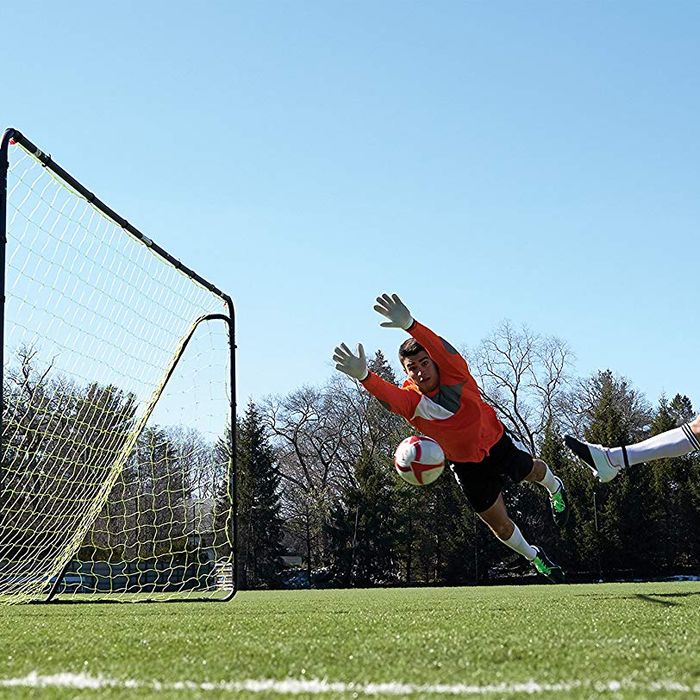 Here at the Strategist, we like to think of ourselves as crazy (in the good way) about the stuff we buy, but as much as we'd like to, we can't try everything. Which is why we have People's Choice, in which we find the best-reviewed products and single out the most convincing ones. (You can learn more about our rating system and how we pick each item here.)
And while we've written about lots of sports equipment before — including the best soccer cleats, the best tennis rackets, and the best basketball hoops — here, we've rounded up the best soccer goals and nets, as praised by the most enthusiastic reviewers on Amazon.
Best-rated (and less expensive) soccer net
"These goals completely surpassed my moderate expectations based on the low, low price," notes one surprised reviewer, adding, "When these goals are staked, they are not going anywhere; very impressive for something this small." Dozens of reviewers use the word "sturdy" in their reviews of this mini soccer net set, including one who writes, "These are very easy to deploy, stay sturdy when out and are simple to fold up when done. Everyone on the field loved them and they really enhanced our game over using shoes as goal posts." One reviewer admits that they were "initially concerned about the ease of being able to fold these babies into their original folded after popping them out," but appreciated that there were no issues. They explain, "It was unwarranted worry because these goals fold up fabulously which really does make them perfect for taking with you for a pick-up game anywhere." Another "wanted something quick and easy to set up in the yard" for her three-year-old starting soccer, and called these soccer goals "fantastic… After we are done they break down fast and get stored in the carrying bag that was included to hang up in the garage."
And now for some micro-picks for every type of soccer net you might be looking for.
Best pop-up soccer net
"Just perfect," writes one reviewer of these pop-up soccer goals, continuing, "Popped the goals out the bag released the two velcros and poof." The easy setup and breakdown impressed more than just one reviewer. One youth and high school soccer coach calls these goals "a necessity" because of how functional they are, explaining, "They are lightweight and very easy to close back up. That is key for me. I'm always in a rush. It's also easy for my players to close them up too. Delegation, people!" However, according to one reviewer, the real standout feature is"how they fold flat so they take up less space." A few do complain that they're quite small, but one grandmother who bought these for her grandson admits that yes, "they are not very wide," but thinks "it helps improve accuracy."
Best foldable steel soccer net
This foldable soccer goal impressed reviews with its easy set-up and breakdown. "I can't say enough good things about this goal. It was incredibly easy to put together," confirms one reviewer, who adds that she "had it up and finished in about twenty minutes." Another customer explains how it's done: "You just take the pins out and it folds down flat, when you want to put it back up, you hold it up and put the pins back in the sides. Perfect, good quality, good price." A third reviewer notes that she too likes that they "can fold up," but thinks, "The best part is that it is lightweight to move around and comes with four anchors to dig into the ground for stability when kicking hard balls into the goal." Many also describe this goal as durable, with one concluding, "Great, sturdy folding goal net. My grandkids love it, and played with it all summer. And they are definitely not gentle with it. It has held up very very well."
Best lightweight soccer net
This AmazonBasics soccer goal gets top marks for being lightweight and easy to move. "This has been a wonderful addition to our backyard. My daughter uses it at least four times a week. It is easy to move when we need to mow, and light enough that I can do it by myself," notes this content mom. "Just what I was looking for," writes another reviewer, adding, "This is heavy enough to stay stable but yet light enough to move around if needed. The wind will not take this goal away or flip it." A major downside for some is that this net cannot easily be taken apart: "You'd have to be a masochist to completely undo all the parts on this between practices," one reviewer notes, but they advise, "There is a push-button release between pipe sections and I'd suggest detaching it at the elbow joints and just fold it over on itself to store propped against a wall." And one reviewer thinks it's not even necessary to take it apart, "it's sturdy enough to be left up long term."
Best all-weather soccer net
"After seven heavy thunderstorms and one tornado, this thing is still looking almost like new," raves one reviewer about Franklin's all-weather soccer goal. Another satisfied customer writes, "This is a great value to set up in the yard, leave it out through weather and sun, and let the kids play without having setup and takedown time and effort." And one reviewer admits that they rarely take it down but notes "iI's been extremely durable and taken some hard hits with a ball." A major plus for one mother is how light it is, too. As she explains, "It's light enough that our elementary school daughter and her friends can move it (working together) but it doesn't tip over. We've recommended this to many friends, so this is now pretty much the standard 'big' soccer goal in yards in our neighborhood."
Best adjustable soccer net
"Would so recommend, the adjustable heights and sizes of this goal is a huge bonus as I have different aged kids," writes one parent of this adjustable soccer goal, continuing, "It's easy enough to fold up and store when it gets to colder weather and to keep it from the rain." Another thinks is "one of the better products I have purchased on Amazon in a long time," explaining that this net is "excellent quality and very sturdy. The soccer goal is made with heavy duty metal and you can not find a better product for that price. Adjustable for three different sizes for all children." A few even note that it's held up in all weather, like one parent who notes, "It's been outdoors now for a few months in wind and weather. It's taken a lot of abuse. No complaints." And one coach attests to how well it holds up from just the kids: "The goals take serious punishment. No, I don't mean from the awesome, but less than stinging, kicks of four-year-olds. I mean 24 kids ranging in age from four through seven using the goals as a leaning post, chin-up bar, monkey bar, bug deflector and or fort, in between every awesome kick. No kidding, these are very well built heavy gauge steel tube goals that are absolutely the easiest portable nets to set up and even quicker to take down. "
Best soccer net for accuracy training
For accuracy training, coaches and parents prefer these popup nets. One reviewer calls these the "best small-size goals out there" and "awesome for shooting accuracy," confirming that these goals are "easy to put up, put away, and store. Lightweight, so even kids can carry them. You can also put them side-by-side to increase the goal area if you want. We use these for our teams, social events, in the park, and in our backyard." Another says they're "a blast to play with. I am so happy with my purchase. It works great for practicing my accuracy and goalkeeper skills. I can't imagine how I lived so long without it." Many parents bought these for their kids to play in the yard, but they like that they can be portable, including one mom who concludes, "My kids are athletic and love to play outside, so I decided to replace the goals for Christmas. The goals themselves are just flexible enough, perfect for on the go. I actually like the smaller goal size because it encourages shooting ac