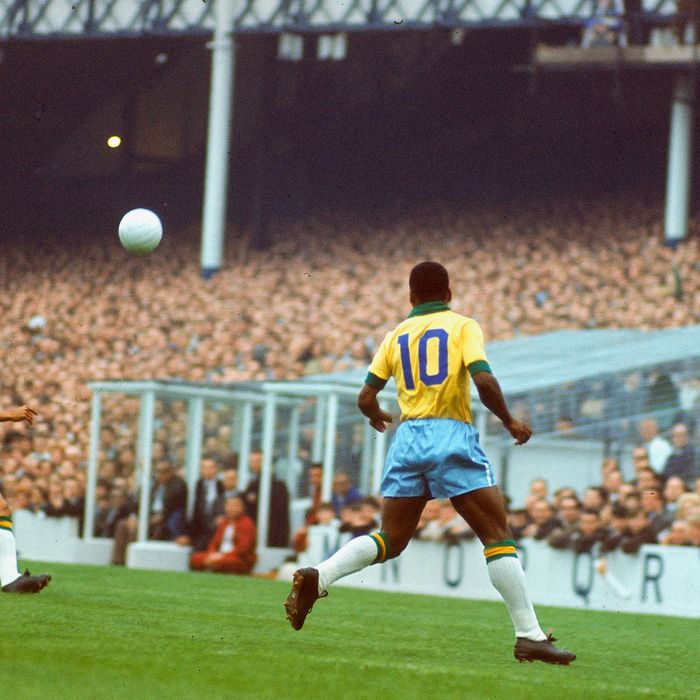 So you can play like Pelé.
Photo: Art Rickerby/The LIFE Picture Collection/Getty
The World Cup is officially underway, which naturally prompted us to ask: what are the best cleats? The quadrennial event generates a special kind of fervor over the sport (even locally, even though the U.S. team isn't in it), convincing many to get involved in everything from youth soccer leagues to intramural or city club teams.
If that's the case, which cleats are the best? Among the experts we quizzed, there's a unanimous crowd favorite: the Adidas Copa Mundial, which, fittingly, translates to "World Cup" in Spanish. It gets rave reviews pretty much across the board, for all sorts of foot types. And while the Mundials are leather, like most of the shoes on this list, there are some worthwhile vegan options, as well. To suss out the best cleats for different foot shapes, turf types, budgets, and more, we spoke with a range of soccer experts, from a soccer retail manager, to pro players from football clubs in New York City and Europe, to a longtime kids' soccer league volunteer. But first, the Copa Mundial.
The Mundial hasn't changed much since 1979 and got props from players for suiting wide feet. "The kangaroo upper molds perfectly over time allowing for a super-clean touch and a crisp striking surface," says Rami A. Zeidan, who played at Johns Hopkins University. It also accommodates crooked toes: "These have a soft and supple upper, which is perfect for someone like me with crooked feet: my big toes go under my second toes on both feet, so I have trouble with normal shoes, let alone cleats," says Arianna Criscione, goalkeeper for Union Sportive Saint-Malo in Italy.
Plus: the Mundials are reliable and long-lasting. "I have been buying the same style Adidas Copa Mundial cleats since high school, and I am now 29 years old," says Julian Muscio, who plays club for Lyndhurst FC in New Jersey. "After a few years, I can tell they are starting to lose their form and I buy a new pair." Criscione also likes that they're available globally. "It's also a boot found worldwide, so I have easily found it in all the countries I've played in; I walk in a store, request my size, and walk out, no hassle or need to try on," she says. "It's an oldie but goodie."
The same shoe, but with more pronounced cleats for softer ground.
Zeidan also likes the very cool monochromatic blackout version. They are, sadly, no longer available through mainstream channels. But other blackout shoes, like these regular Copa cleats, are still on the market.
"The move from leather to synthetic materials for the upper construction in soccer shoes has greatly reduced their weight and break-in time, but sometimes you just want the natural feel and touch of a classic leather cleat," says Robbie Baum, a manager at Upper 90 Soccer, who suggests the Nike Premier II style as the current best value for a leather boot. "These don't have the bells and whistles of its more heralded brethren, the Nike Tiempo Legend VII or Adidas Copa 18.1, but you get a premium-quality leather upper for almost half the price." Baum says the leather is soft and can be expected to mold to its owner's foot shape, so he recommends going for a "snug fit out of the box, because they will stretch after a few uses." The small studs, he adds, make them work on both natural grass and turf.
"I love these because they are super conformable: they have no laces, so you have good impact on the ball," says Sebastien Ibeagha, a New York City FC defender, who's partial to this splashy, recently released color palette. "They just came out with a neon yellow one with red and black accents, and I think the colors are really, really cool. They are bright." Anyone interested in a more subdued black-and-red version can find them for under $100 at Zappos.
The same shoe but in the turf version, at nearly half the price. "These are engineered with a very soft knit upper, an elasticated collar, and anatomical heel counter, which work together to keep the foot locked in place," says Baum, who's been wearing this style since they debuted in 2016 without any fit or overstretching issues. "The benefit to eliminating the laces is a clean, unadulterated surface to control and strike the ball," he says. "What I, and my post-surgery knee, love most about this shoe is the full-length Boost midsole. Boost foam was developed for running; it provides a very cushioned, but springy and responsive ride." Baum cautions that without laces to adjust the fit, the Predators are not for everyone — especially those with narrow feet or high arches. "It needs to be a great fit, or it's just not going to work."
"I've worn Adidas for seven to eight years, and now I wear the new X 18; I think is one of the best shoes that they have," says Ismael Tajouri-Shradi, a forward for New York City FC. "They feel very, very comfortable and are very good on the soles. They're very good to control the ball with. It's this feeling that every footballer needs." These "football blue and solar yellow" boots are stunning, but Zappos also has several other versions of the X 18 at lower prices.