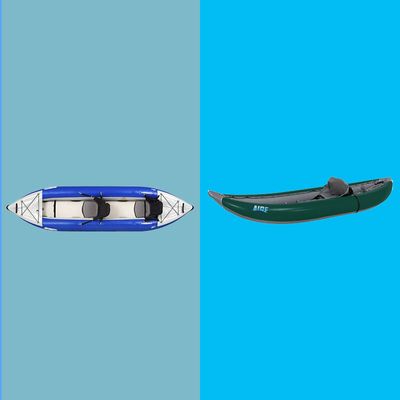 Photo-Illustration: Courtesy of retailer
Kayaking is a fun way to get out on the water, whether you're taking the family out on a relaxing day trip or looking for an adrenaline-pumping section of whitewater. Having the right kayak is an important part of the equation, and not all kayaks are created equal. An inflatable kayak can be packed down and stored in a closet or on a garage shelf, and can be transported in almost any vehicle. These boats can be inflated in minutes and weigh as little as 20 pounds, and the range of their on-water capabilities rivals many hard-sided boats — and they can be similar in durability and cost. Inflatable kayaks come in a variety of styles, from sturdy recreational boats to sleek river-running models. This makes them good options for everyone from beginners to seasoned boaters.
I grew up kayaking each summer on pristine lakes in New Hampshire, and bought my first whitewater kayak in 2016. I spent a few seasons on faster sections of whitewater, but these days, I prefer a recreational outing on a local lake or quiet section of river. I have several hard-sided kayaks, one inflatable kayak, and one folding kayak. I appreciate all of my boats for different reasons, and each one serves a purpose.
For this guide, I not only relied on my own experience with inflatable kayaks, I also talked to boaters in my community, as well as expert recreational boaters, whitewater kayakers, and professional kayak guides. Below, you'll find recommendations to suit a range of abilities, experience, and waterways, as well as one folding model we think is worth considering.
Skill level and intended use
"Picking the right kayak is all about where you want to paddle and what you want to do," says Matt Hergert, a kayak guide since 2017. Many boats will work in a variety of water conditions — from faster sections of river to calm water and moderate sea kayaking — but each model is best suited for specific types of water and the boater's skill level.
"The best inflatable kayak for beginners should be lightweight and easy to maneuver," says Hank Lin, of Camp Venturous. "Look for a shorter kayak with an adjustable seat, plenty of cargo space, and features that make paddling comfortably." These are also generally best for flat-water outings on ponds, quiet lakes, and reservoirs.
Intermediate inflatable kayaks have a good balance between stability and maneuverability. These kayaks are often longer with better tracking, which refers to how straight the kayak moves in the water. Depending on the model, these can be used on moderate rivers and on coastal outings. Advanced inflatable kayaks are designed to handle more challenging weather conditions with improved stability, tracking, and maneuverability.
For advanced inflatable kayaks, "Look for a kayak that has a wide hull with high sides, an adjustable rudder system, and robust construction," Lin says. "Advanced-level inflatable kayaks tend to be longer than beginner models and have higher weight capacities."
If you're looking for an inflatable kayak, you're probably interested in portability. Most of these boats weigh between 20–30 pounds, with more advanced models clocking in around 40 pounds to account for added stability and features. We also listed dimensions to make it easier to envision each boat out on the water.
The weight limit for each boat (including people and gear) impacts maneuverability, gear stowage, and whether you can feel safe taking the dog out on the boat with you. We've listed mostly one-person models here, though several boats come with two-person (or three-person) options.
Best overall inflatable kayak
Skill level and intended use: intermediate, all-around boating | Weight: 40 lbs | Weight limit: 750 lbs
The kayak recommended most by the experts I spoke to was the Sea Eagle Explorer 380X. "I've had the Sea Eagle Explorer for a few years now, and I'm always impressed by its convenience, durability, and versatility," says Tom Fontana, founder and owner of PumpupBoats.com. Fontana uses this boat for everything from lake trips to multiday outings to sections of whitewater.
Steve Morrow, founder of the boating site Paddle About, is also a fan of this model. "It can be configured to paddle solo or with a partner, and features a sleek design perfect for paddling on flat water or up to Class IV whitewater." This boat is widely versatile, with a removable skeg — a "blade" that drops from a slot in the hull — to improve tracking. It's durable and puncture-resistant, built from a heavy-duty PVC, and offers the highest weight limit of the kayaks on this list. This boat is stable for beginners but performs well enough for advanced paddlers, with a drop-stitched floor for rigidity and that skeg for maneuverability. A big plus: It comes with the full setup, including paddles, pump, and carry bag.
Best less-expensive inflatable kayak
Skill level and intended use: beginner, flatwater | Weight: 31 lbs | Weight limit: 330 lbs
This super-stable boat comes in several size options for up to three people, with wide seating that can handle children, a dog, or supplies without feeling tippy. It's easy to climb in and out of, making it a great option for a fun family day on the water.
Decathlon water-sports leader Yann Payen noted the boat's durable construction, which makes it a low-cost investment that will hold up for multiple seasons. "The boat utilizes a double-layer stitch construction," he says, "with inner chambers wrapped with a layer of heavy-stitch fabric resistant to tears and punctures." This means the air bladders aren't exposed to anything that could puncture them, and the fabric wrap helps the bladders inflate to a higher pressure, making for a more stable ride.
This model folds down to just 29 inches long, perfect for smaller living spaces or cars, and it comes with a backpack-style case for easy carrying. It has three plug-in fins to help the paddler maintain direction, and as Payen points out, "Every single part of this kayak is repairable or replaceable without specific skills needed."
Best inflatable kayak for river running
Skill level and intended use: intermediate, rivers | Weight: 32 lbs | Weight limit: 275 lbs
"Inflatable kayaks are basically like small rafts," says Patrick Arguello, a kayak and raft guide operating out of Idaho, Montana, and Utah. "I look at the materials of the outside as well as the internal bladder. I'm looking for one where I can patch an abrasion externally without having it impact the boat's ability to hold air." For that, Arguello looks to the AIRE Force, his pick for maneuverability in a variety of water conditions without worrying about punctures.
"AIRE boats are trusted in the industry and have a great warranty," says Arguello, noting the Force has a rise in the tip and tail to help it push over waves or surf, actually riding the river as opposed to just floating downstream. This boat is on the shorter side, which makes it more maneuverable, and the floor has almost no rocker, helping it act almost like a hard-sided kayak. This boat comes with float bags in the rear for easier rolling, and thigh straps for control during surfing waves. This is a more advanced boat, and while the official weight capacity is 275 pounds, AIRE recommends it for boaters 185 pounds or less. It rolls right up to stash in your trunk or in a closet when not in use.
Best inflatable kayak for handling
Skill level and intended use: advanced, rivers and coastal | Weight: 42 lbs | Weight limit: 450 lbs
This sleek boat has an aluminum rib-frame design combined with hard-sided panels and inflation chambers. The frame makes for an incredibly sturdy boat that handles well in a variety of conditions. The boat has a drop-stitch floor, which enhances tracking and rigidity, and the zippered top allows for easy entry and exit into the cockpit.
This is the top pick for Hergert, who has guided kayakers in New Zealand and Yellowstone National Park, and looks for something easy to transport and safe to paddle in that can cut through the water so he doesn't feel like he's "paddling a bathtub." Not only does this boat's aluminum frame provide better paddling performance, he says, it also has a rear hatch for gear storage, and it folds up into a backpack for easy transport to your put-in locations.
Best kayak for fastest setup
Skill level and intended use: beginner, flatwater | Weight: 20 lbs | Weight limit: 275 lbs
This kayak isn't inflatable, but I'd be remiss not to include one of Oru's brilliantly designed folding kayaks. I have the Inlet, one of several Oru models built for different types of kayaking. This is a one-person boat perfect for a stable excursion on calm water. Weighing just 20 pounds and capable of folding down to become its own carry case, this kayak can be tossed into the smallest car and stored under a bed, and is light enough for one person to carry to the put-in. It's made with a 5-mm., double-layered polypropylene (a durable thermoplastic polymer) and has a ten-year UV treatment. Oru guarantees this boat for thousands of "folds" over the course of its lifetime, and while I treat it with care, I don't worry about punctures or abrasions from less-than-ideal locations.
This model has a wide cockpit, and I was able to paddle unwieldy outdoor-kitchen supplies across a lake for a picnic last summer with no instability. The backrest and footrest took some getting used to, as this was my first recreational boat after years of paddling more river models. But once I got the buckles fastened, tension straps tightened, and the Velcro secured, this boat proved just as water-worthy as my hard-sided kayaks.
Best for intermediate kayakers
Skill level and intended use: intermediate, all-around boating | Weight: 32 lbs | Weight limit: 350 lbs
This is a stellar option for intermediate paddlers looking for a versatile model that straddles the line between stability and maneuverability. "For intermediate paddlers, the Aire Lynx II is an excellent option with its adjustable backrest and foot braces that offer superior comfort and control," says Lin, who listed this boat as one of his top picks.
This boat — also available as a tandem — has a wide range, able to comfortably handle sections of Class III rapids while still feeling stable on calm water. It's comfortable enough for multiple days on the river, and comes with a confidence-inducing Leafield B7 valve, a one-way valve to ensure no air leaks out. The two low-profile side tubes and a flat hull help give the boat its straightforward handling, the 12 cargo loops are helpful for keeping gear tied down on multiday trips, and the rear pocket keeps additional items within reach.
The Strategist is designed to surface the most useful, expert recommendations for things to buy across the vast e-commerce landscape. Some of our latest conquests include the best acne treatments, rolling luggage, pillows for side sleepers, natural anxiety remedies, and bath towels. We update links when possible, but note that deals can expire and all prices are subject to change.