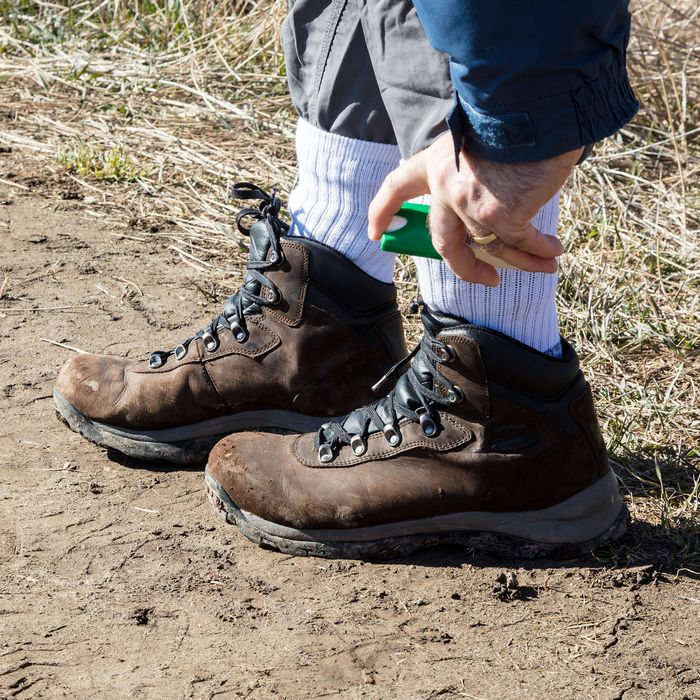 Photo: Ron Erwin/Getty Images/All Canada Photos
The U.S. Centers of Disease Control and Prevention warn that the incidence of tick-borne diseases continue to increase, following last year's news that the number of insect-borne diseases in the United States has tripled since 2014. And the summer months are when you're most susceptible, because "as the weather gets better, tick numbers rise," according to Dr. Thomas Daniels, who studies ticks at Fordham University's Louis Calder Center. If you've been in the woods and are worried about a tick bite, start by checking your ankles. "Ticks start low and crawl up," says Dr. Thomas N. Mather, director of the University of Rhode Island's Center for Vector-Borne Disease and its Tick Encounter Resource Center. "So if they get to the top of your head, it's not that they fell out of a tree. Instead, they've crawled all the way up your body."
Jeffrey Hammond, of the New York State Department of Health's public-affairs office, recommends doing "a final, full-body tick check at the end of the day, and also check children and pets," in order to protect against ticks and tick-borne illness. A proper tick check starts with examining your feet, then onto armpits, wrists, knees, and, yes, groin. But the best way to deal with a tick bite is to prevent it from happening at all. Fortunately, there are some solid, science-backed ways to prevent the pests from latching on. To find out which tick repellents actually work and which ones are duds, we asked seven tick experts to explain tick science and share some of their favorite products for keeping them off humans and their pets.
Best Tick Repellent for Humans
Though the CDC recommends DEET as an effective tick repellent, Mather and our other six experts prefer permethrin (the same chemical used in delousing shampoos like Nix), which acts as a "tick-killing agent," according to Dr. Rick Ostfeld, a disease ecologist at the Cary Institute. (That said, DEET can be a godsend for mosquitoes, and if you're looking for more ways to deal with those summertime pests, check out this guide to mosquito repellents.) And although using a chemical to deal with bugs can sound intimidating, permethrin is one of the most widely used agricultural chemicals, so, as Mather notes, "everyone is exposed to permethrin to some degree."
For day-to-day tick prevention, Mather counts on clothing that's been treated with permethrin. "Most of it comes from a company called Insect Shield in North Carolina, and it can go through the wash about 70 times and still be effective," he says. Dr. Scott Williams, who works at the Connecticut Agricultural Experiment Station's Department of Forestry and Horticulture, adds, "The weave of the sock makes it difficult for the smaller ticks to navigate, which increases their time exposed to the permethrin, which kills more of them." Since ticks start low and crawl high, permethrin-treated socks are a good first line of defense because the chemical can kill ticks in their tracks.
To fend off any ticks that may crawl as high as your torso, you can also get this treated, lightweight pocket tee.
This treated hat will protect your scalp from both ticks and the sun.
You can also treat your own clothing with permethrin using a spray. "For tick repellent for myself and my field crew, we soak our clothes in permethrin and allow them to dry before wearing them," says Williams. But unlike pretreated clothing (which can be washed over and over and retain its tick-repelling ability), clothes you've sprayed with permethrin lose their ability to kill ticks after about six weeks or six washes (whichever comes first). Spraying your sneakers or hiking boots before going out into the woods is another solid tick-prevention technique, as is spraying gardening gloves, pants, shorts, or T-shirts.
But avoid applying it directly to your skin. That's not because permethrin is unsafe; in fact, the concentration of permethrin on pretreated clothing is "well below what the EPA calls the daily dermal, no-observable-effect level," says Mather, meaning it's functionally nontoxic. It's just that permethrin breaks down on your skin after 15 minutes, according to its manufacturer, so spraying it on your body rather than your clothes leaves you vulnerable.
Dr. Catherine Hill, a professor of entomology at Purdue University, says picaridin, an insect repellent that can be applied to the skin, is another effective way to ward off ticks. Ostfeld says it's one of "the most effective repellents against black-legged ticks," the carriers of Lyme disease, babesiosis, anaplasmosis, and Powassan virus in most of North America. And compared to products that contain DEET, which can feel overly oily on the skin, picaridin is "more pleasant aesthetically," says Dr. Kirby Stafford, a medical-veterinary entomologist.
Best Tick Repellents for Dogs
When you and your dog go for a walk, your pet is more likely to come back into the house with a tick than you are, so if you really want to protect yourself from tick bites, it's important to make sure your pet is protected, too. If a dog brings a wandering tick into the home, it can live in your couch or sheets until it bites you or another human. Three of our experts — Mather, Ostfeld, and Daniels — recommend this collar, which lasts for six to eight months and works to prevent ticks from biting your dog. "They've been real life-changers for some people that I've heard from. Every day there'd be ticks, and now that they have the collar, maybe they find a tick every month or something," says Mather, who recommends replacing the collar twice a year.
Daniels also recommends K9 Advantix II, a topical product containing permethrin that should be applied to Fido once a month. But Advantix, along with most topical tick repellents for dogs, is super-toxic to cats — Stafford recommends keeping them away from any permethrin-treated dogs for 72 hours after applying the product.
If a tick-repelling collar is not enough, Insect Shield also makes a handsome dog bandana that's been pretreated with permethrin.
You should also check your dog for ticks by grooming it with a fine-toothed comb after you come in from a walk.
Best Tick-Removal Tools
If you forgot to bring your permethrin-treated socks on your hike and you ended up with a tick on you, don't panic. All you really need to remove one are pointy tweezers — but not flat-edged tweezers. That's because you need to be precise. "Think of the tick as a bag of germs that happens to be connected to your skin with a straw," explains Mather. If you squeeze the bug's body with an imprecise tweezer, all those germs will be released through the "straw" and into your skin, which is gross. A pointed tweezer, on the other hand, will allow you to get as close as possible to the head of the tick, right next to the skin, and pull up at the connection point without squeezing the bug.
"Usually, people are so grossed out at this point that they just want to get rid of the tick," Mather says. But don't do that. The next course of action is to take a picture of the tick with your phone, so you have a record, then put the tick in a Ziploc bag and hold on to it until you're sure you don't have any diseases. If you do end up with a rash or some signs of an illness, it'll be easier to test for a tick-borne illness if you have the tick on hand. Mather also recommends labeling the bag with the date and maybe the location, just so you can remember what you're dealing with. Plus, identifying the tick can help in determining the odds of your getting sick. For instance, Lyme disease is mainly spread through black-legged ticks, not dog ticks — and knowing that fact can save you a lot of worry.
A Quick Note on Essential Oils As Tick Repellent
Though the CDC does recommend essential oils like garlic oil and lemon-eucalyptus oil as somewhat effective repellents of black-legged ticks in yards and on skin, Mather wouldn't advise essential oils as your primary line of defense. "I'm hard-pressed to find any hard data on them," he says, adding that in the few experiments he and his colleagues from other universities have run, the results haven't been great for essential oils. In a test of lawn products, "The natural products were very poor at killing ticks compared to the standard products," which included a type of permethrin. But if you want to double up, garlic oil is readily available. Just don't rely on it as your main tick repellent.
If smelling of garlic isn't your thing, this lemon-eucalyptus oil can also supplement your main tick repellent.
The Strategist is designed to surface the most useful, expert recommendations for things to buy across the vast e-commerce landscape. Some of our latest conquests include the best women's jeans, rolling luggage, pillows for side sleepers, ultra-flattering pants, and bath towels. We update links when possible, but note that deals can expire and all prices are subject to change.
Every editorial product is independently selected. If you buy something through our links, New York may earn an affiliate commission.