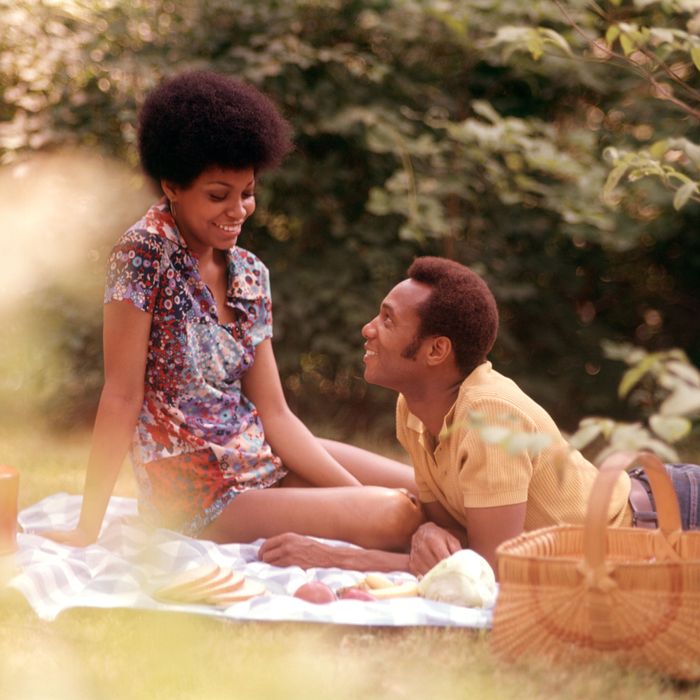 Photo: Photo Media/ClassicStock/Getty Images
While spending time outdoors — masked and at a distance — is a lower-risk way to socialize in person with others, replacing an air-conditioned restaurant brunch with a picnic takes a little more planning than rolling out of bed and hopping on the subway. "A picnic can teeter into being really unpleasant if you have too much stuff or don't bring enough," says Ali Rosen, the host of Potluck With Ali and author of the potluck cookbook Bring it!. And though she says it's important to strike a balance between bringing too much and too little, most folks likely have on hand what they need to picnic.
Whether you're picnicking at a city park, state beach, or your own backyard, we spoke to four picnicking professionals — including some who have been planning picnics for years — about the best picnic blankets, foldable chairs, and food, plus the bags (or wagons) for carrying it all. However, before you go ahead and gear up, all our experts recommended checking out your picnic destination's rules and regulations — regarding where and what you sit on and how you prepare food — to make sure you're staying above board. (Drinking alcohol is also a ticketable offense at parks citywide — but more on that below.)
Picnic baskets and coolers
While a wicker basket is aesthetically pleasing, it is often hard to store and carry and is not well insulated. All of the experts who we spoke to advised carrying something with a more comfortable strap, and most say an insulated tote is ideal, especially since it folds down. In order to keep things cold all day, Julie Lindenman, owner of an eponymous event-planning company, which pivoted to picnic planning during the pandemic, packs this easy-to-carry Yeti soft cooler with ice and says it still fits up to "a couple bottles of wine, lunch for two people, two water bottles, and a few other drinks." Our colleagues at Grub Street call Yeti coolers "indestructible," and we've named them as among the best gifts for beer lovers, who are always in the mood for a cold one.
One major (and recurring) complaint about Yeti coolers is the price, so if you want something a little more budget-friendly but with the same function, Lindenman recommends one of these insulated totes from L.L. Bean or REI, adding, "even your local corner store probably sells them at this point."
"We do most of our picnics in reusable totes, just because you can flatten it and get on with your life," echoes Wendy Weston, founder of Perfect Picnic, which has been organizing European-style artisanal picnics since 2011. Weston likes the insulated totes from Scout but says that putting frozen water bottles (or a frozen washcloth) at the bottom of any easy-to-carry tote is just as good as filling with ice cubes.
If you want to keep your hands free, Lindenman recommends West Elm's less-insulated picnic backpack, which comes with a 20-piece set of plates and cutlery for four, plus salt and pepper shakers.
If you are going to go the route of a traditional-style wicker basket, three out of our four experts recommend buying one that comes with cutlery inside it. At Personal Attention, a New York City-based, French-inspired event service, which also plans picnics, project manager Laéthycia Simms vouches for the Bee & Willow wicker basket because "there's an insulated section, so you just put ice inside and can keep everything cool."
With more stores than usual closed, Rosen notes that folks might need to bring more of their own gear to picnics this summer — because it's a bit harder to stop by a bodega or supermarket for an extra thing or two. Packing a granny cart full of things, in lieu of an overflowing cooler, will help make transporting all of your stuff easier, especially if your picnic spot isn't too far away. This trolley, which senior editor Katy Schneider likes the looks of, comes in a picnic-appropriate gingham pattern.
"The biggest pain about a picnic is hauling all this stuff around the park," says Weston. The solution is a wagon. She likes this one because it folds "completely flat, and they can carry a lot of weight." Not only does this wagon fit all of her gear, it also fits her daughter.
Picnic blankets and chairs
When it comes to picnic blankets, all of our experts say the bigger, the better, though they all prefer different kinds of materials. Rosen loves her portable, waterproof picnic blanket so much that she says it's the present she most often buys friends. Plus, "the blanket has taken on new meaning during coronavirus times, because it naturally allows you to give people space."
"A lot of blankets that are branded picnic blankets are flannel or fleece, which I'm kind of confused by because it's so hot in the summer," says Lindenman, who prefers Turkish towels that are "lightweight and easy to machine-wash, so you'll definitely feel like it's clean after."
Weston also prefers lightweight blankets to thick, waterproof options and recommends putting painter's tarp underneath to keep your area dry. "Canvas acts as a barrier, which doesn't harm the grass like plastic, and it can be used to create a larger surface area for social distancing," she explains.