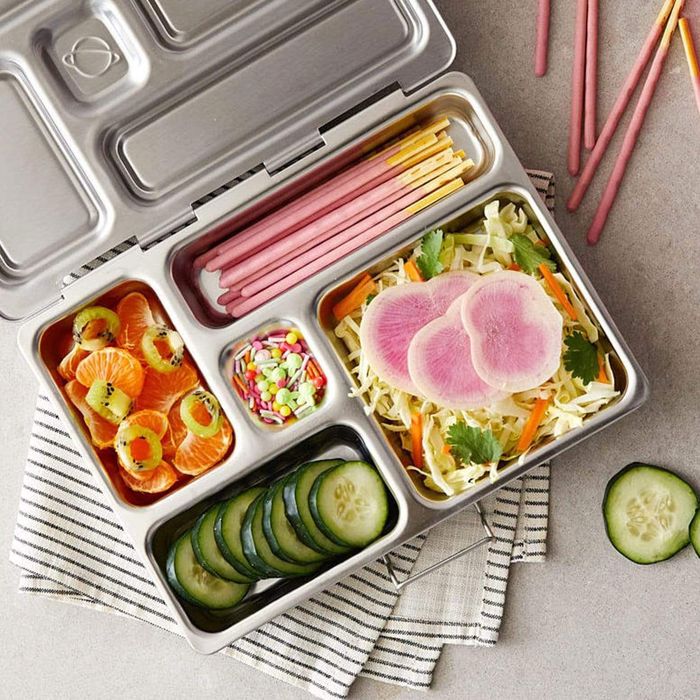 Photo: Courtesy of the retailer
You know the feeling when your produce turns brown only a few days after you bought it? Or when the soup or smoothie you carefully packed for lunch ends up spilling on the inside of your bag? Or when you ready a week's worth of office meals on Sunday night, only to have all of your mismatched Tupperware crash down on you when you open the cabinet? All of these problems can be solved by one thing: proper and efficient storage containers. We spoke with nutritionists, dietitians, and other meal-prep experts about the proper supplies for every scenario. They recommended the containers, lunchboxes, thermoses, and more that will keep you organized and your food tightly sealed and fresh. Read on for their picks.
Best containers for prepared meals
Whether you're keeping your prepped meals in the fridge or the freezer for longer-term storage, experts recommend eco-friendly glass containers. "I prefer glass containers with locking lids because glass is easy to clean, reheat, and use to store produce and most foods without creating smells," says Ashlee Piper, sustainability journalist and author of Give a Sh*t: Do Good. Live Better. Save the Planet. She pointed us toward the Glasslock containers, which have airtight lids.
Registered dietitian and nutritionist Rachel Paul, founder of College Nutritionist, agrees that glass is the way to go "to eliminate any potential plastic chemicals. Lock-lids are best, as well, to keep food at its freshest and to prevent leaking and spilling of liquids." This set of glass containers (all safe for microwave, dishwasher, oven, and freezer) includes everything you'll need to store a variety of dishes.
Pyrex, the favorite brand of Laura Mahoney, a health coach with the Noom weight-loss app, also sells containers in all different sizes. "For storing cooked foods, I prefer to use glass containers because you can seamlessly bring food from the refrigerator to the microwave, without having to transfer the contents," says Mahoney. "The key is having a variety of shapes and sizes so that you have options depending on your needs." Nutrition coach Erin Romeo, known on Instagram as the "food-prep princess," likes Pyrex because "if you eat right out of the container instead of transferring your meal to a plate, you'll only have one dish to wash. Speaking of washing, glass containers are super easy to clean and don't retain food smells as much as plastic does."
There are a few drawbacks to using glass, though. For nutrition expert and founder of NAO Wellness Nikki Ostrower, who says she's tried "80 million different brands [of containers] and most of them are a nightmare," heavy glass containers proved impractical to carry around all day in her backpack and difficult to store in her small New York City kitchen. Instead, she uses BPA-free, collapsible silicone Thin Bins that can also go in the microwave, dishwasher, and freezer. Best of all, she says, "when you're done with your food, they collapse like an accordion," making them easy to tote around and eliminating cabinet clutter.
Strategist kitchen-and-dining writer Emma Wartzman is a dedicated deli-container hoarder. If you buy restaurant-grade ones, they're sturdy, microwavable, and dishwasher safe. They come in various sizes, which can accommodate fully prepped meals, leftover salad dressings, dry pantry goods, and more. They're stackable, too, which makes them perfect for a smaller kitchen with minimal storage. And best of all, they have universal lids, which means you'll never be without one. At only $17 for 36 containers, you also don't have to be too precious about getting them back when you send home leftovers with friends.
Best containers for packing lunch
Once your lunch is ready to go, you'll need a box to transport it to work or school without making a mess. Ostrower is a fan of the stainless-steel PlanetBox. "What I love about it is it makes food fun," she says. "There are a few different ones to choose from depending on how big you want your lunch to be, it looks like a bento box, and it doesn't leak." The multiple compartments keep items separate and a round lidded container is included for hummus and other dips. This was the top pick of nearly all the experts in our lunchbox-focused roundup.
For another portable option, Piper recommends this set of three nesting metal boxes. "I love stainless-steel tiffins — stacking metal containers — for packing my lunches that don't need to be heated," she says. The three boxes can be used together or separately, depending on what's on the menu.
If you want to reheat your lunch and only have access to an office microwave, go with these microwave- and dishwasher-safe, BPA-free containers, which come recommended by Amy Shapiro, a registered dietitian and nutritionist and the founder of Real Nutrition NYC. With divided compartments, these containers allow for customized lunch-packing, and the locking lids keep contents safe. They're also available in bright, kid-friendly colors for school lunches.
An all-in-one lunchbox (including silverware) that Shapiro calls "incredible," the Prepd Pack comes with three microwave-safe, leakproof food containers and a tiny one for sauces or salad dressings. The brand's insertable cooling gel sticks keep food cold even when refrigeration isn't possible.